Picture Perfect Franschhoek Wedding ♥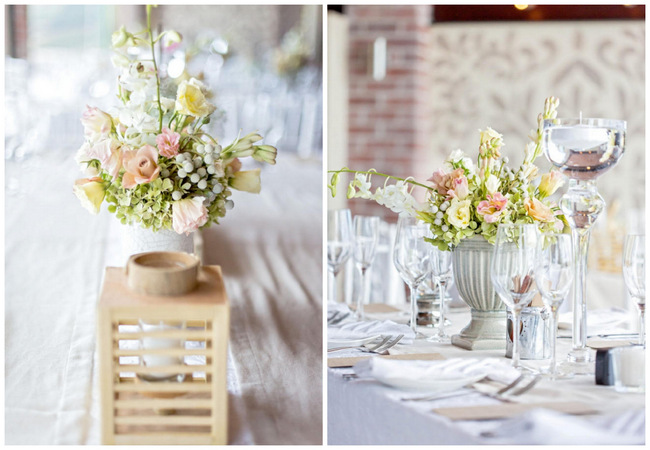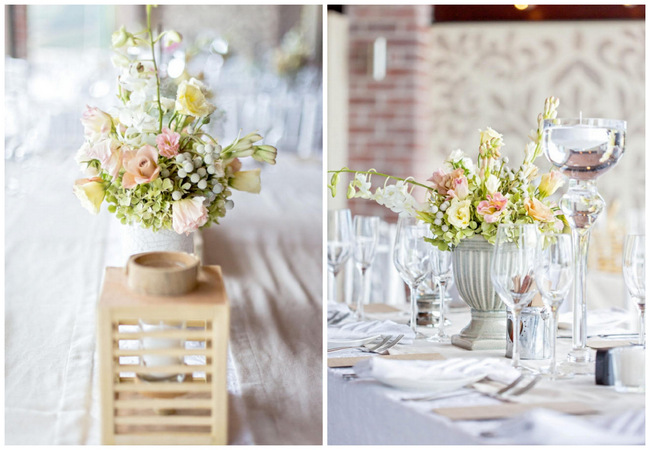 If you've had the pleasure of visiting the Cape winelands in South Africa, you'll know that the Franschhoek wine valley region is one of the most heavenly places on earth. The area's rolling hills, peaks and valleys, lush greenery and breathtaking scenery won Kate and Dale over, who decided to tie the knot at Roca, Dieu Donne. (If you haven't yet visited this amazing location you'll be happy to know that wedding photographer, Claire Nicola, has captured lots and lots of knock-out pics to make sure that you don't miss out.)
Kate and Dale's day was filled with lots of natural greens, elegant but rustic florals by Leipzig, decor details in neutral shades, and a coffee rose touch throughout. One of my favorite parts of this wedding (other than Dale's note to Kate written on the sole of her wedding shoes) is the gorgeous floral filled arch just bursting with green. Kate was a vision in her custom-created Elbeth Gillis lace gown with open back that featured a delicate lace trim while her beautiful bridesmaids were dressed in short, mismatched dusty pink short bridesmaids dresses. The groomsmen stood beside Kate's handsome groom in grey slacks accessorized with dusky pink ties and hats.
"Our wedding was everything we wished for and more," says Kate. "We were married in Franschhoek on a wine farm which leant itself to the rustic, natural feel. The colour palette was one of neutrals with a touch of coffee rose.  We personalised our wedding by having Dale's brother acting as the celebrant. This was beyond special to have someone we knew and loved performing our ceremony."
 Elegant Franschhoek Wedding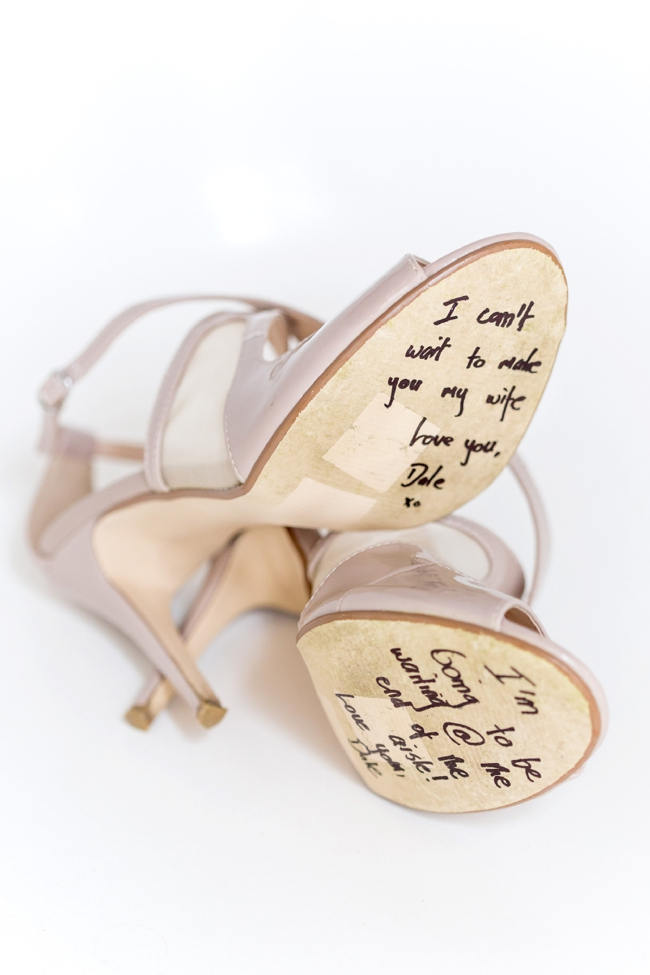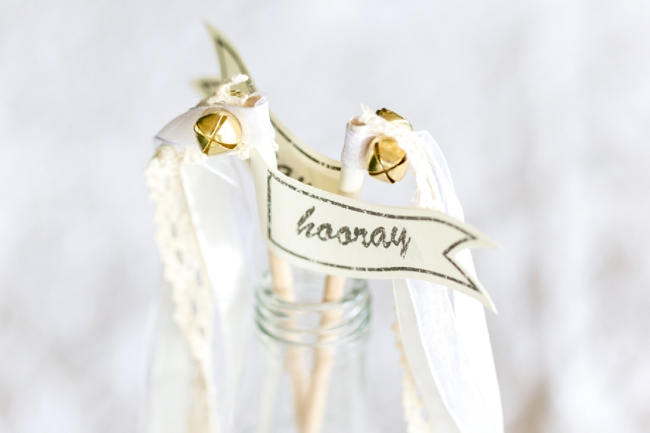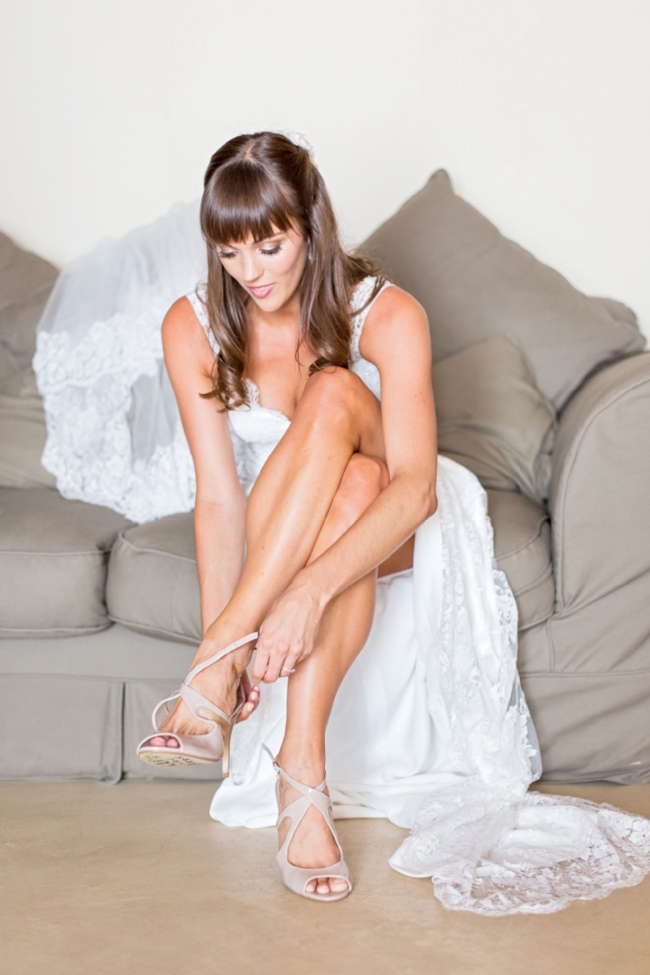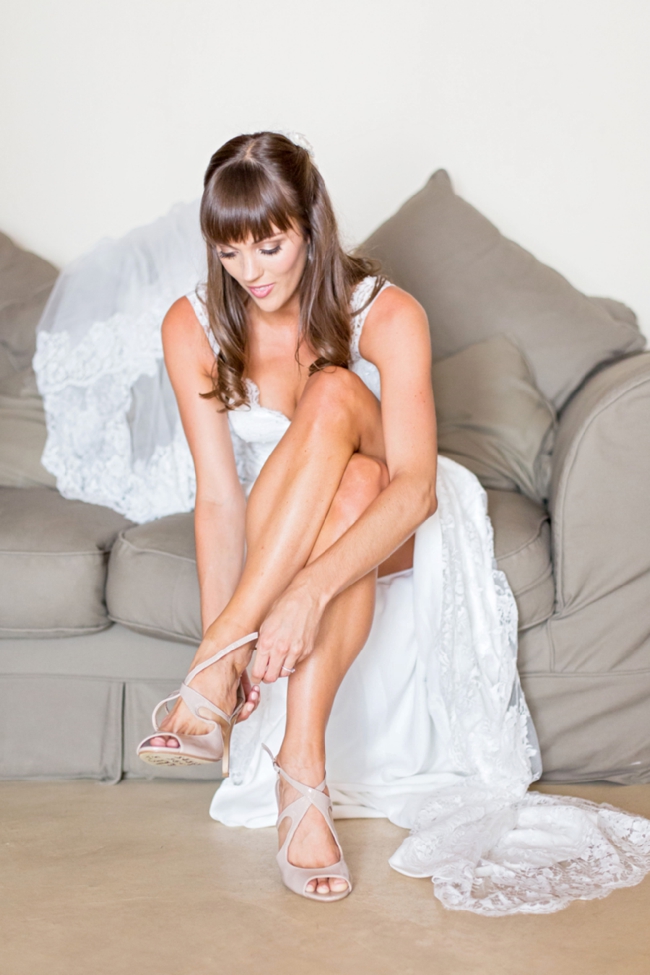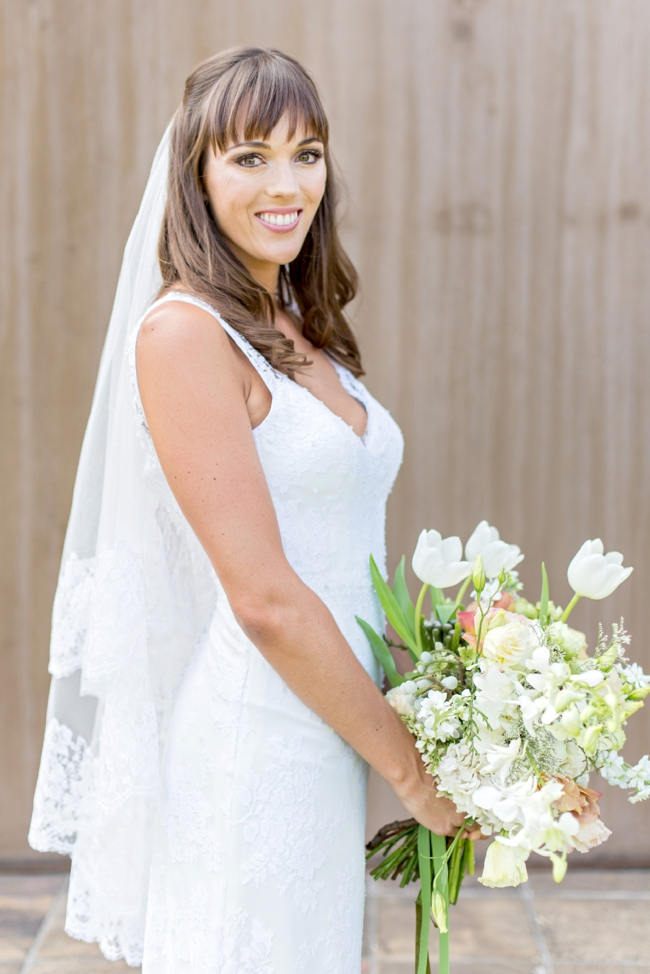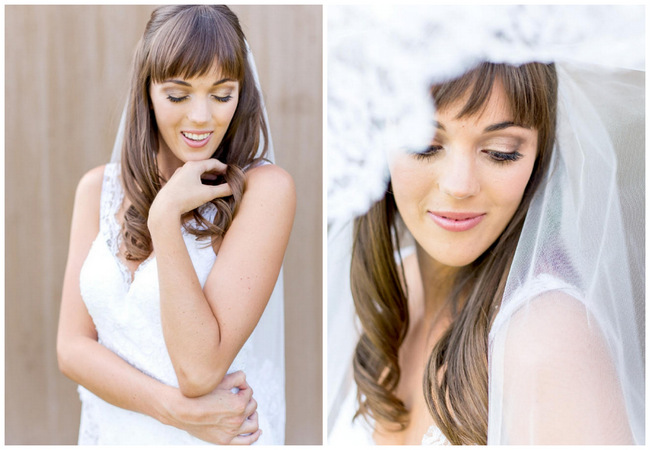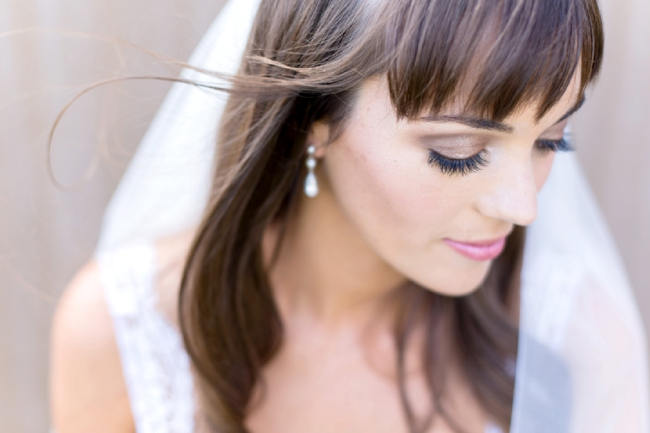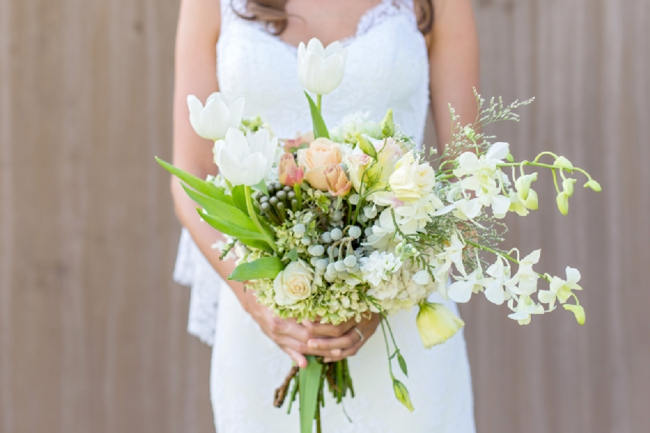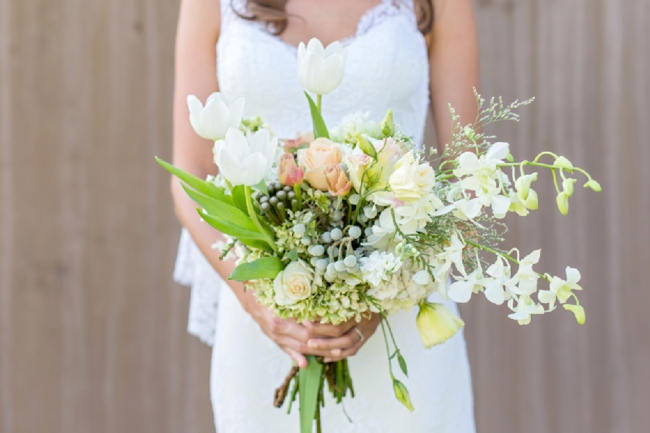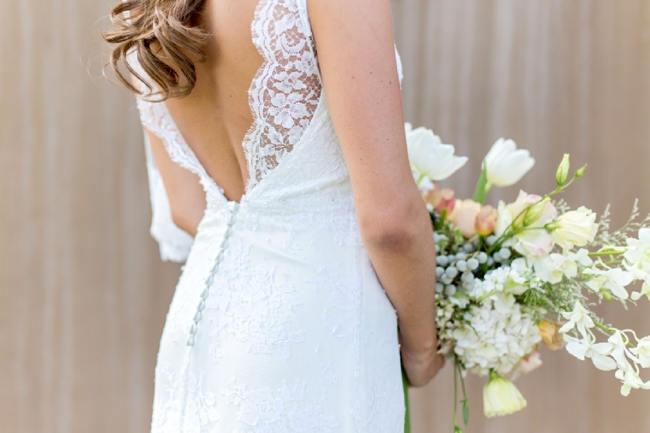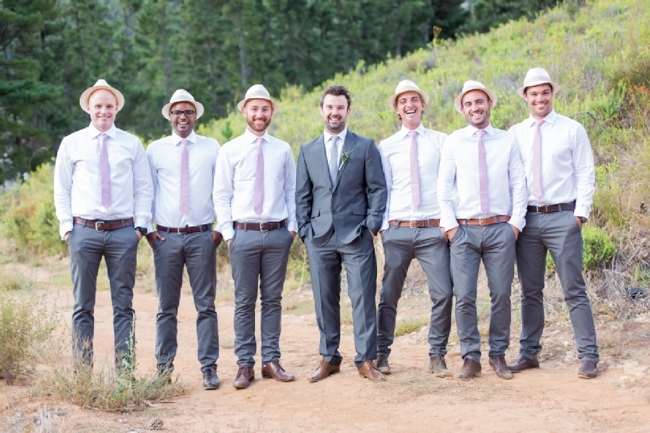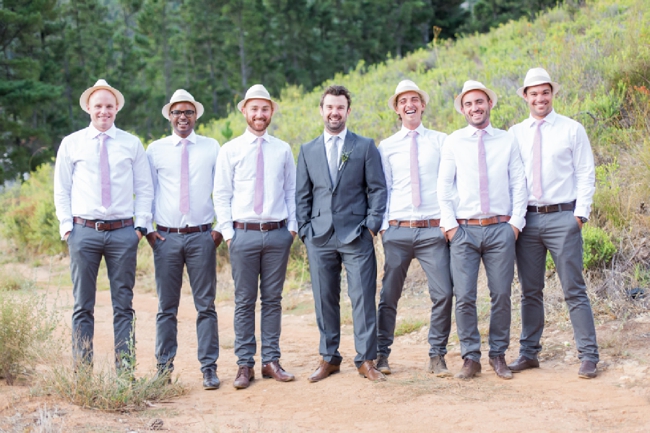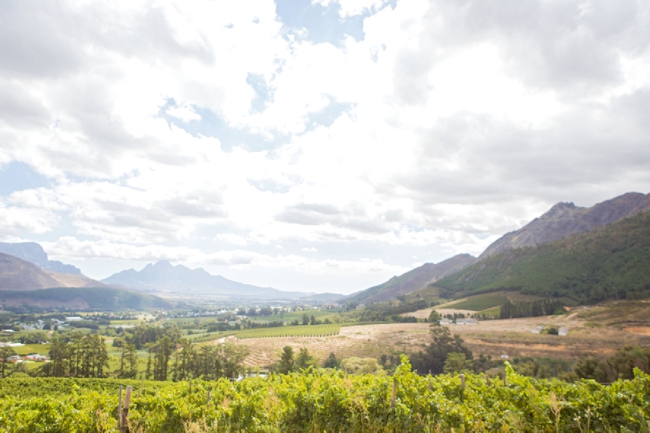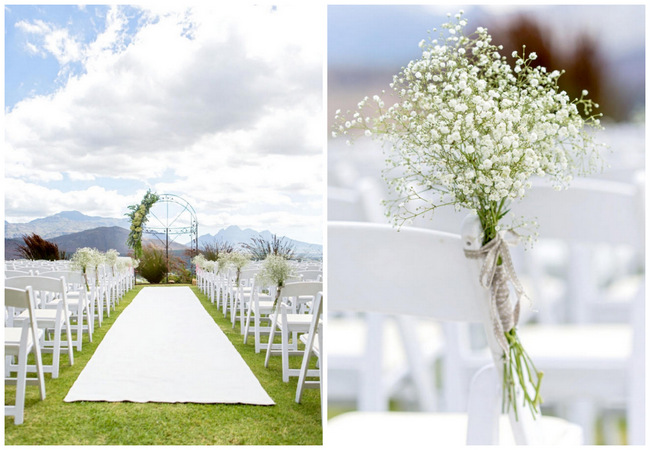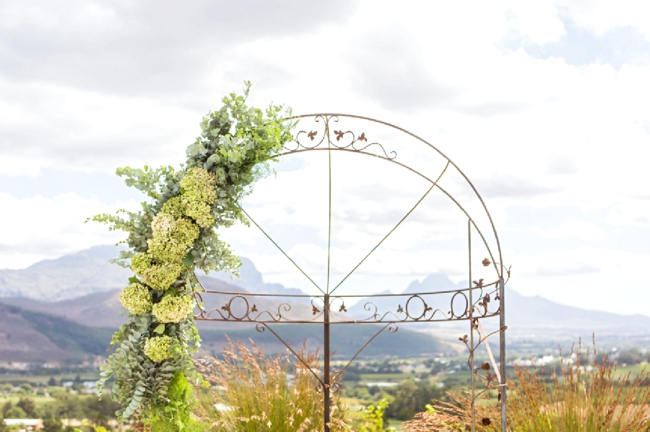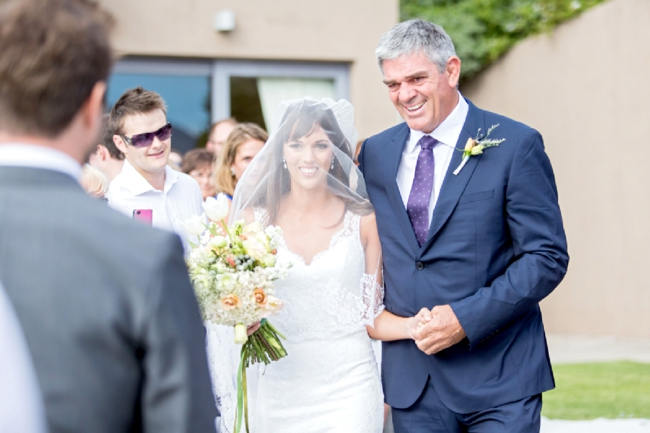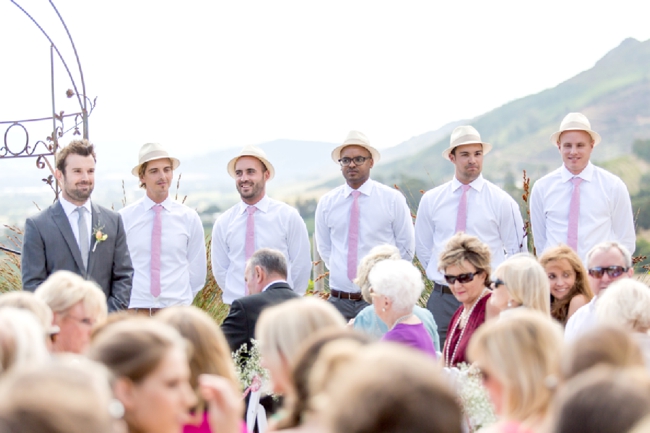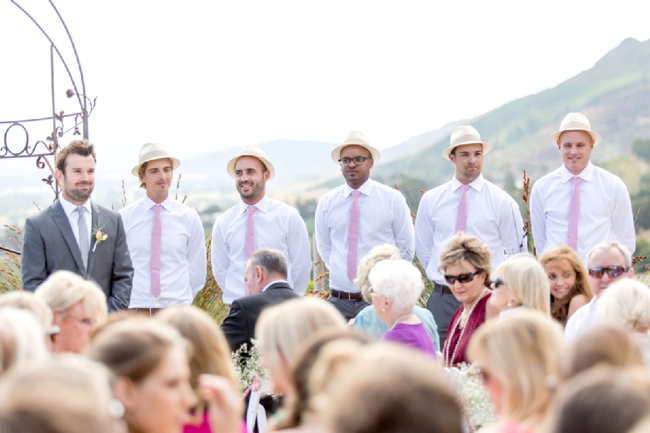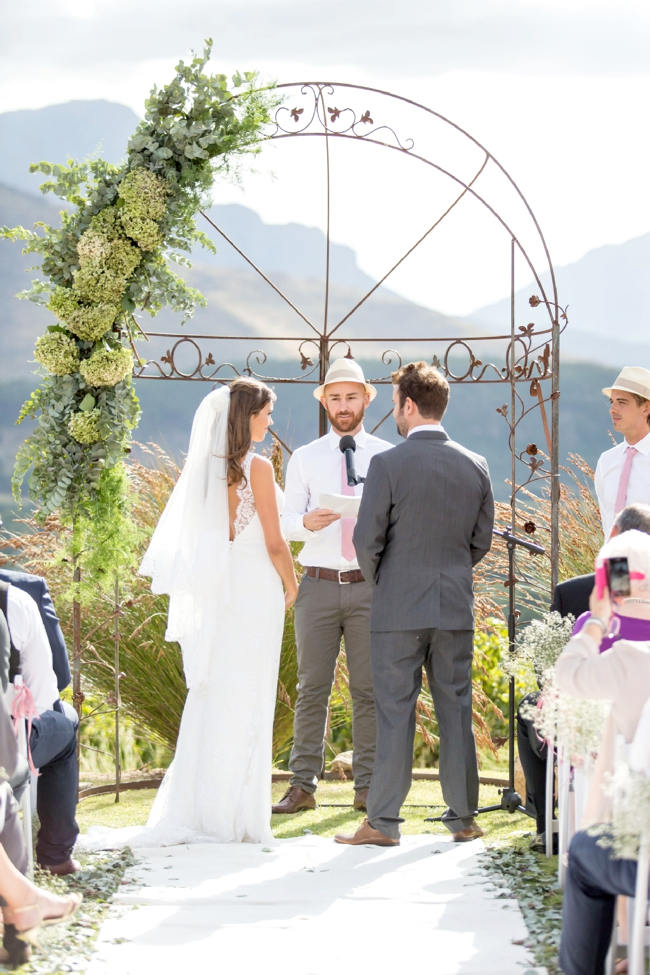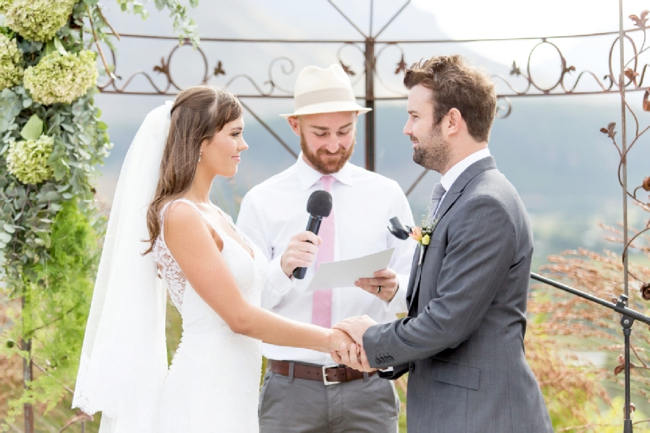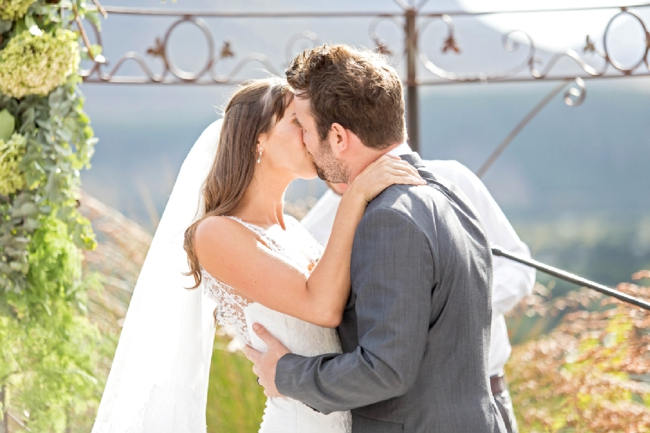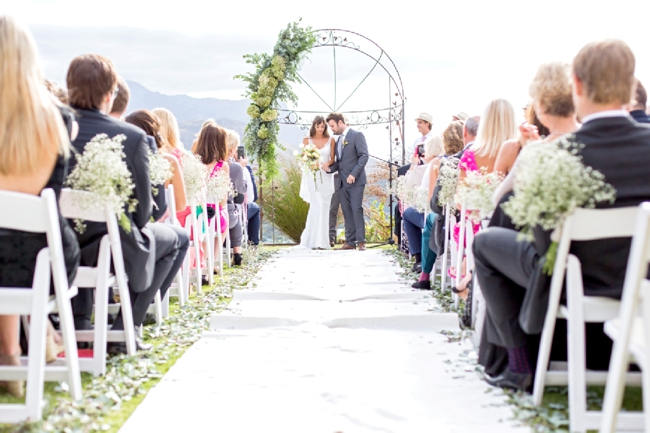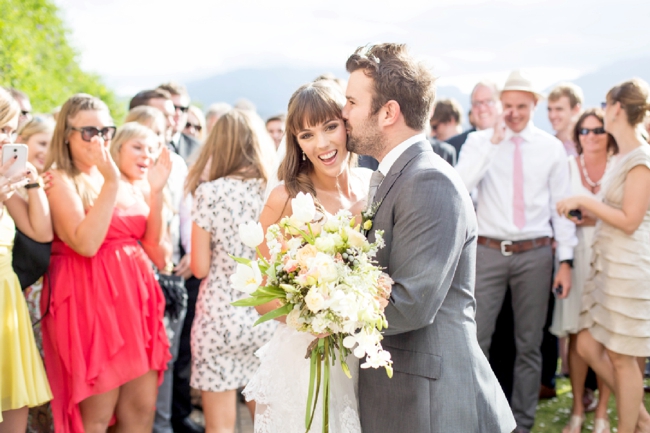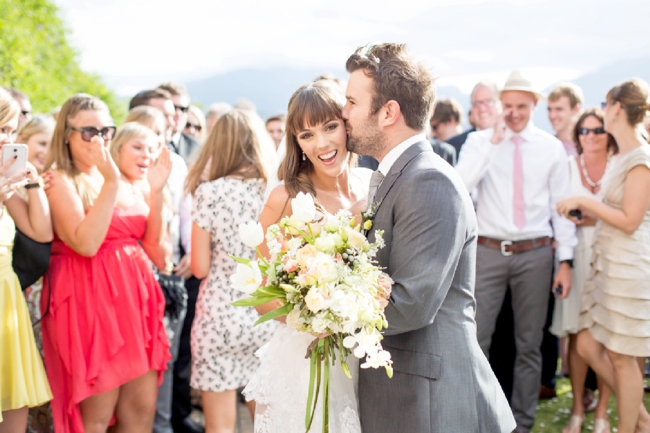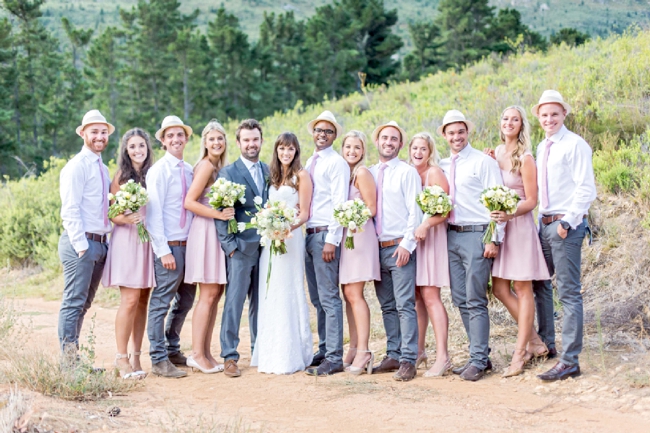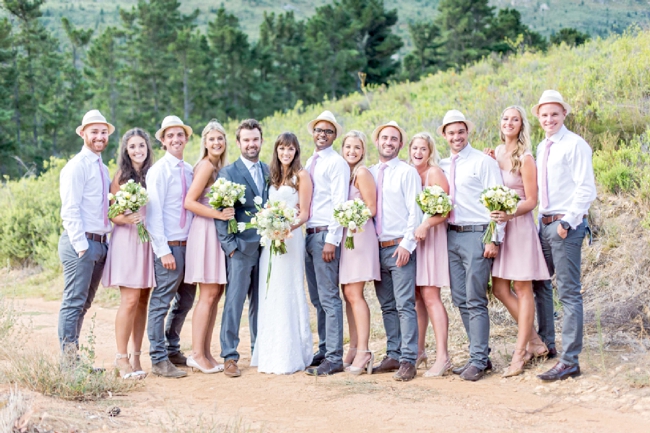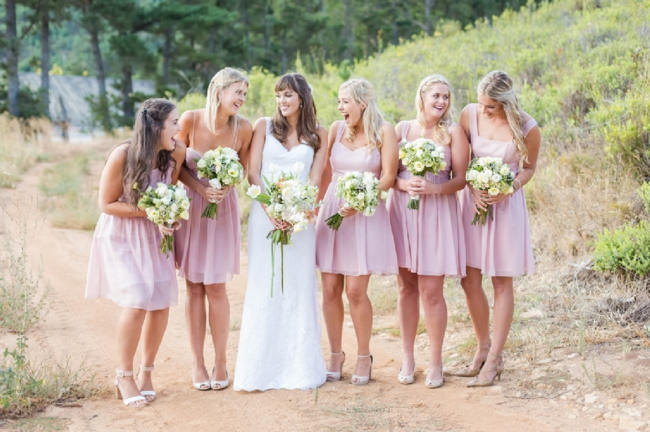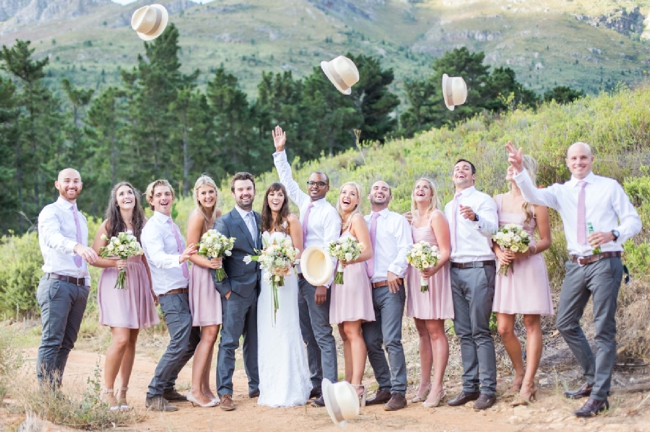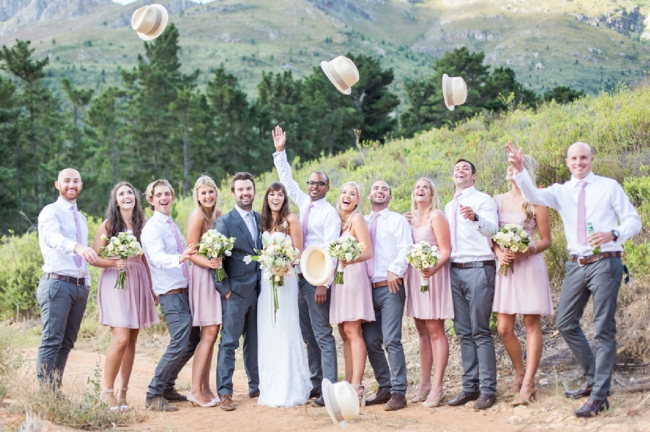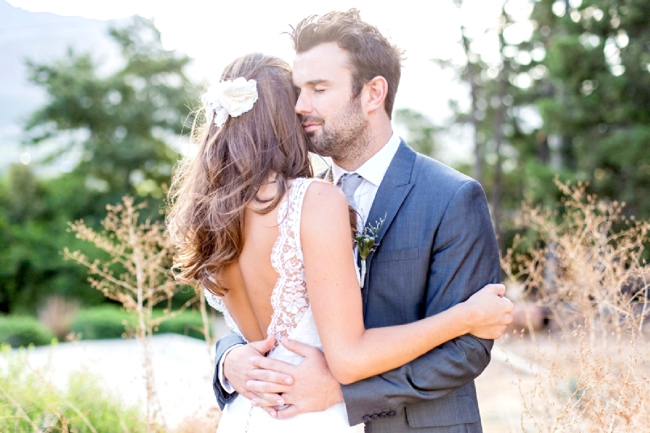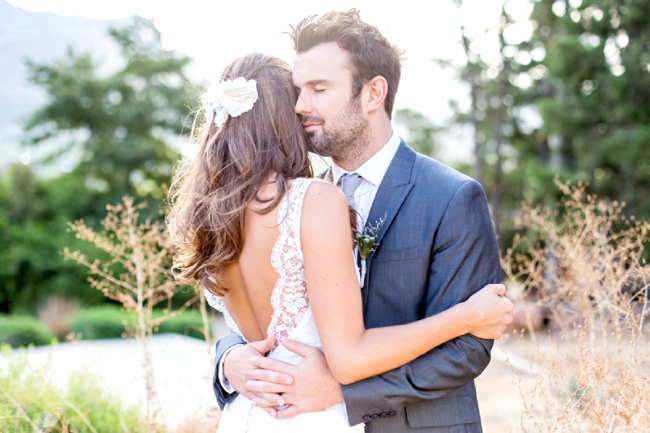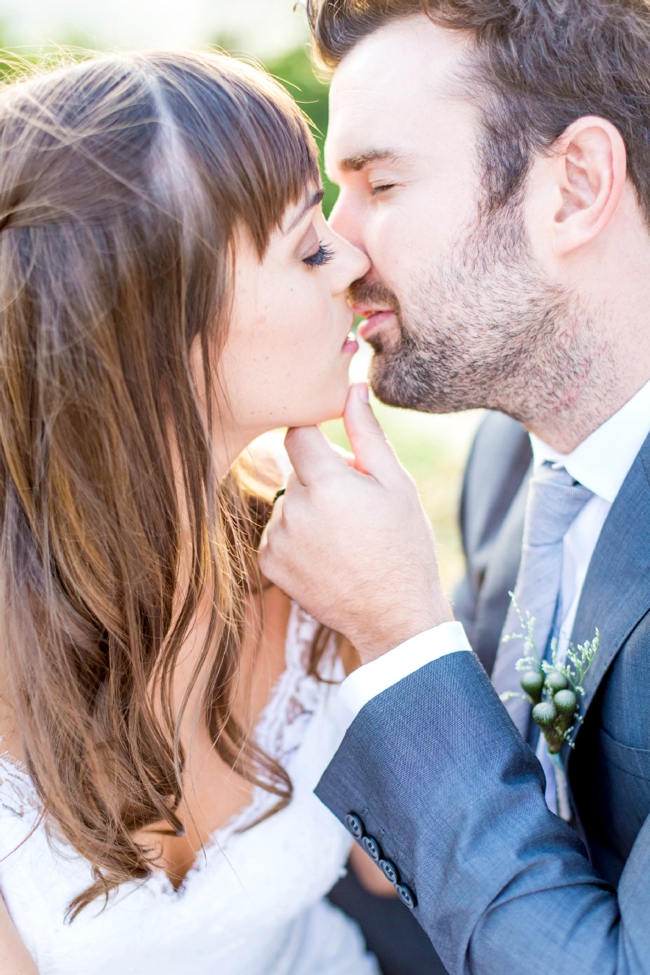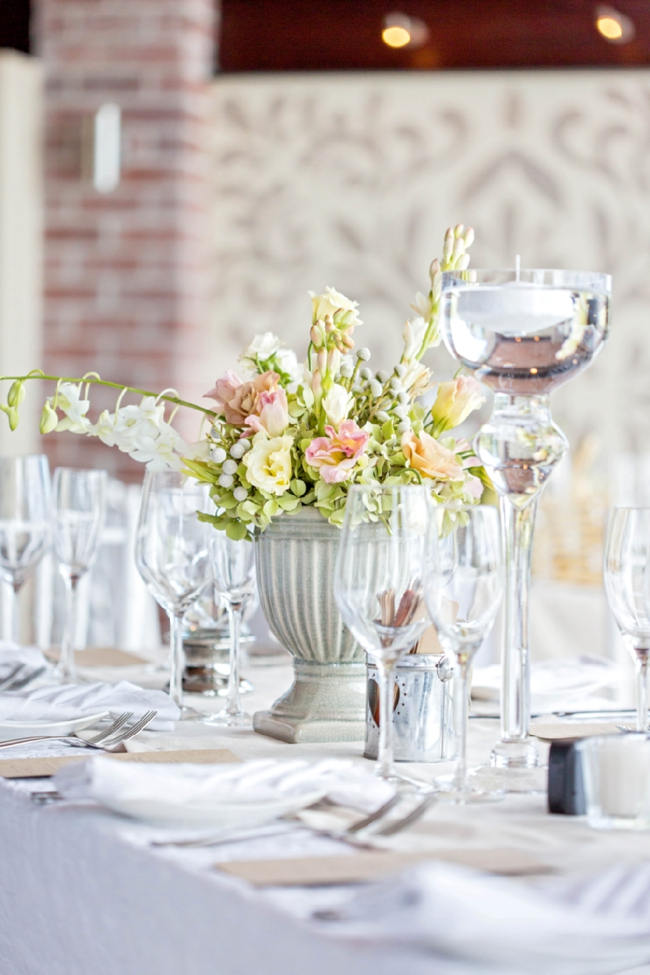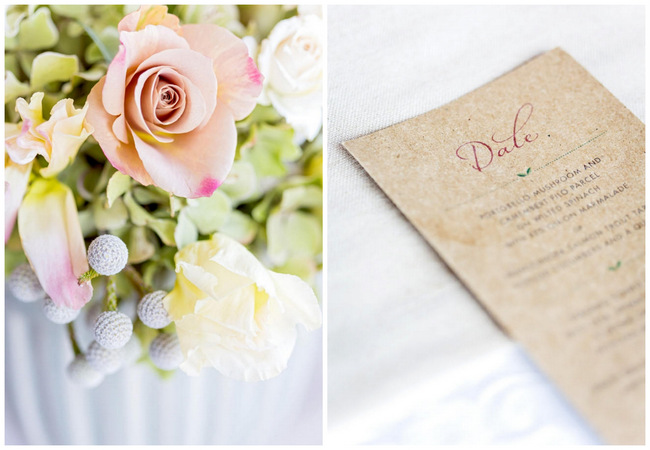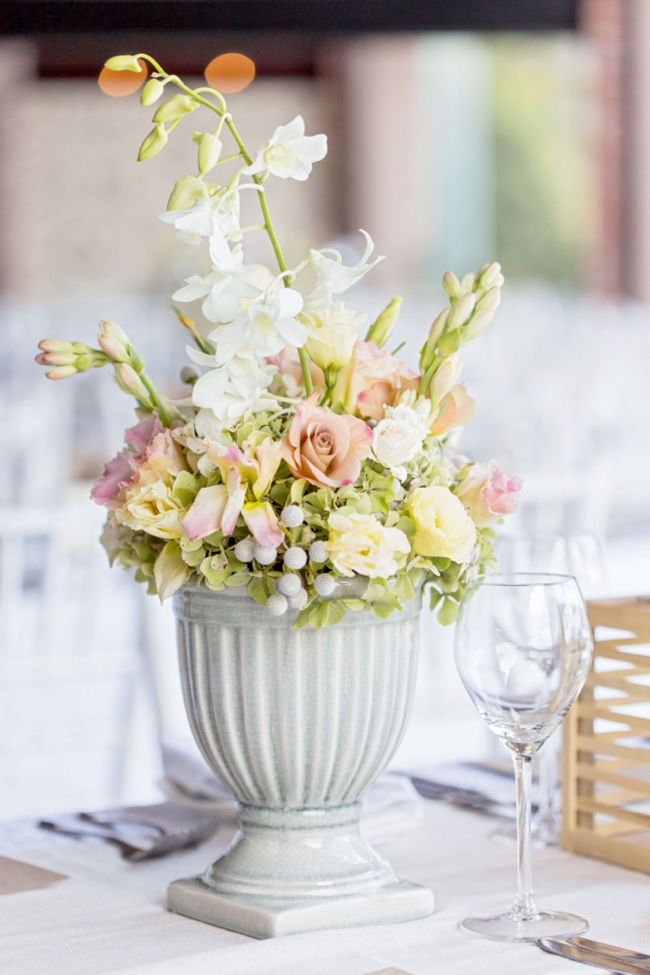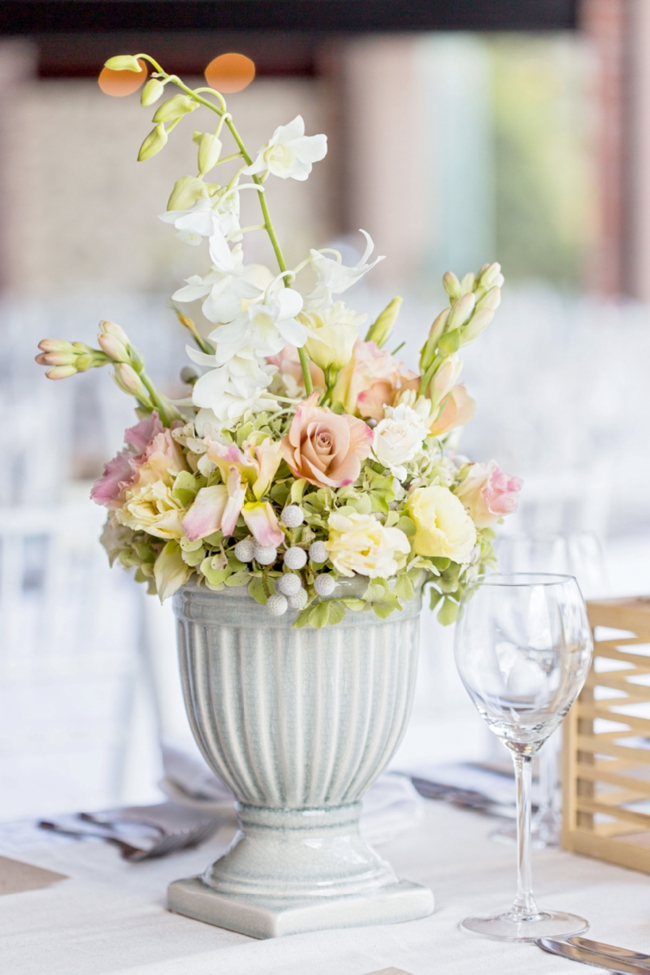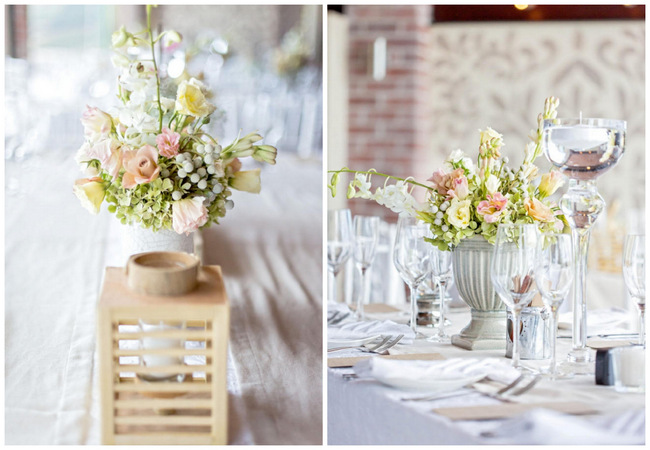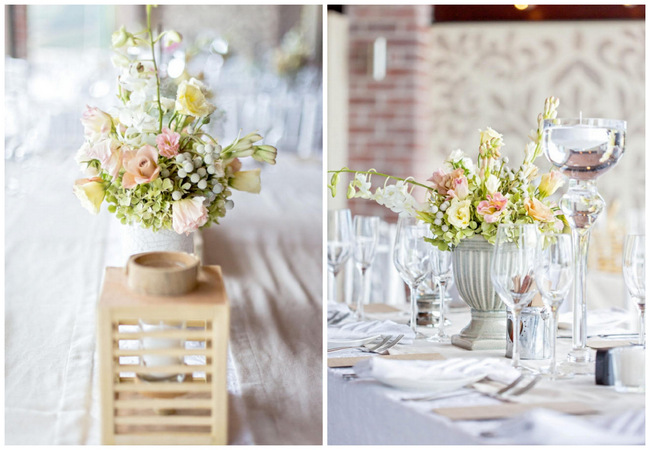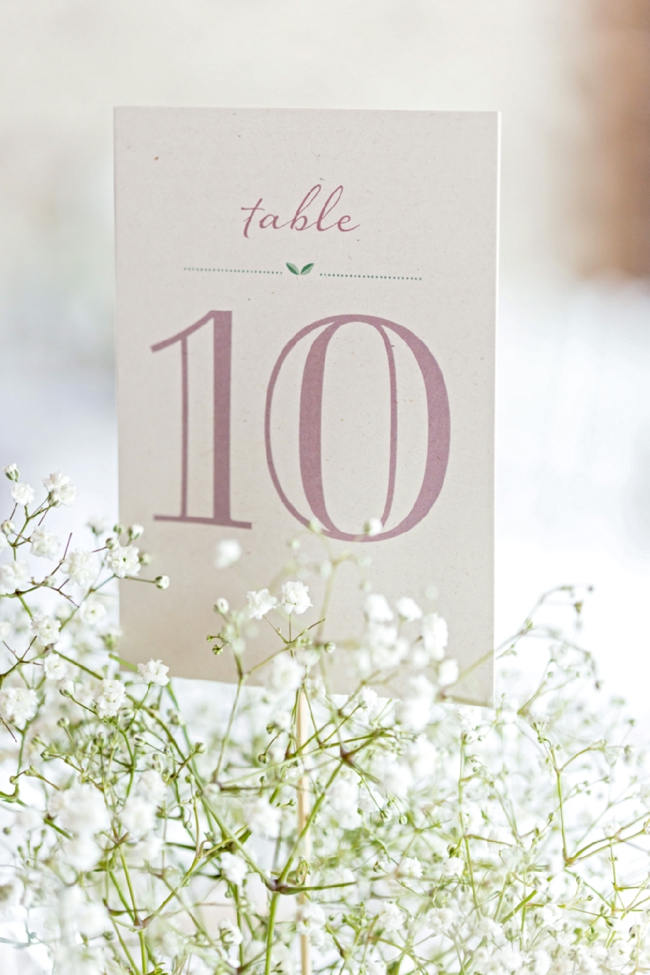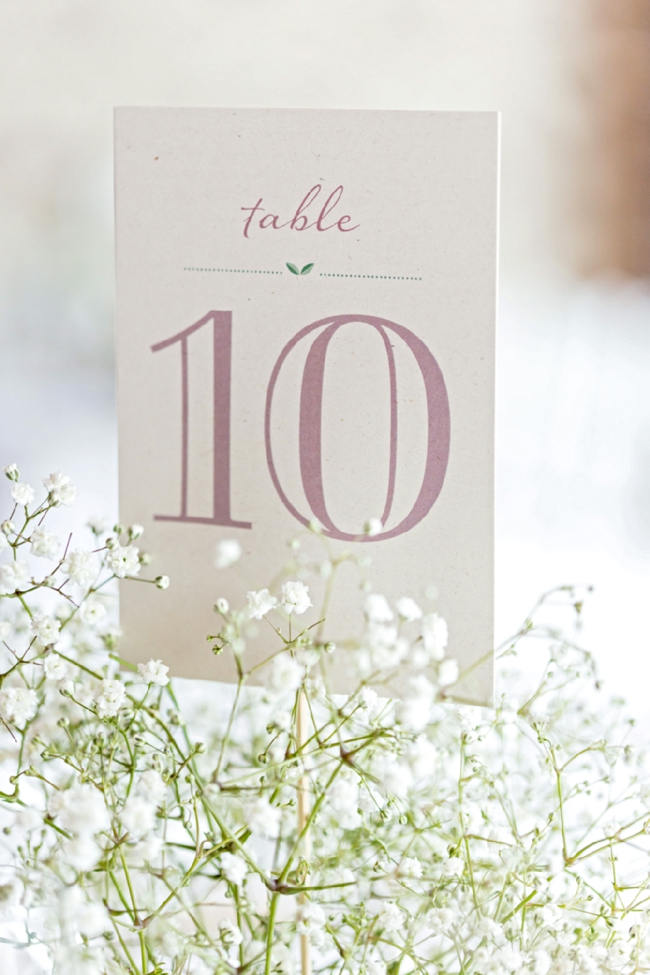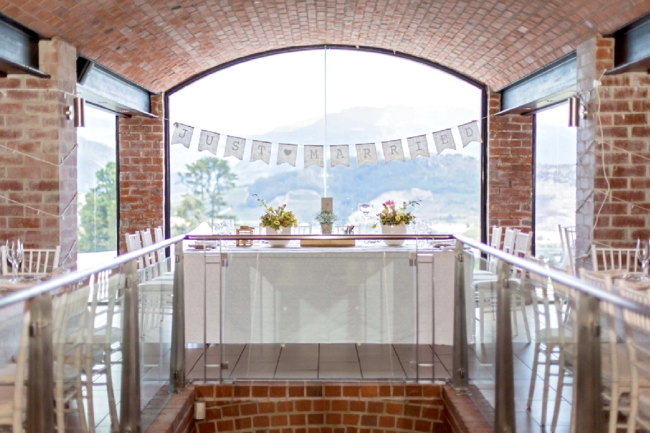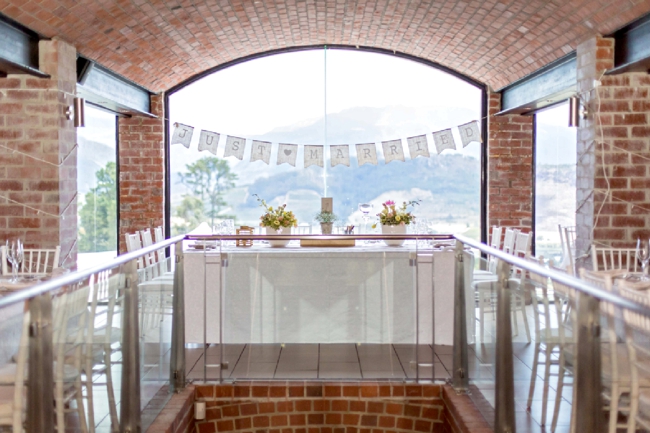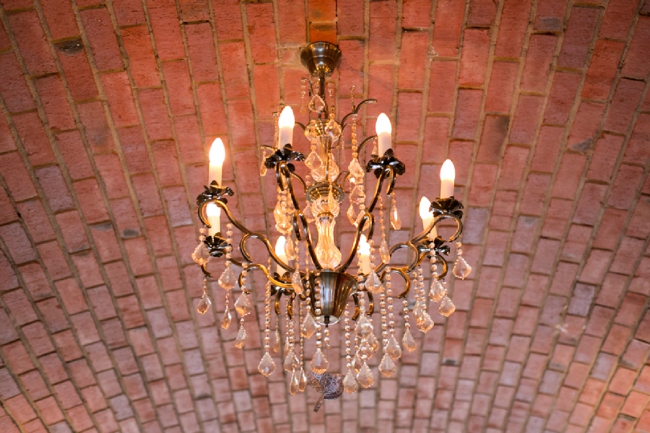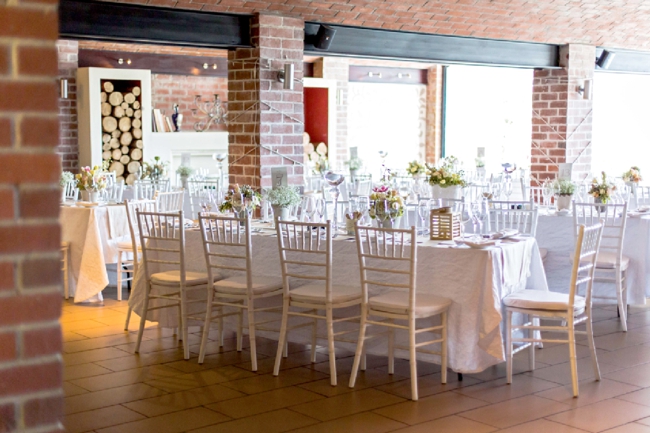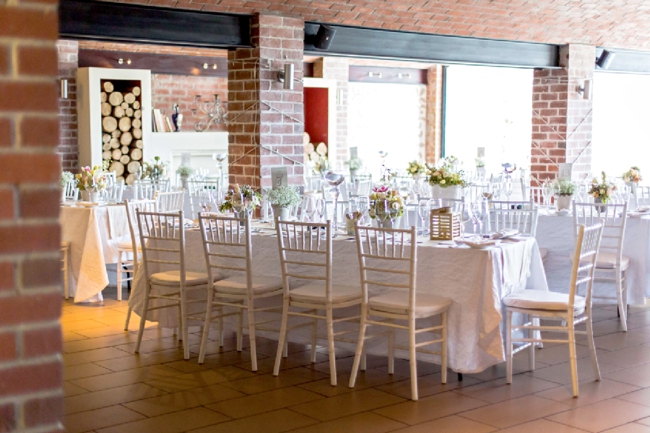 Elegant Franschhoek Wedding
Love Story: We have been together for 11 years. We met when we were young and stayed together through growing up, gap years, work and travel. We were engaged in November 2011 in Franschhoek. Dale surprised me by flying us down to Cape Town and booking us into a 5 star boutique hotel called The Last Word in Franschhoek. I walked into the room and to see champagne, roses, chocolate strawberries –  the whole shebang –  and I still didn't cotton on to what was happening! Once we started drinking the champagne he suddenly got up, went to fetch the box and then got down on one knee and proposed. It was the most special moment of my life. We then celebrated by going for dinner at Le Quartier Francais, a restaurant I had been dying to go to for ages and listened to how he had planned the whole thing. Amazing.
Bridal Style: I had my hair styled in soft curls and half clipped back. I had natural makeup with quite striking eyes. The inspiration again came from all photos with smoky eyes. My dress was created by my absolute favourite local designer, Elbeth Gillis, who custom made the dress for me. I had fallen in love with lace and so chose a soft floral lace as the fabric which was figure hugging. The dress was sweetheart shaped with lace straps and a low back. It had a lovely long train as well. I felt like a princess and the best part was that it clipped up at the back so I could dance the night away. The inspiration behind my bouquet was herbal and earthy. I wanted natural colours such as sages, whites and then the coffee rose which was the special addition!
Bridal Party Style: The bridesmaids wore dusky pink dresses to match the coffee rose. They each were able to choose their own style to suit their figures. The groomsmen looked dashing in grey pants, white shirts, dusky pink ties and a cheeky hat.
Groom Style: My dashing groom wore a Country Road charcoal suit which had slim line pants and a fitted suit jacket. He wore a crisp white shirt and skinny grey tie.
Wedding Ceremony Details: Our ceremony was performed outside in the garden overlooking the Franschhoek valley. We had simple white chairs with baby's breath flowers on the ends and a natural hessian carpet with a beautiful wedding arch with flowers interlaced. There were also rose petals and rosemary scattered along the aisle. Dale's brother performed the ceremony. My cousin and bridesmaid read from Winnie the Pooh and Dale's father did an Apache blessing. I walked down the aisle to "I will love you for a 1000 years" by Christina Perri.
Seating Chart: Our seating chart was put on a beautiful big frame that was whitewashed and place at the entrance of the reception.
Wedding Reception Details: The reception area was decorated with simple white table cloths, tall candlestick with floating candles, different sized vases with natural bouquets of flowers plus the coffee rose, wooden boards, menus and table numbers. The speeches were sensational. My father, Dale's best man and Dale all spoke brilliantly. We also had cheesecake instead of wedding cake which was  our favourite! The reception was filled with family, friends, laughter, dancing, delicious food and love.
Wedding Planning advice:
Involve as many people as you can. It is such fun having your parents, his parents and friends giving advice and helping out!
Communicate all the time.
Do not forget that this wedding is not only about you (the bride) and that your groom would also like to know what the day is going to look like 🙂
Spend the night before with your family and bridesmaids in the area where you are getting married – such fun being away from home and somewhere special.
Use friends if they are professional photographers, makeup artists or hair stylists! Get your granny to bake your wedding cake 🙂
Send out emails instead of save the dates
 ♥ ♥ ♥ WEDDING PROFESSIONALS ♥ ♥ ♥
Venue Roca, Dieu Donne, Franschhoek  // Photographer Claire Nicola  // Dress Elbeth Gillis  // Brides Hair & Make-up Tremayne West  // Flowers & Decor Leipzig  // Cake Roca  // DJ / Music Warren from Hey Mr DJ  //  Stationery Seven Swans  // Wedding Planner Our moms // Shoes Zoom  // Suits Country Road
Stand Out Wedding Vendor: All of our wedding vendors were sensational and went above and beyond to make our wedding special. I would not have changed one thing about our day!