Epic Lord of the Rings Wedding Fantasy ?♥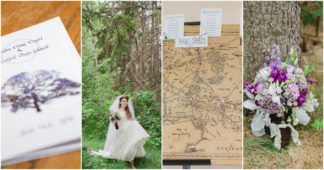 BRING FORTH THE RINGS! Book lovers Megan and Mitch wanted their romantic J.R.R. Tolkien wedding to feel like Bilbo's 111th birthday party – the opening chapter of J.R.R. Tolkien's "The Lord of the Rings" fantasy epic. The couple are both avid Tolkien aficionados, having co-founded a Tolkien Society, of which they were President and Vice-President!
"Featuring Tolkien in our wedding was a necessity," shares Megan. "This included a reception with rusticity, a literary flavour, quaintness, a homey, unpretentious feel. Our colours were inspired by flowers: purples, a green like the grass of the Shire, and bright, sunny yellow."
The creative pair thought of everything, from a seating chart was comprised of two giant maps of Middle Earth, Tolkien book centerpieces, and a secretly barefoot bride in homage to hobbits who prefer to go shoeless. The absolute highpoint of their many ingenious ideas was no doubt the ring exchange. During their ceremony their priest commanded "bring forth the rings!". At that point their ring bearer started processing down the long aisle at St. Joseph's Cathedral sporting a hobbit cloak,  wearing the rings around his neck in reference to Frodo Baggins! We're so grateful to ENV Photography who captured their magical day, making it possible for us to share in it, too.
Their photo booth was personalized with Lord of the Rings costumes resulting in lots of photos of Gandalfs, Legolases, and Bilbos in the reel. Very important to hobbits, Tolkien, and to the couple, are green, growing things: "We wanted to emphasize that our love was a green, growing thing, so our party favours were tiny oak saplings that guests could take and plant either in their yards or in several designated public parks."
?? Book lovers, unite! ??
Rustic J.R.R. Tolkien Wedding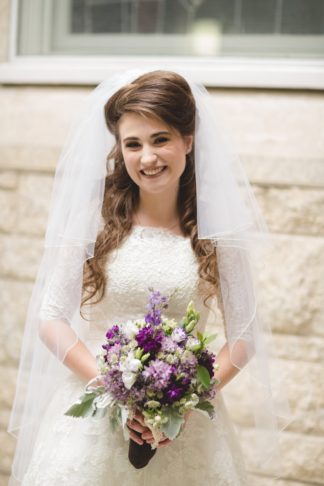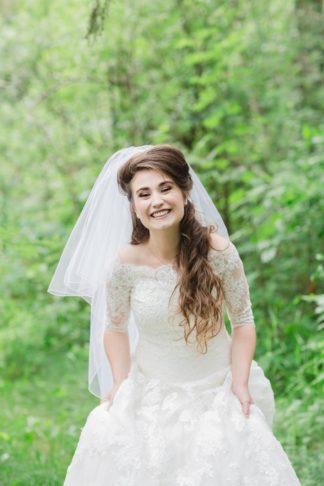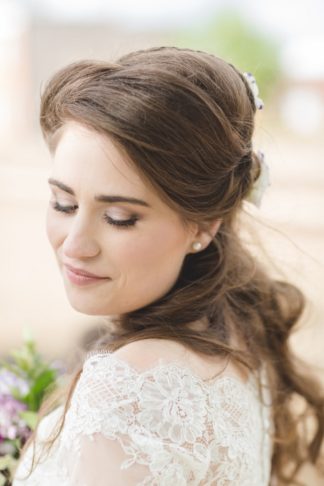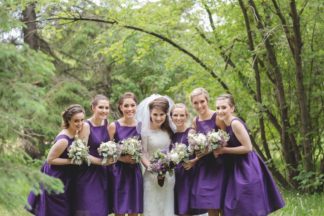 The bridesmaids wore fairly simple knee-length dresses with fitted bodices and thick straps. They were made of a rich fabric, though, and deep purple in colour. Their bouquets were mainly white, only mine contained various shades of purple. I also asked for a lot of greenery in the bouquets.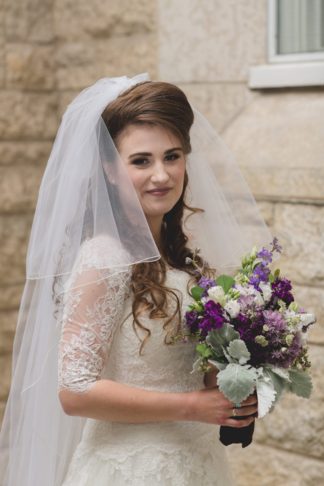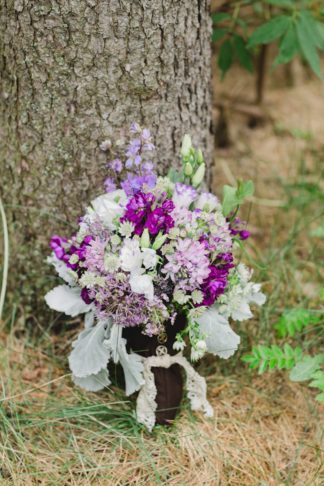 I originally wanted bouquets full of lilacs picked from mine and Mitch's backyard – purple ones for my bridesmaids and white ones for me (the opposite of our dress colour scheme). Unfortunately, not too many lilacs are left in June, so we had to supplement the lilacs with other flowers, as well – different purple ones for me and white ones for my bridesmaids. I still got to have a few sprigs of lilacs from my very own backyard in my bouquet, though, which was very special for me.
I also had my bouquet bound in a piece of fabric from one of my grandpa's suits. I told the florist I wanted the flowers to look unpretentious, as though they could have been picked at my Godmother's farm (and we would have used flowers from the farm if only she lived in the same city!)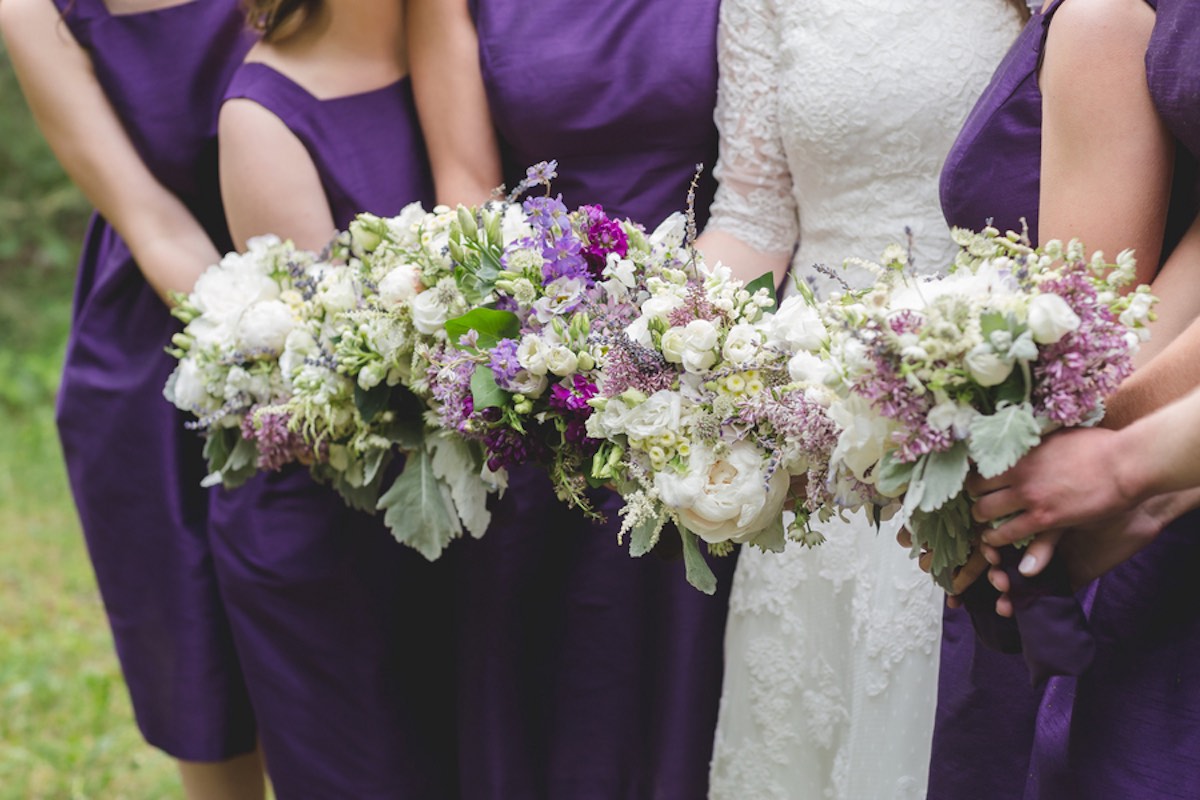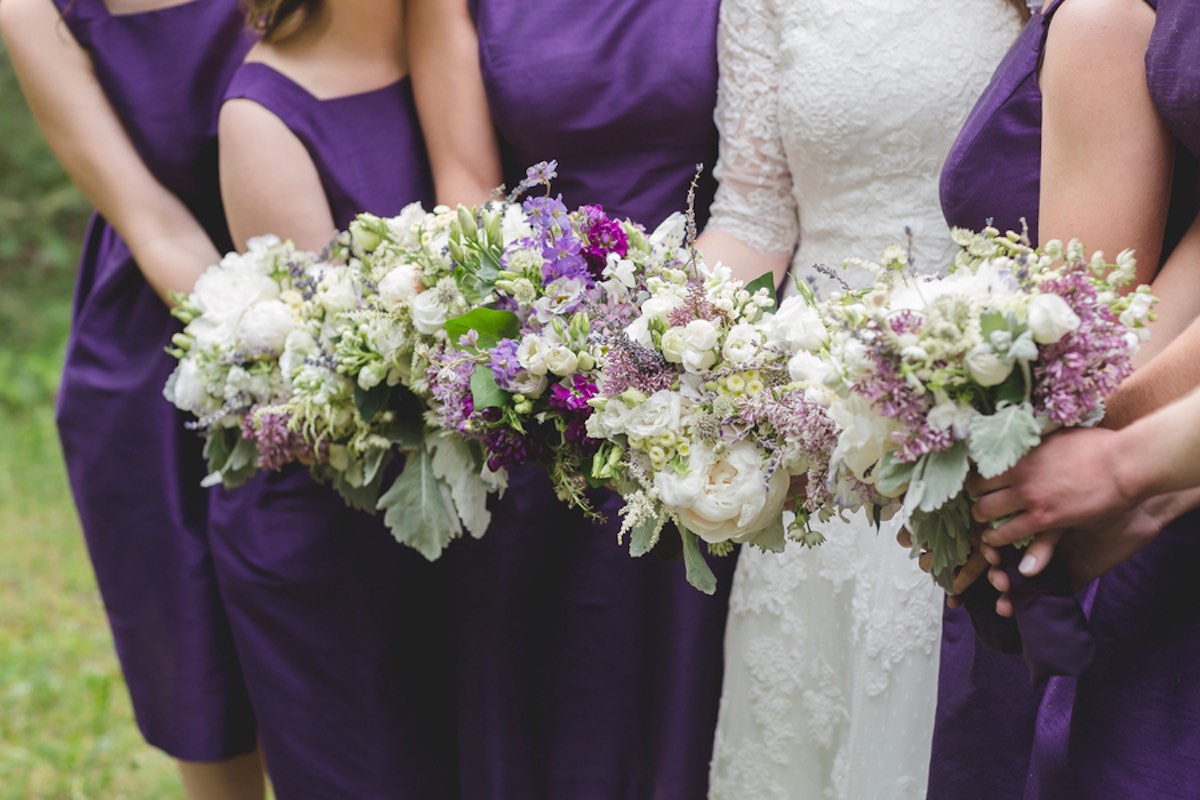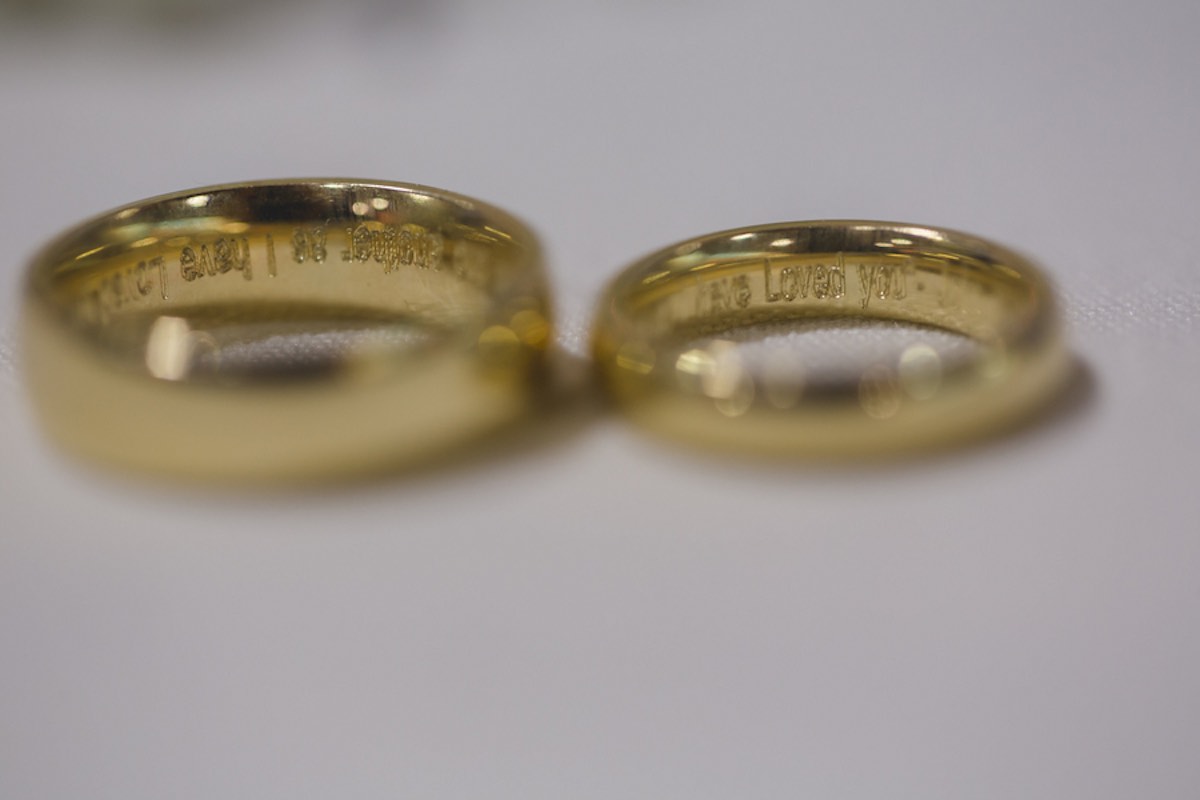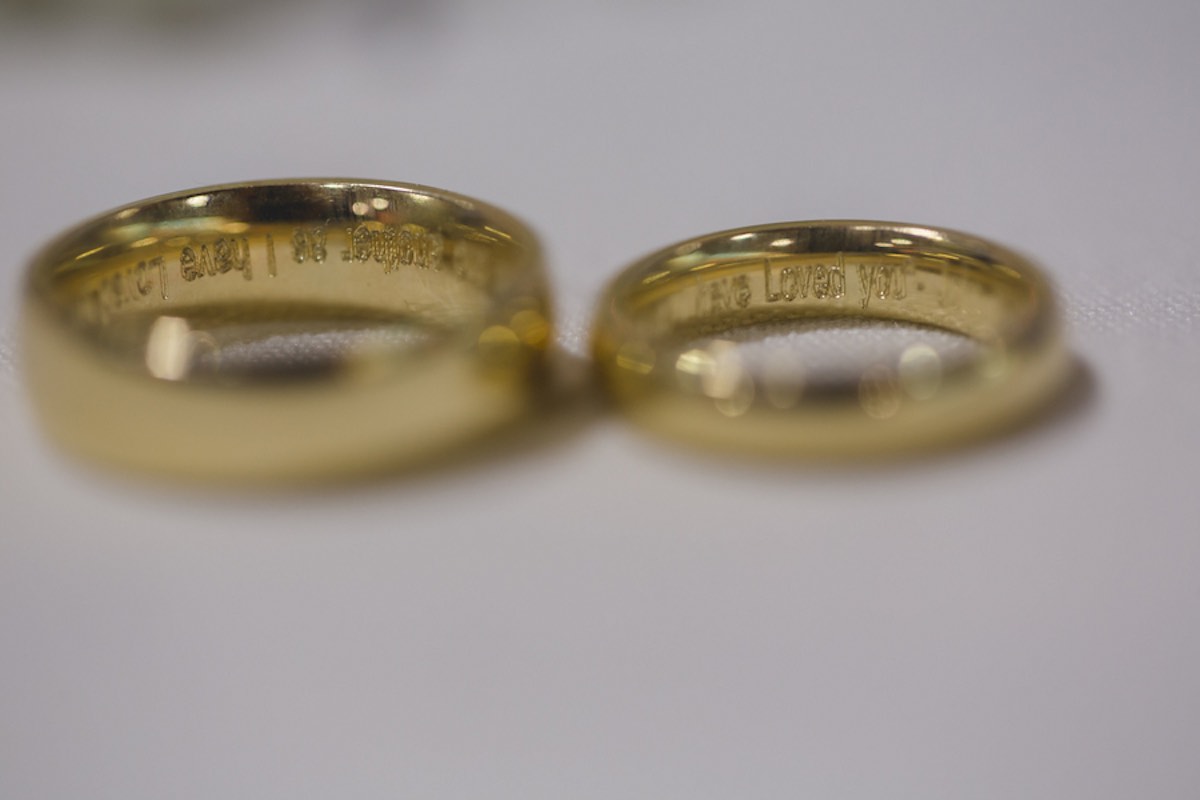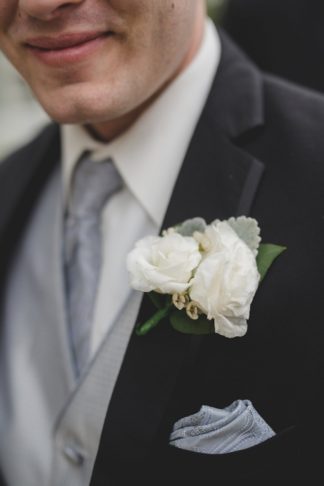 For as long as I can remember, I have wanted lace sleeves on my wedding dress. The bodice was fitted and pulled in at the natural waistline, and the skirt was full – a subtle A-line. The entire dress was french lace, and the 4 foot train had lace flowers all over it from top to bottom. My inspiration was partly Maria Von Trapp, but I also wanted a very vintage look. I wanted it to be plausible that my grandmother had worn the dress in an earlier time. I wanted something modest, vintage, elegant, and pretty.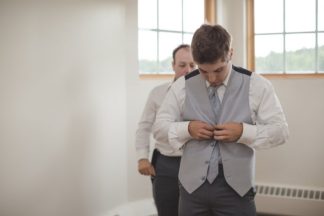 Mitch created a sort of a modern version of the morning suit, with a black dinner jacket, grey pants, and a silvery vest.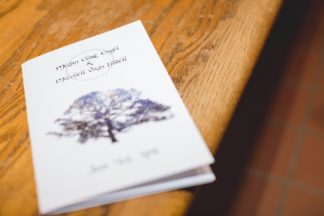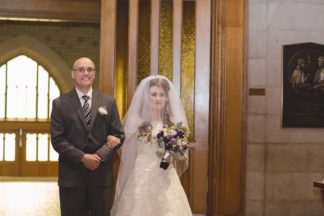 As a young girl, I was absolutely in love with "The Sound of Music," and for years I'd planned to walk down the aisle to the same song Maria Von Trapp does in the film. I was lucky enough to have a cousin who plays the violin and an uncle who plays the trumpet, and they performed "How Do You Solve a Problem Like Maria" with the Basilica's organist as I walked down the aisle.
My bridal party walked down to a piano solo instrumental version of Cat Stevens' "Morning Has Broken." We had a full Catholic Mass, so the ceremony took about 90 minutes and was full of lots of beautiful music performed by my dad and uncles on guitar and vocals and our family friend on piano.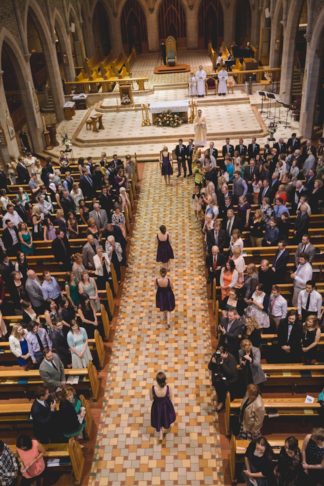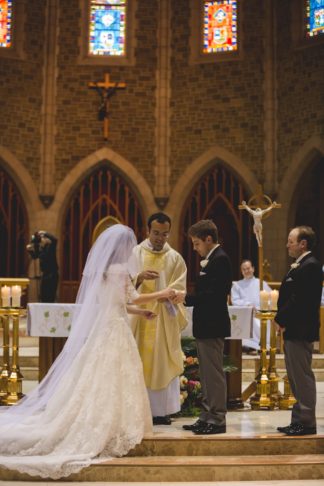 My dad and uncles sang "Climb Ev'ry Mountain," also from The Sound of Music, as Mitch and I signed the register. I went barefoot for the ceremony as an homage to Frodo Baggins, and hobbits in general (who tend to go shoe-less).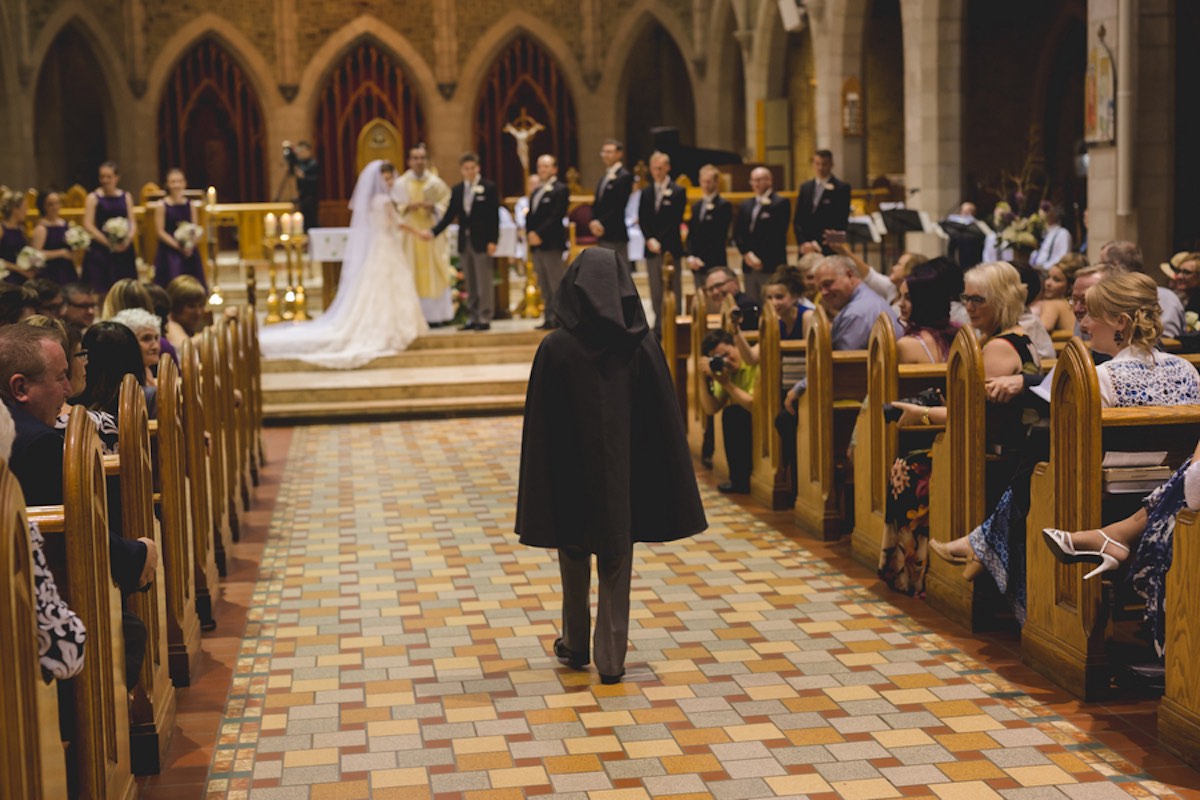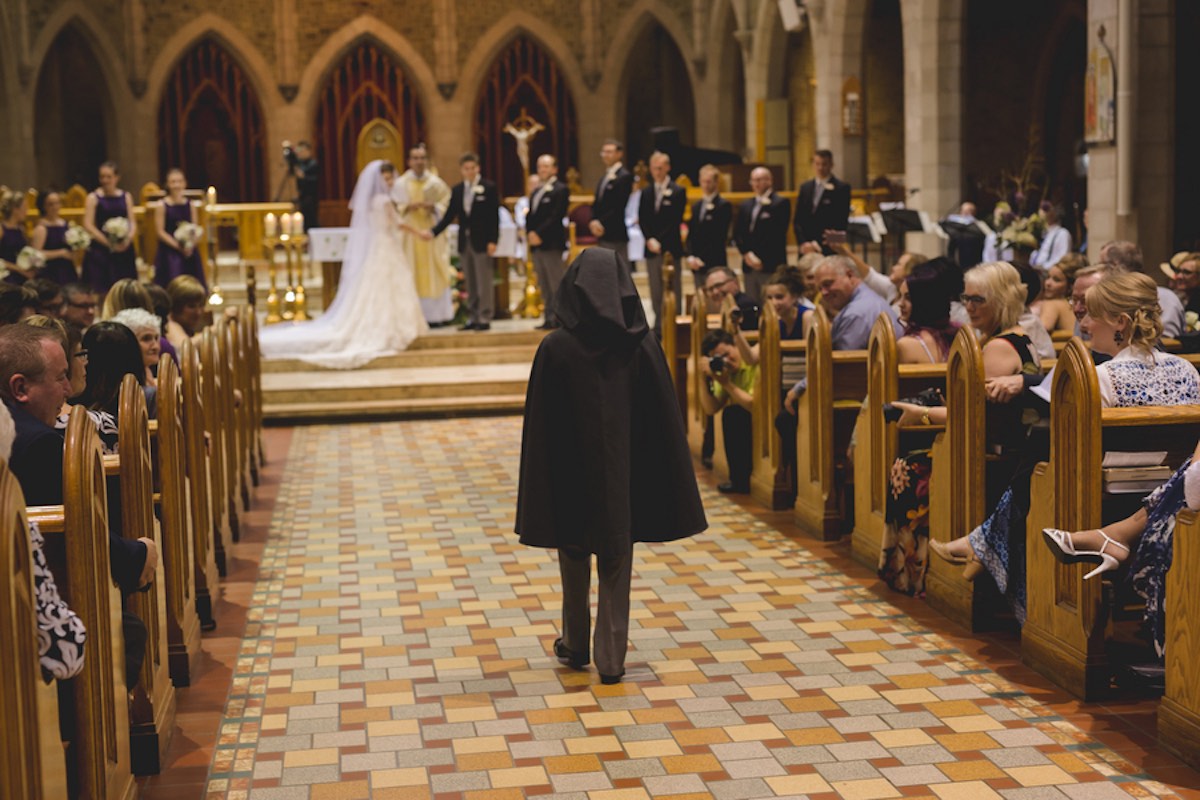 When it came time to exchange rings, the officiating priest agreed to say "bring forth the rings" in a booming voice, which is a reference to what Elrond, a character in "The Lord of the Rings", says when he commands Frodo to display the One Ring of power.
Our ring bearer at that point started processing down the very long aisle at St. Joseph's Cathedral sporting a hobbit cloak and wearing the rings around his neck in reference to Frodo Baggins.
It was a nod that no one in the congregation could miss!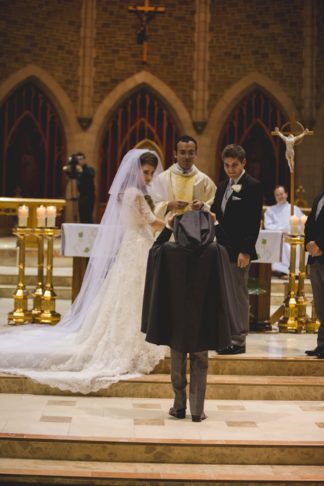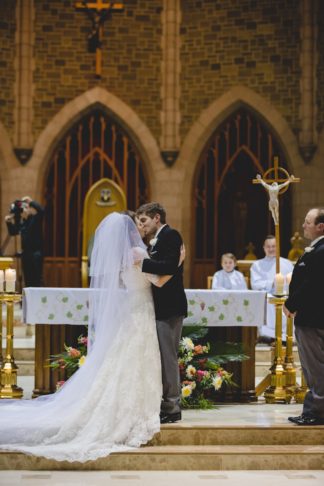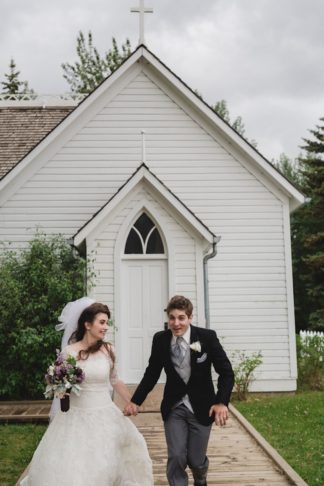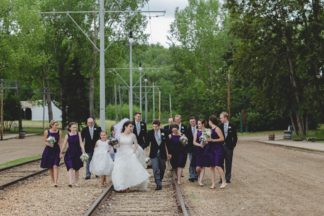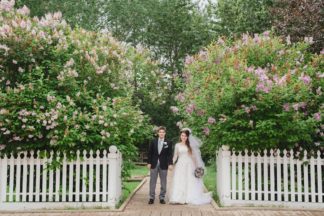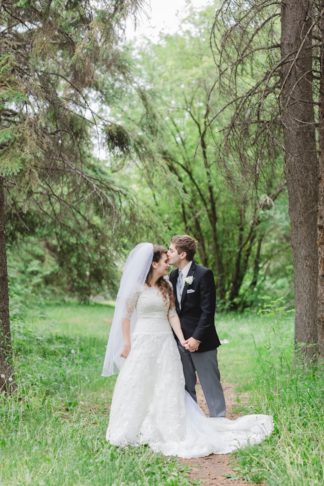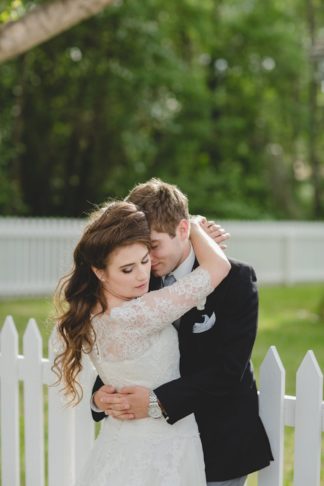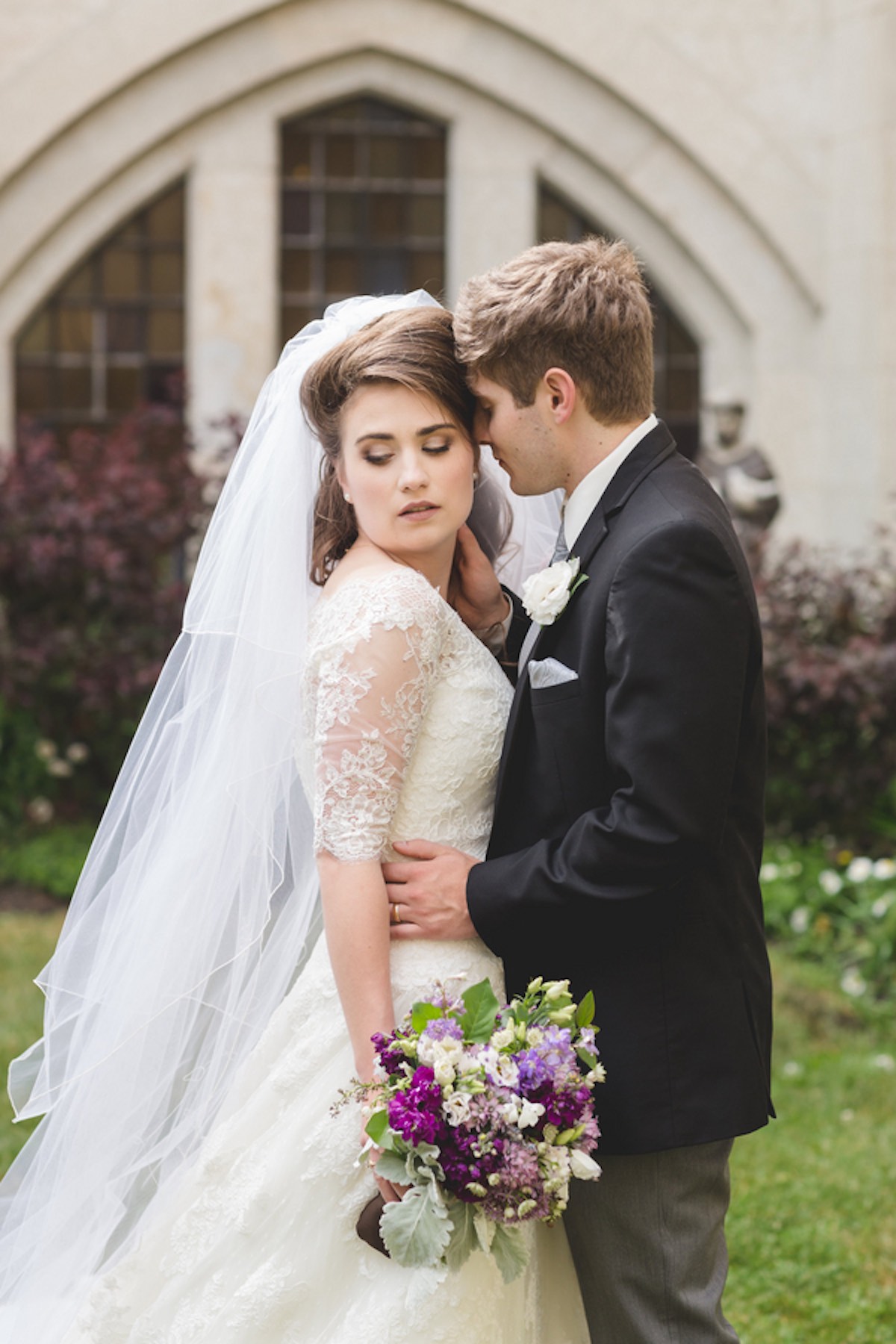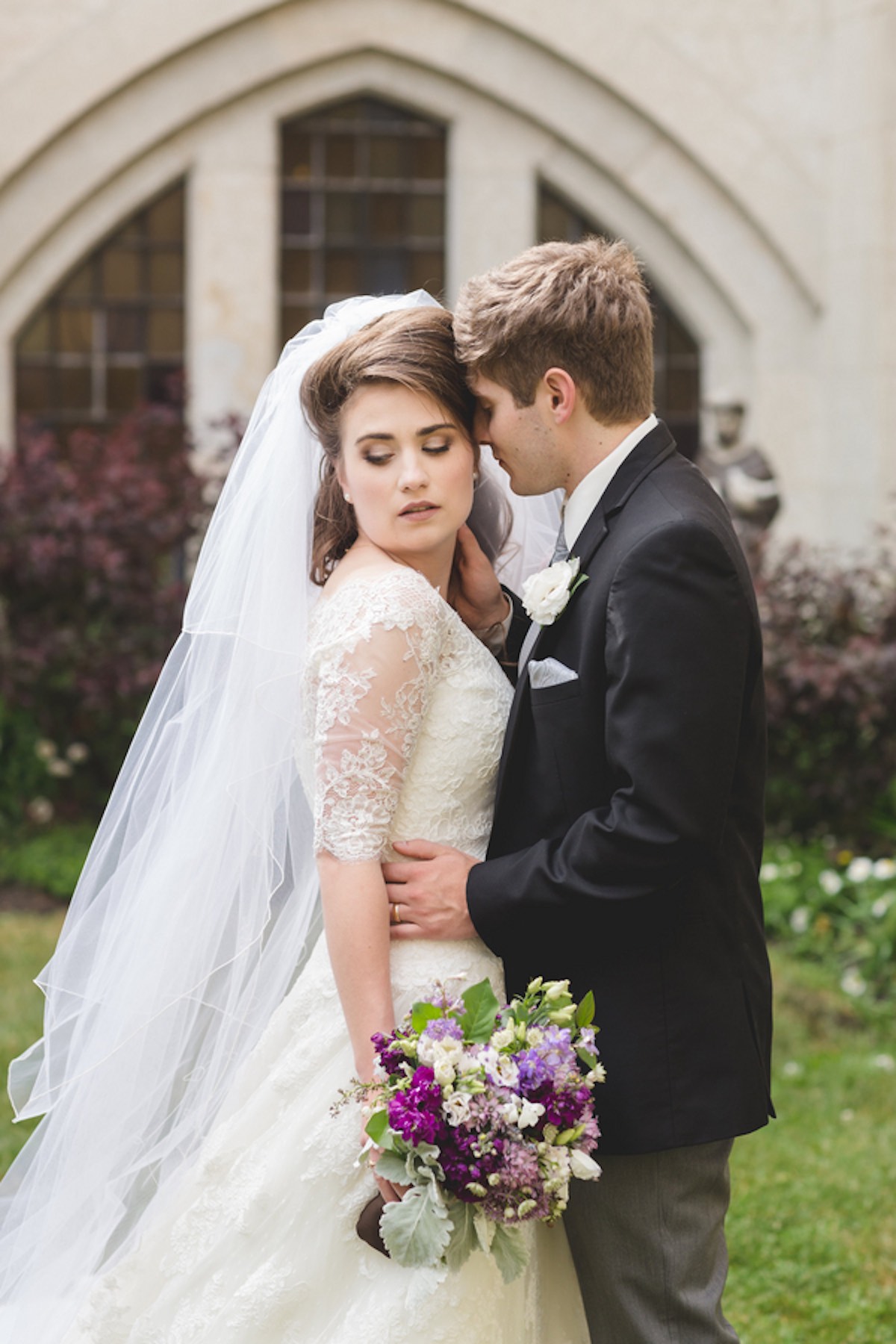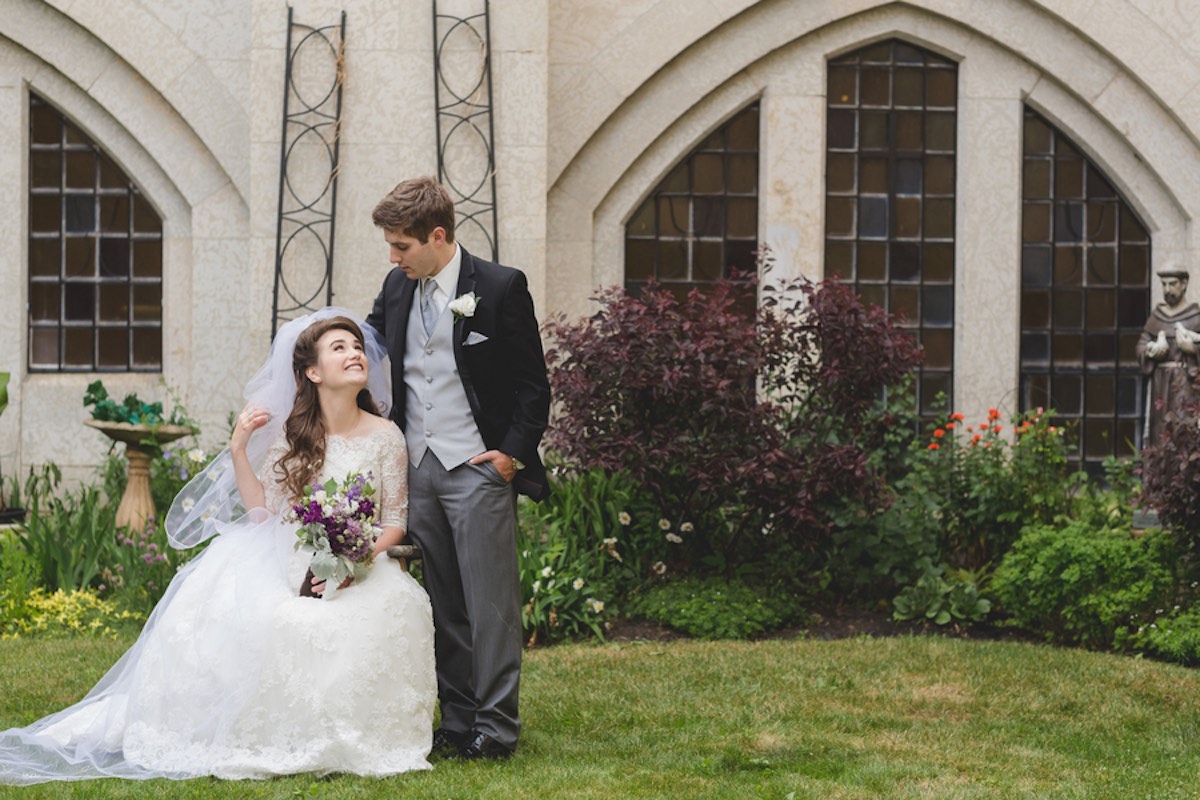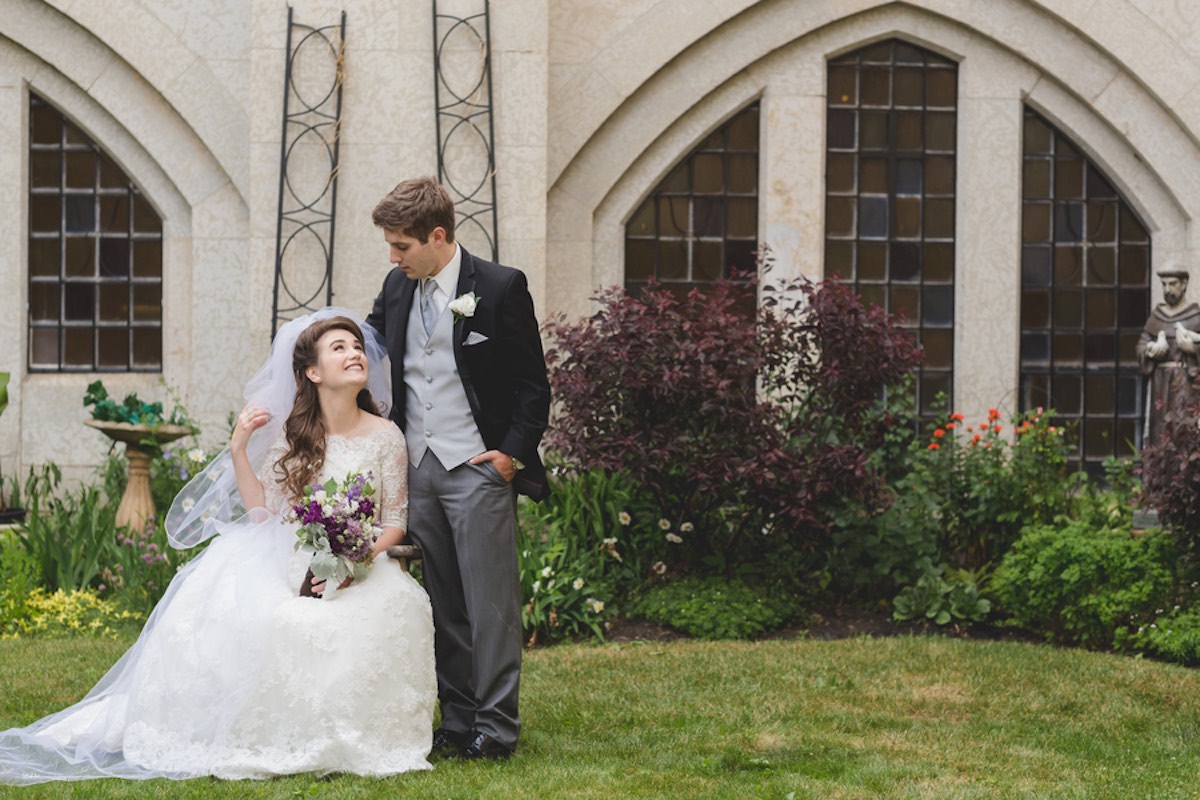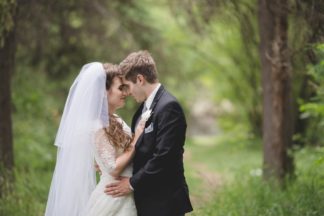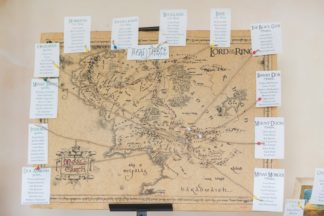 Our guest book was a simple, bound journal. Our seating chart was comprised of two giant maps of J.R.R Tolkien's Middle Earth with the tables affixed around the borders, attached by string to the "land" they represented.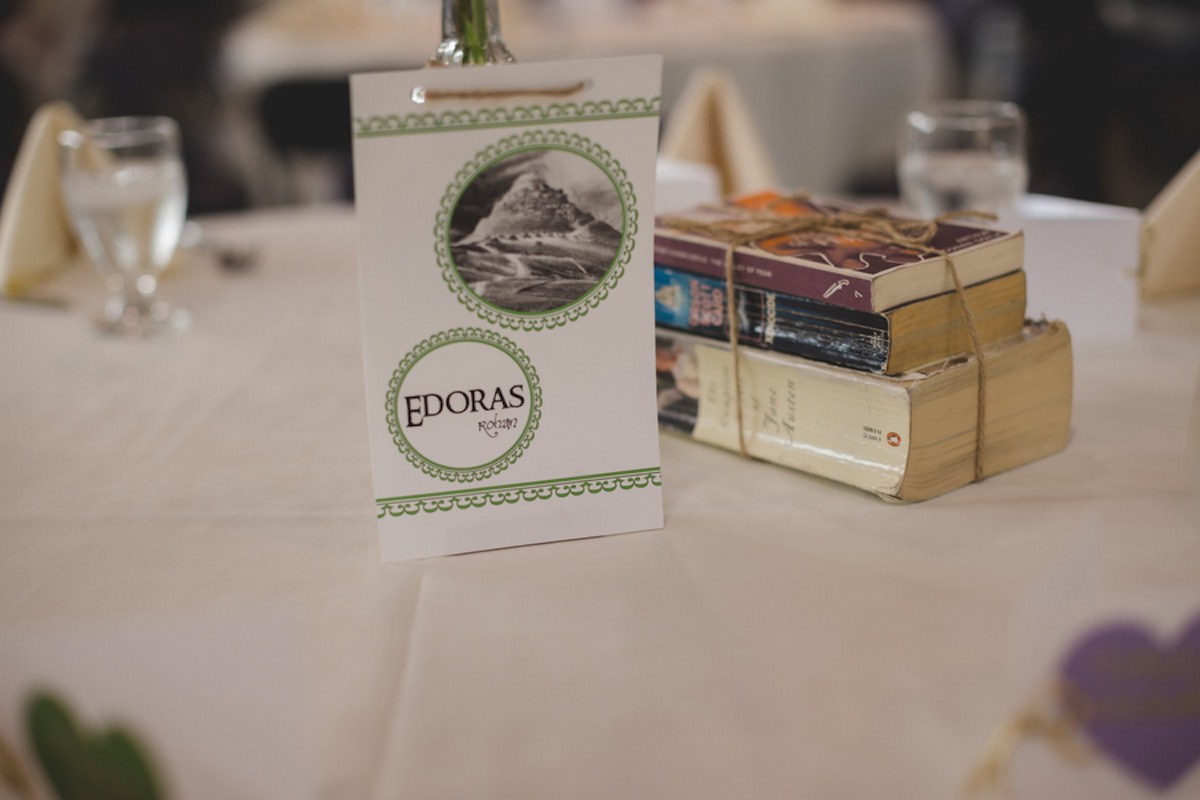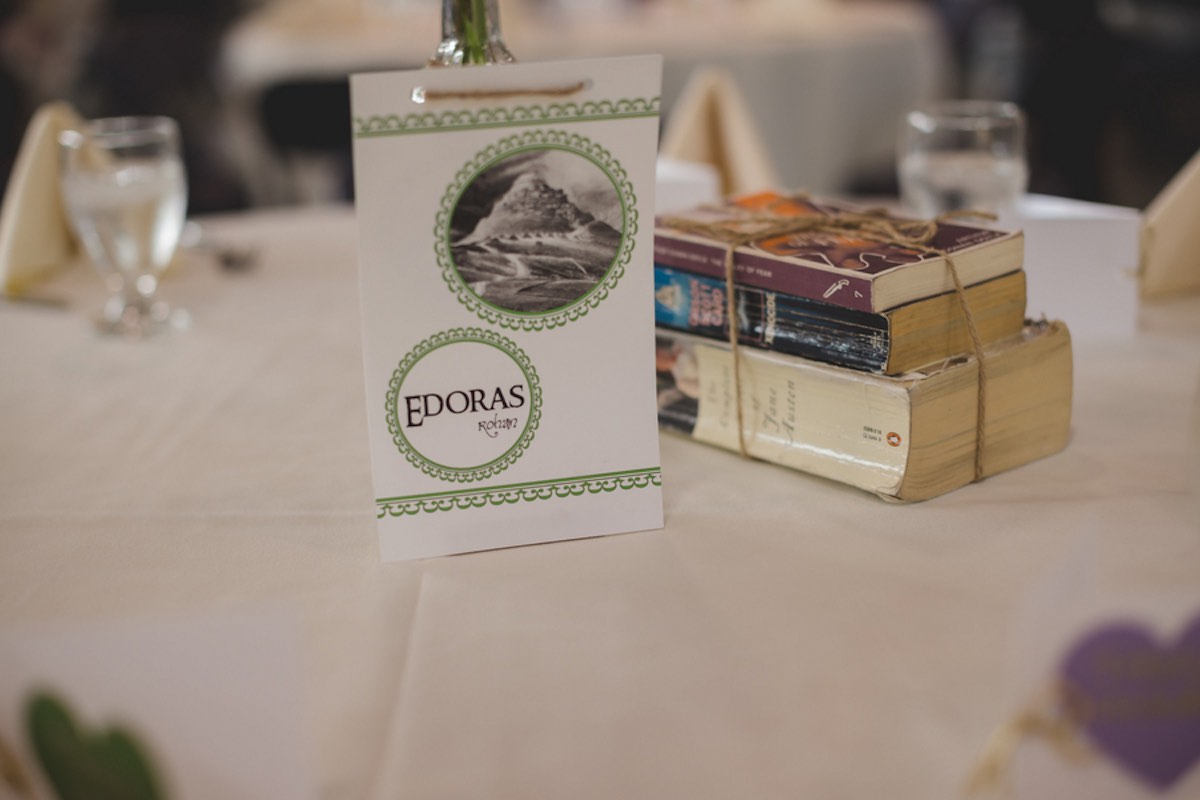 Our friend from the Tolkien Society crafted beautiful table name-cards with images of the various places in Middle Earth on them.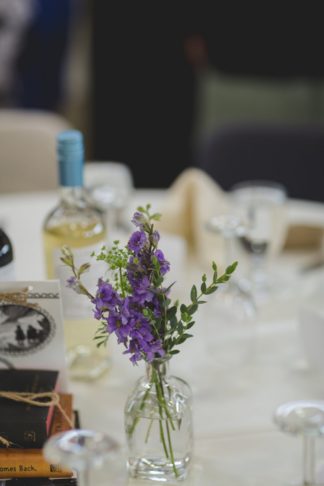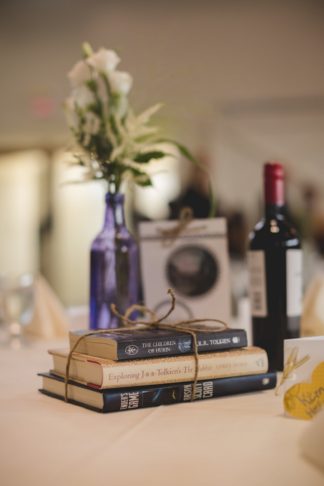 Our wedding tables were all named after realms in Middle Earth, J.R.R. Tolkien's fantasy land. Giant maps of Middle Earth greeted guests as they entered and informed them which realm they were to sit in.  We also had small glass vases with a simple floral arrangement in each.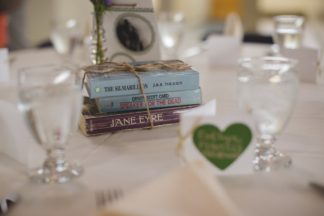 Stacks of books were bound together to symbolize the bride and groom coming together. It was neat because of how varied our interests were – the stacks were quite heterogeneous, with some fantasy novels, physics textbooks (we're both physics students), and versions of the Bible.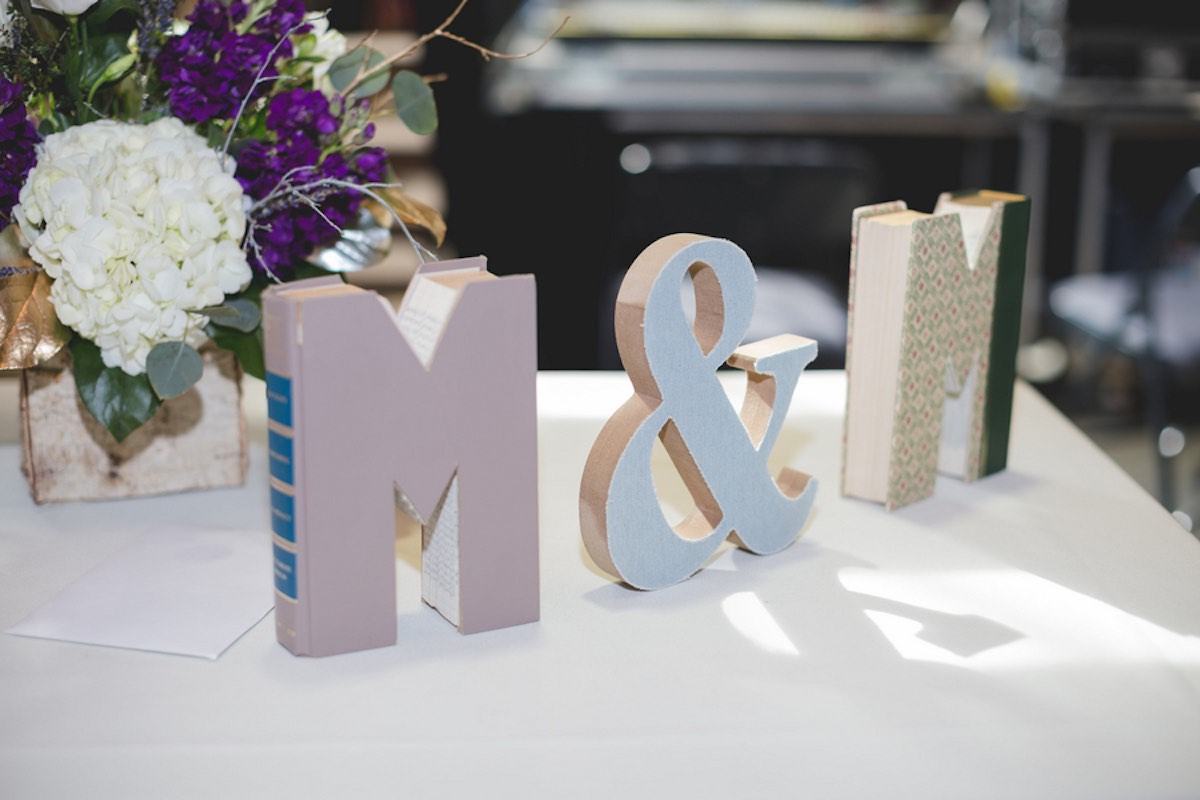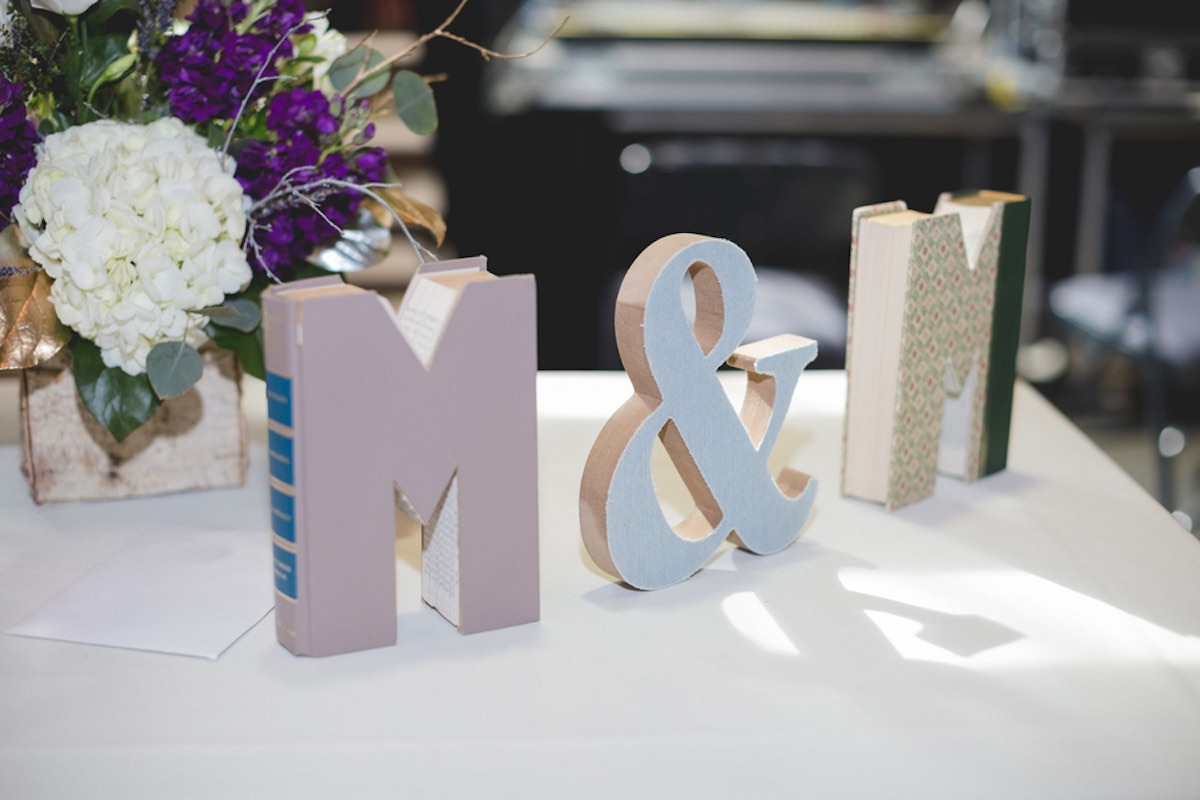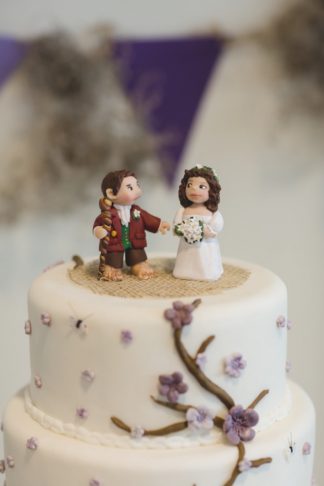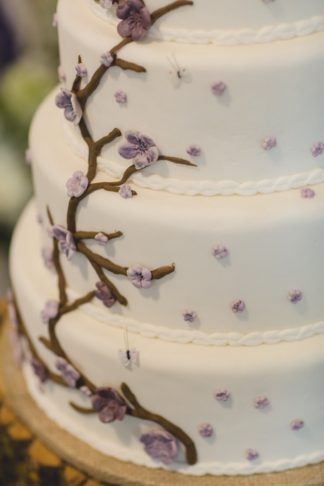 My godmother made the most beautiful Tolkien wedding cake for us – a many-tiered Hobbity masterpiece. She even cut down a tree from her farm to form a stump cake stand, and affixed some mushrooms and moss she found in the forest behind her house to the stump. Topping the cake were two little hobbits!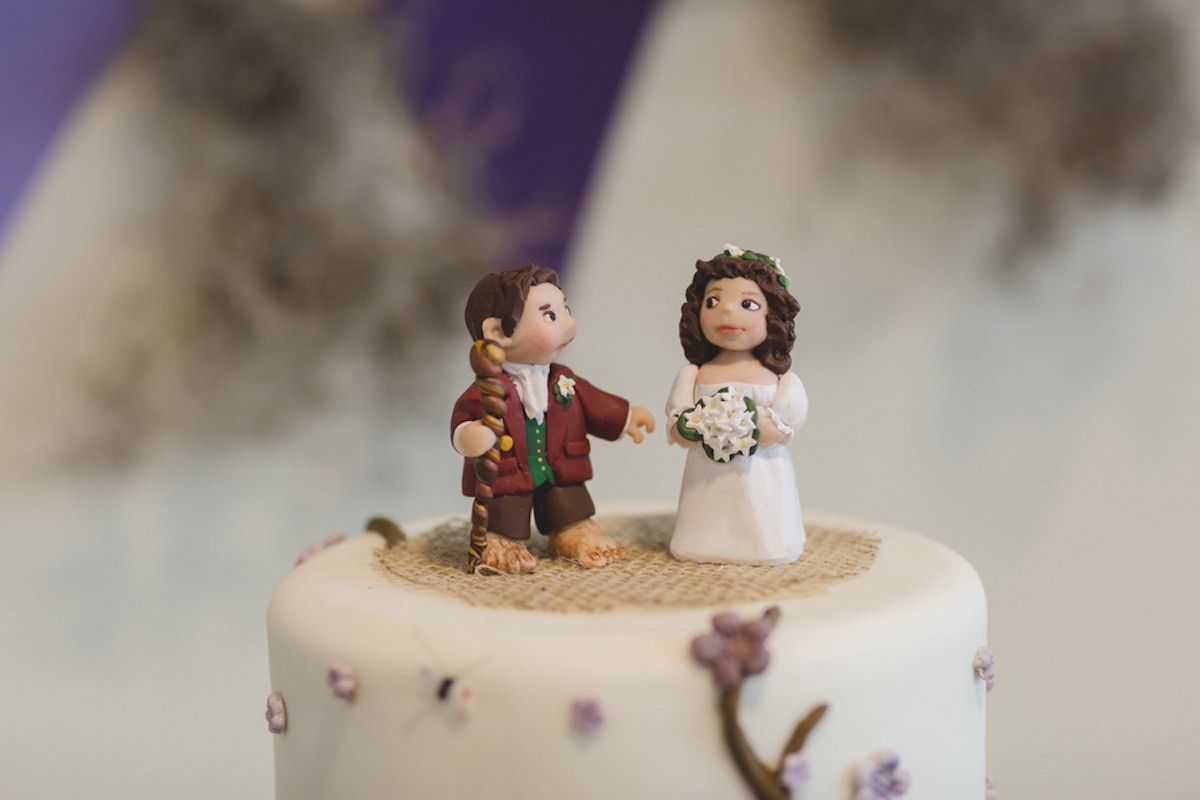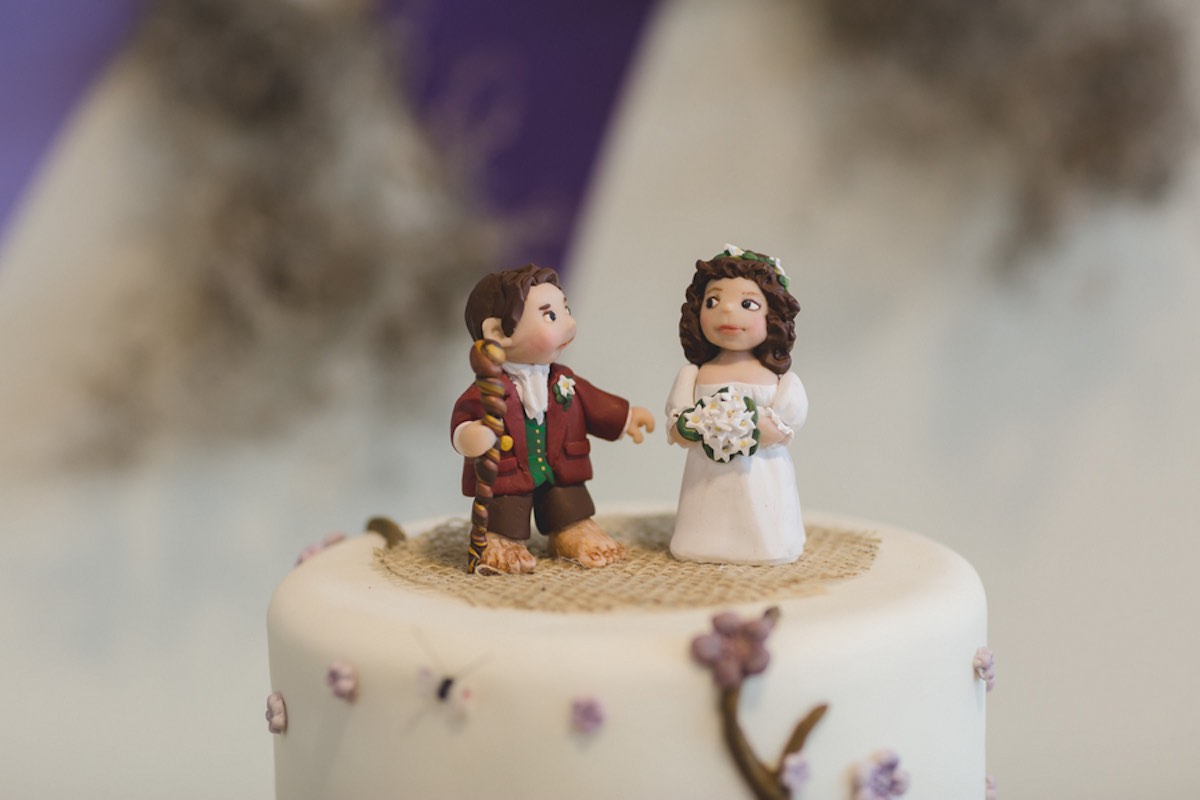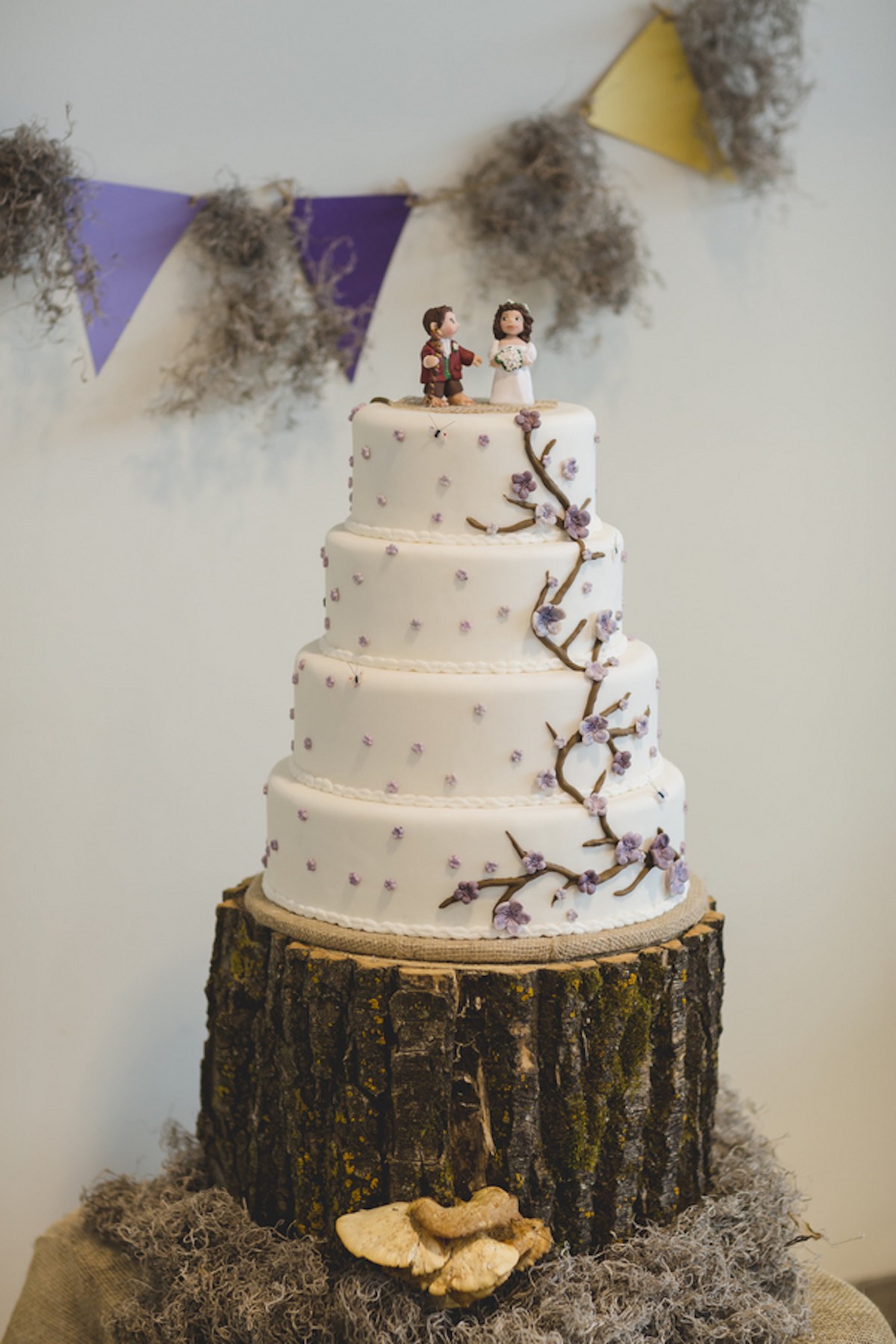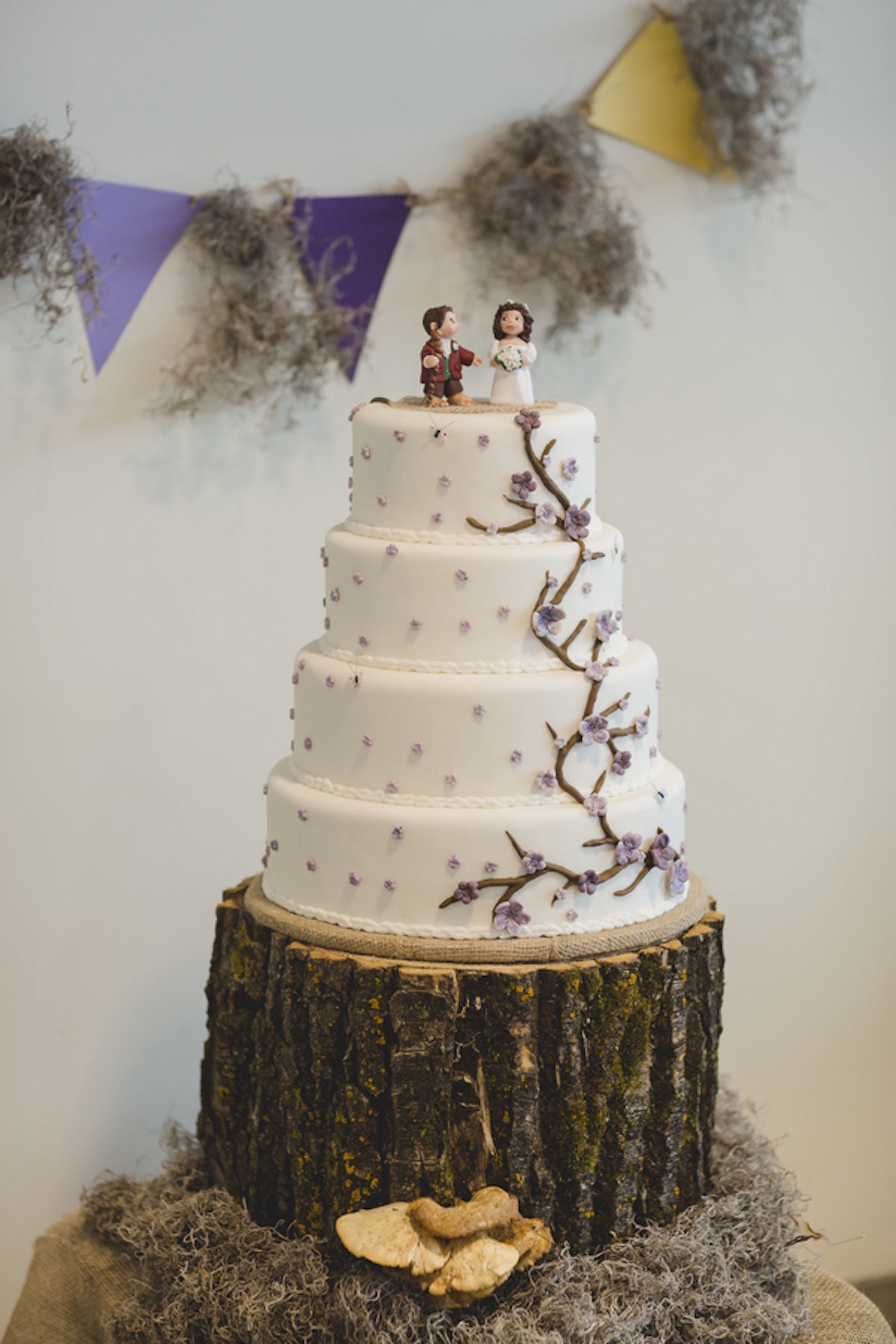 Romantic J.R.R. Tolkien Wedding
Love Story: Mitch's cousin Heather was one of my best friends in high school, and she introduced us when I was in the twelfth grade and Mitch was in first year University. While there was some initial chemistry, I felt too young a serious relationship at the time. After the better part of 18 months before I realized that our love was inevitable. True love doesn't discriminate based on age. We dated for five years before becoming engaged. He would read Tolkien's The Silmarillion and scrawling love messages in chalk on the sidewalk underneath my window. Mitch proposed in a beautiful fashion – Heather (who introduced us) innocently suggested that we go to a cliff in the nearby river valley to watch the sunrise. We arrived to find Mitch there at the cliff at 4 AM on a picnic basket with a huge bouquet of fresh-picked lilacs (my favourite flower) and a guitar. He sang me a song and then proposed with a beautiful ring that looked like it could have belonged to an Elf from Lothlorien! The rest is history.
Wedding Lighting: My dad, Mitch, and I spent months crafting an intricate plan for lighting the venue at Fort Edmonton Park. I was desperate for fairy lights, or hobbit lights, as I like to call them, to be ubiquitous in the venue. We rented some poles and bought thousands of the lights (on a post-Christmas sale, of course) and Mitch and his groomsmen executed the plan the morning of the wedding, stringing them up between the poles all across the hall and head table. It was beautiful! One of my bridesmaids also made bunting in our wedding colours to enhance the rustic feeling.
Wedding Music: I am a musician, so the music was the most important element of the reception for me. We hired a 16-piece brass Big Band for the dance, and interspersed their sets with performances from my dad and my uncles. Our first dance was "Let Me Call You Sweetheart," a WWI-era waltz that sounds lovely in barbershop quartet style…so my dad and uncles sang it in barbershop for us as we danced!
We also have a tradition in my family of the family band altering the lyrics to a song to perform for whoever is getting married. For instance, we changed the words to Ritchie Valens' "Oh, Donna" when my Aunt Donna got married. For me, my dad and uncles and sister rewrote "Be Our Guest" from Beauty and the Beast to "You're the Best" and performed it for me after the speeches. They also modified the tradition for the first time ever to include the spouse! They rewrote "The Good Old Hockey Game" for Mitch, since he is an avid hockey player.
We had my cousin Frank playing fiddle music for the cocktail hour. Free admission to Fort Edmonton Park for all guests is included with the wedding booking, so our guests were able to enjoy the park and its attractions while the wedding party was photographed.
My cousin Frank reprised "How Do You Solve a Problem like Maria" on the fiddle as the wedding party processed into the reception. As I mentioned, our first dance was "Let Me Call You Sweetheart" sung in barbershop quartet style by my dad, uncles, and cousin. My dad and uncles also performed a special rewritten version of "Be Our Guest" (You're The Best) and "The Good Ole' Hockey Game" for Mitch and I.
My family band also played music sets while the brass Big Band was taking breaks, and they had one really great set where they played "Earth Angel," as featured in Back to the Future, and then re-enacted the scene at the "Enchantment Under The Sea Dance" and played "Johnny B. Goode," too. They also played some songs from The Lord of the Rings (eg. "The Green Dragon"). One of my favourite moments was them playing "Marie's Wedding," but changing the words to be "Megan's Wedding."
Planning advice:
One of my number one recommendations is to hire a videographer. It's absolutely worth the money, and provides a memory of the day that photos just can't capture – the sound of the flower girl laughing, mom crying, the full text of all the beautiful speeches…even if a videographer is not in the budget, get one of your guests to record the day – it is well worth it, particularly since so many of the details blur together in the excitement and emotion of the wedding.
A wedding planner, if you can afford it, is something I would highly recommend after having gone through a wedding without one!
Also, it doesn't have to be perfect, and lots of things will inevitably go wrong and not work out as you had envisioned – that's okay! That's life! The most important thing is your marriage, not your wedding day. As long as you both manage to show up and say your vows, rain or shine, the day will be a success! Don't stress.
We didn't rent chair covers or a dance floor and that saved us a tonne of money.
Fairy lights are a really great decorative option and you can get them very cheap in the after-Christmas sales!
With any of the details, ask yourself: am I going to remember this in 20 years? 40? What is really important to me? Come up with a list of priorities, and apportion the money accordingly. For instance, it was crucial to me to have live music, so we moved money from other elements to hire a live band.
Wedding Vendors: