Alice in Wonderland Tea Party Wedding Theme
♥ ♥ ♥
Welcome to this beautiful styled shoot that showcases a collaboration between Chef Sam, Vintage Wedding Press, NewsFavor and Erindipity Photography, which will lead you down the rabbit hole of love into the magical world of Wonderland!
From the stylish DIY wedding stationary and decor printables, wedding cake and treats, you'll be sure to discover Alice in Wonderland-themed wedding inspiration from these collection of ideas in turquoise blue, red, white and cream!
Alice in Wonderland Wedding Stationary
Specialists in the design of fabulous vintage-style wedding stationary and decor printables, the Vintage Wedding Press etsy store is every DIY bride's answer to wonderful stationary  and decor options that are both personalised and affordable.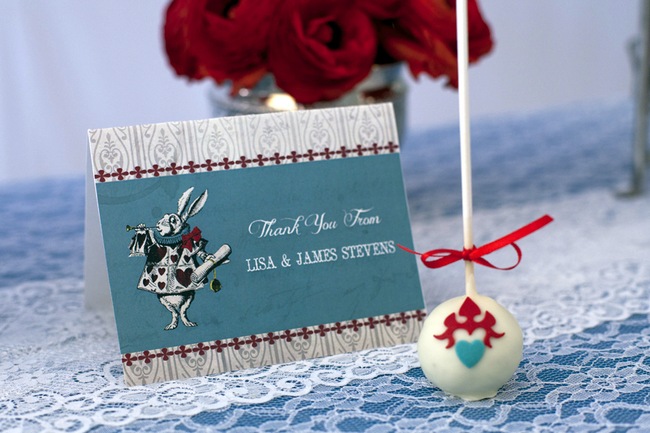 (Above)
The Vintage Alice in Wonderland Thank You Card Printable from Vintage Wedding Press with the White Rabbit and Alice printed on a turquoise, red and white design. 
Alice in Wonderland Newspaper Wedding Invite
Tying in with the Alice in Wonderland wedding theme is this unique newspaper wedding invitation designed by bespoke wedding stationers, NewsFavor.
Printed on high quality newsprint, the The Wonderland Weekly Alice in Wonderland Wedding Invitation is filled with a collection of the couple's love stories, photos and details of their exciting wedding!
Designed in a quirky style fitting the Alice in Wonderland story, it is an unusual wedding keepsake that preserves special memories for both the newlyweds and their invited wedding guests to treasure for many years to come.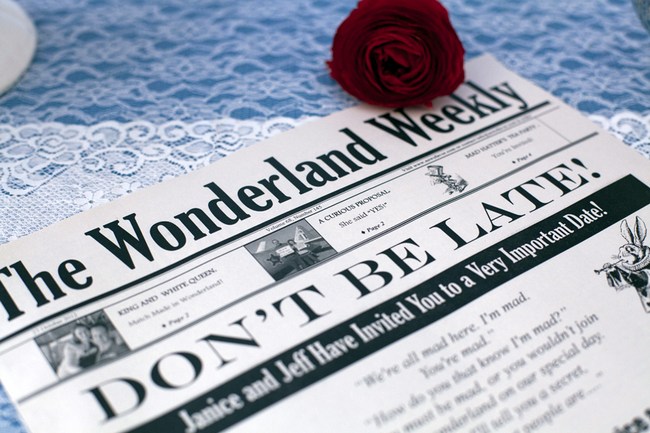 (Above)
Inside, the couple's proposal is revealed and a few articles about the couple, as shared by their loved ones. A bridal party feature is also included beneath an eye-catching headline that reads:
 "We're all mad here!".
(Above)
The back page of the newspaper wedding invite presents the details of the wedding event.  
Alice in Wonderland Wedding Decor
The Alice in Wonderland-themed table decor was a contrasting combination of red, blue and white colours that worked well with the vintage silverware and delicate vintage china.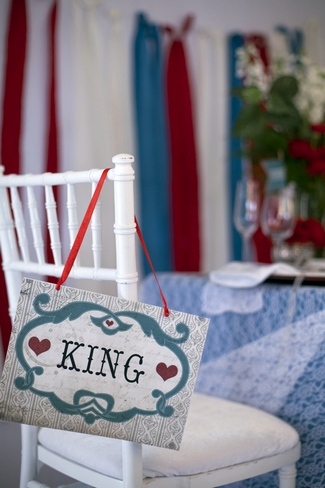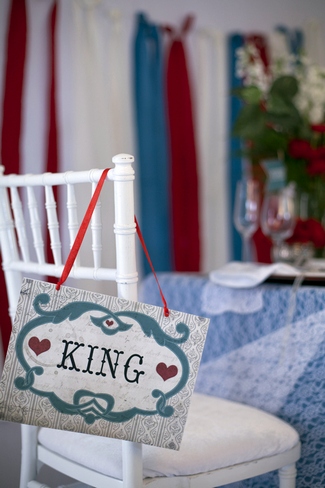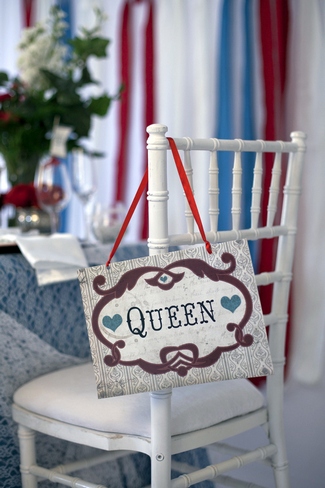 (Above)
Displaying these Alice in Wonderland King and Queen Wedding Chair Signs from Vintage Wedding Press is the perfect way to reserve the seats for the Queen of Hearts and her beloved King. 
(Above)
 Have Alice, the Mad Hatter and the White Rabbit help guide your guests to their tables with these Vintage Alice in Wonderland Table Number in red, blue and white.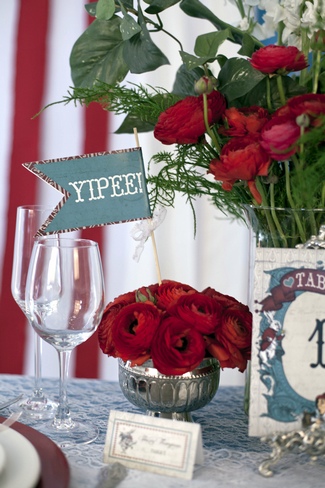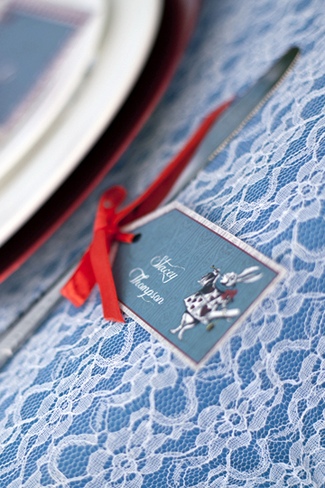 (Above Right)
Alice in Wonderland Vintage Wedding Favor Tag Printables that can also be used a guest place or name cards.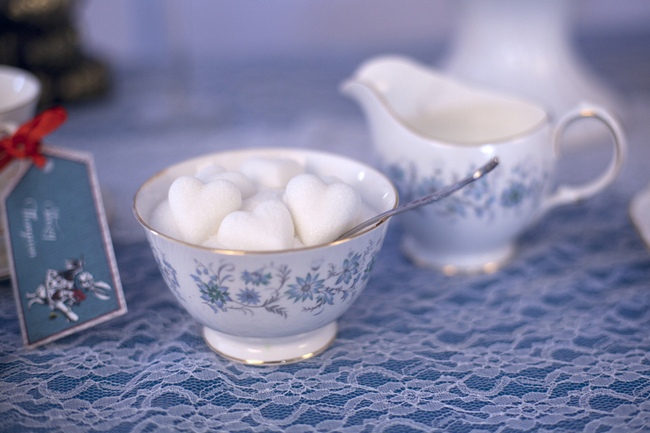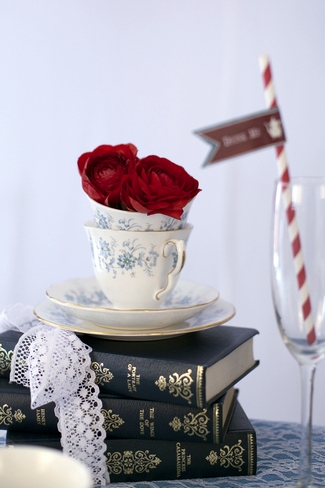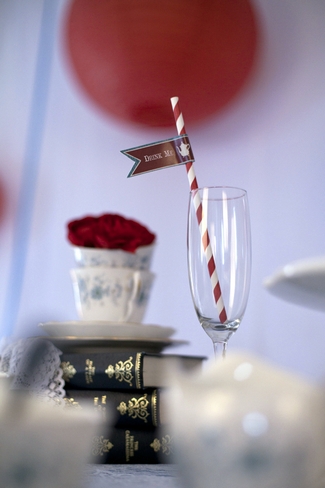 (Above)
 These cute Alice in Wonderland "Eat Me. Drink Me." Food & Drink Flag Printables from Vintage Wedding Press can be used to decorate drinking straws or food nibbles.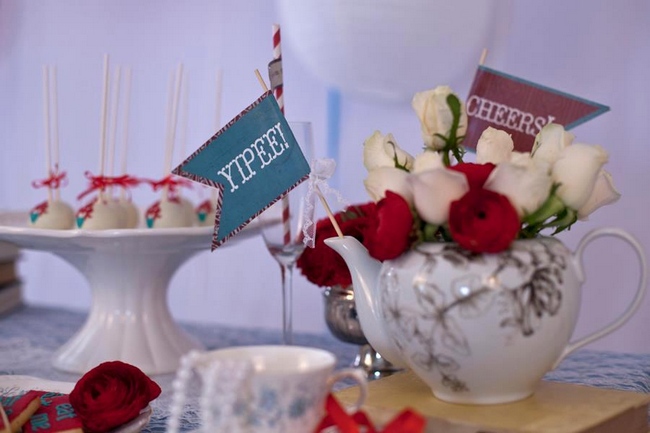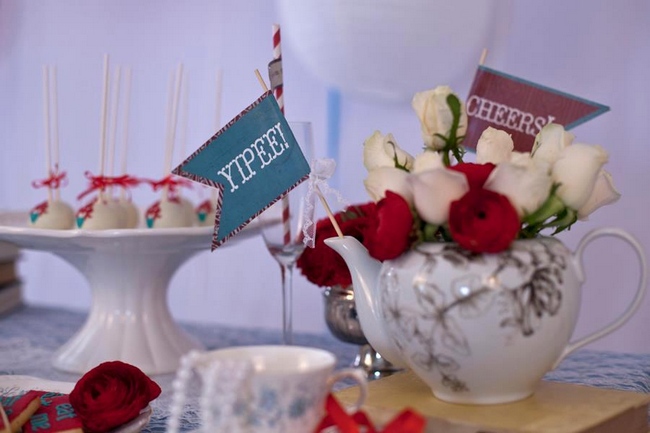 (Above)
 Smile-inducing Alice in Wonderland Vintage Yay Flag Printables in blue and red with hints of cream and white from Vintage Wedding Press  
Alice in Wonderland Wedding Treats
The talented Chef Sam who is well-known for her realistic works of edible and delicious art, brought the Alice in Wonderland theme to life! Stealing the show, was the towering rose-adorned wedding cake, which was accompanied by yummy desserts that each relayed a romantic message inspired by the classic Alice in Wonderland tale.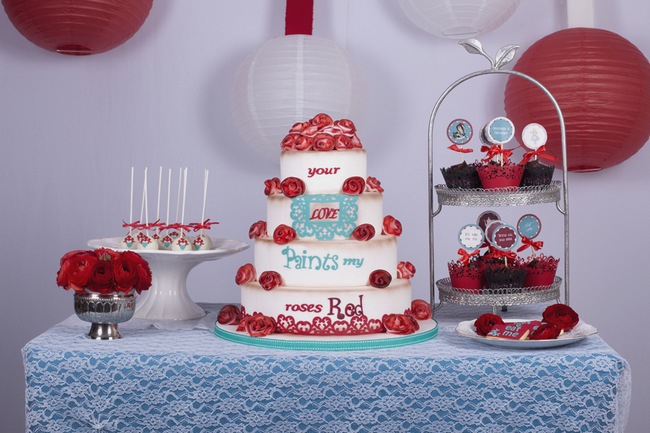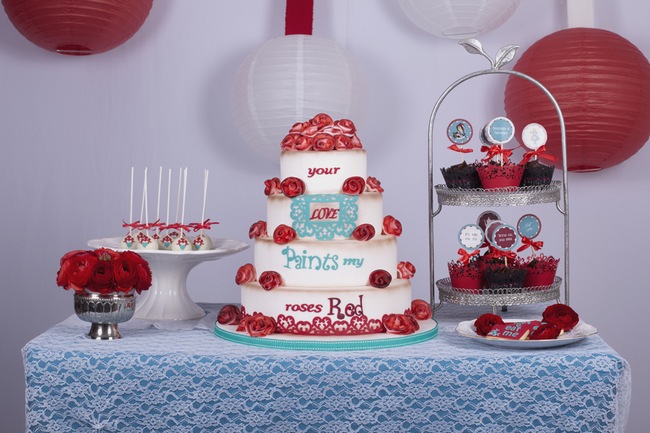 (Above)
Alice in Wonderland-inspired wedding dessert table filled with a striking wedding cake, cake pops, cupcakes and biscuits that are displayed upon a transparent lace table cloth with the colour blue hinting through.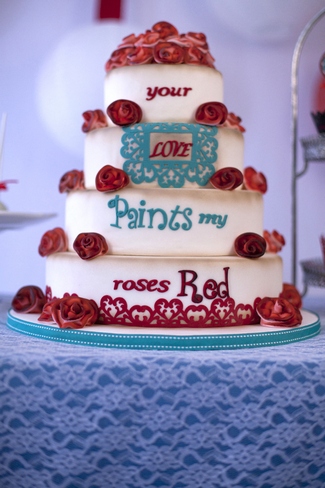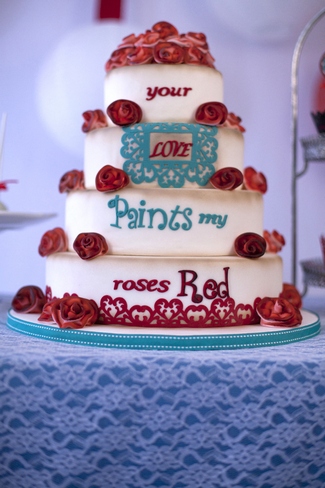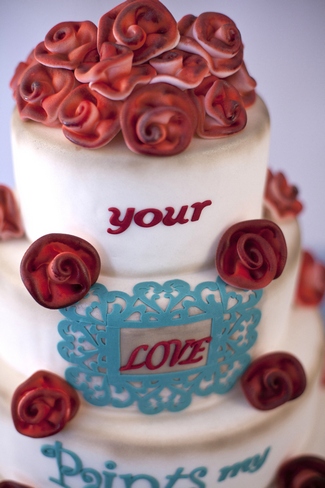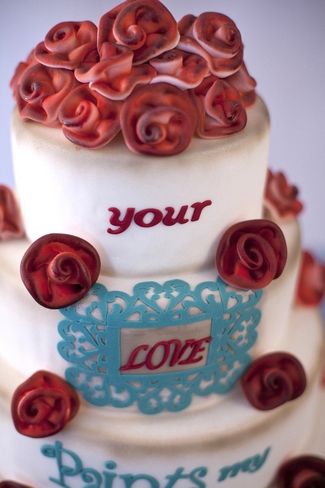 (Above)
 A romantic Alice in Wonderland-inspired 4-tiered wedding cake created in white fondant sprayed with a light copper brown airbrush for a vintage effect. The turquoise decorative frame borders were designed from thinly rolled fondant that was created using a paper punch. White fondant roses were sprayed to create a saturated red paint effect and features the sweet yet cheeky phrase, "Your love paints my roses red".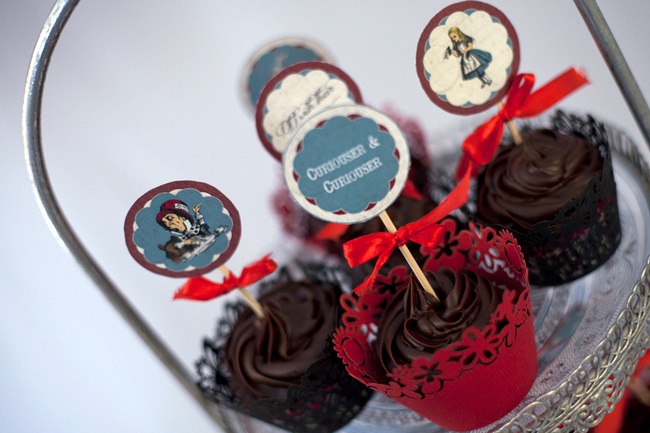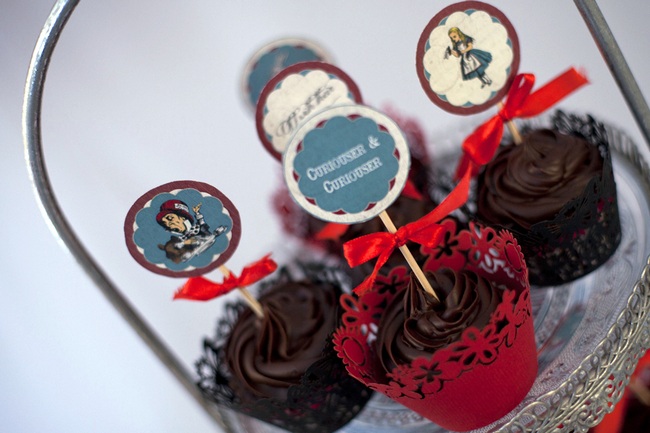 (Above) 
Vintage Alice In Wonderland Cupcake Topper featuring Alice, the White Rabbit and the Mad Hatter in blue, red and white designs.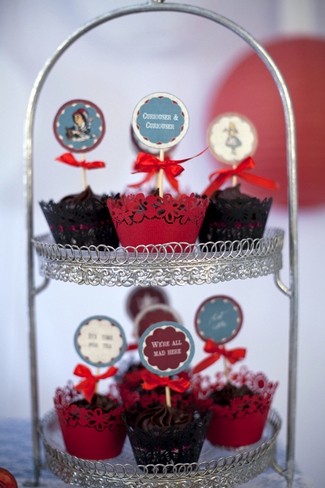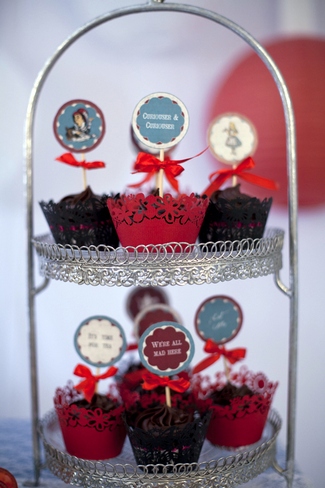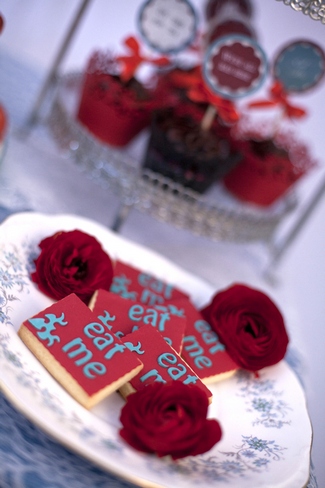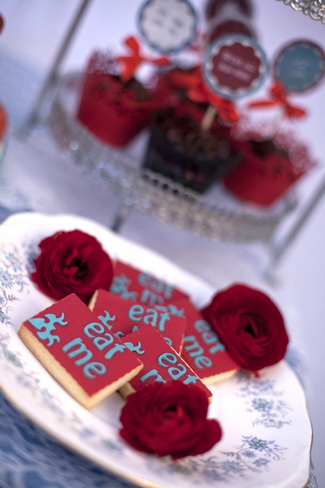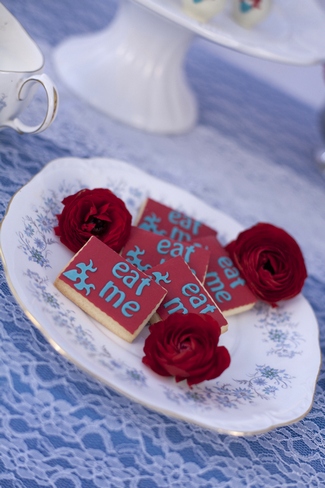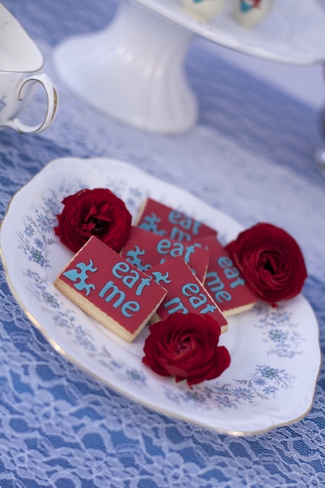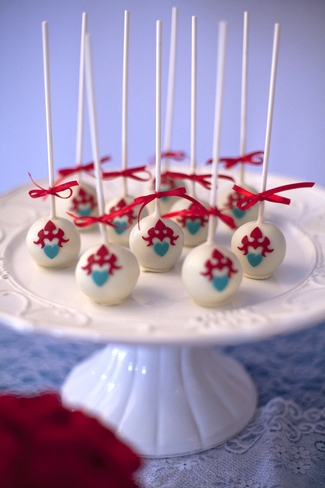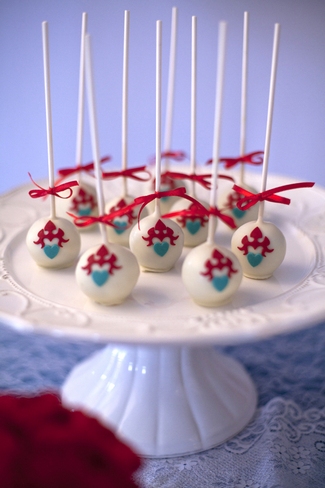 (Above)
Alice in Wonderland custom made 'Eat Me' biscuits and pretty cake pops with heart decal design. 
Find more Alice in Wonderland tea party inspiration for your wedding by browsing our 20 DIY Alice in Wonderland Tea Party Wedding Ideas & Inspiration.
Vendors
Photography:
Erindipity Photography by Jess Commaille
 |
Cakes and Treats:
Chef Sam 
| |
Wedding Newspaper:
 News Favors – Personalized Newspapers