Vintage Wedding Décor Ideas
Wedding Décor Style Tips
Break the rules by bringing different décor elements together to achieve an overall vintage effect that just works! The vintage wedding theme covers several eras, explains Angie Saaiman, from My Pretty Vintage, in Cape Town, South Africa.  From 1920's Hollywood glam, to rustic country and elegant romantic, with a fun festival Backyard wedding style trend arising where guests play games on the lawn and drink Pimms from vintage soda bottles, there is a vintage trend for everyone.
Go ahead and pick up a few décor ideas that'll work for your Big Day by browsing through these top 5 Vintage Wedding Décor Ideas as revealed by wedding experts in our free Wedding Magazine & Bridal Guide – The Vintage Edition.
1. Magical Mint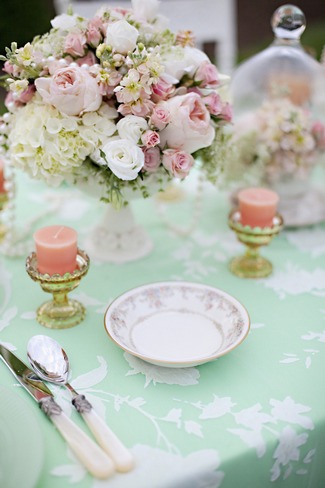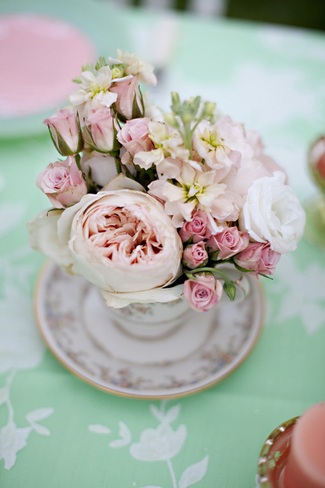 (Above)
 Peach and Mint Green Wedding Tablescape | Styled by:  
Serendipity Bridal and Events
 | Shot by:  
Stacey Windsor Photography
 | Featured by:
United With Love
The colour mint is big this season, reveals Margaux van den Berg, from Blank Canvas, in Cape Town, SA. She explains that adding a splash of mint is a wonderful way to freshen up the usual "natural colours" so often associated with a vintage theme. This season's colour palate also extends to combining bright fabrics with dainty chinaware to achieve the "wonderland" event look, says Angie, from My Pretty Vintage.
2. More is More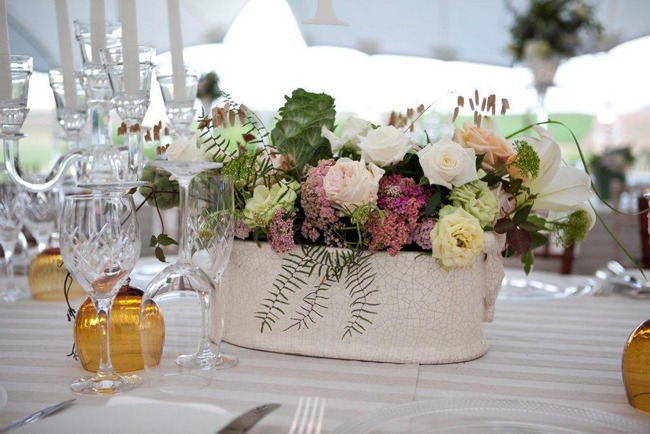 (Above) 
Flower Centrepiece | Styled by:
The Aleit Group
| Shot by:
Zara Zoo Photography
Say goodbye to traditional and uniform centrepieces, says Cape Town-based wedding décor stylist, Barry Geyer, from Event & Design. He reveals that "having one large arrangement is a bit outdated" and recommends smaller arrangements that bring detail into your wedding theme.
3. Vintage Mix-Match
Rosie Elliott, from A Vintage Wedding, in Essex, UK, says that wedding trends this season are given a relaxed and romantic feel by pairing floral arrangements with "pretty bunting or colourful pompoms, beautiful vintage crockery and antique lace table cloths".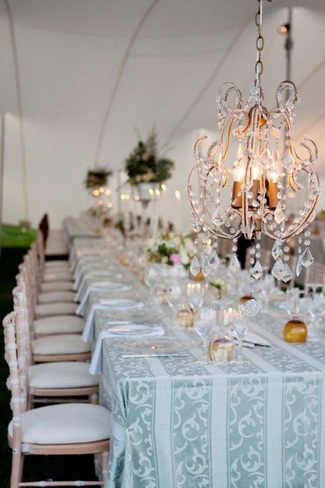 Johnny Hamman, from Cape Town-based Aleit Wedding Co-ordination agrees, adding that mixing flowers with your vintage wedding décor can add a whimsical effect.
A key flower trend this season that will help you achieve a more natural and rustic arrangement is to use 'just picked' country flowers such as roses, daisies, stocks and sweet peas and display them in a mixture of miss-matched crockery, pots and vases, says Rosie, from A Vintage Wedding.
In addition, Joanna Blake, from, JoBlake, in Washington DC, US tells us that all sorts of mason jars are perfect to use to add an authentic beauty to you wedding day décor.
(Left)
 Classic Vintage Tablescape | Styled by: The Aleit Group | Shot by: Zara Zoo Photography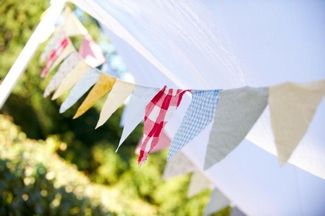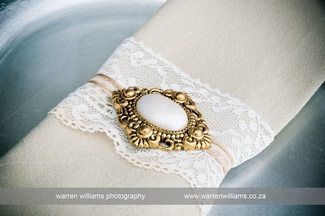 (Above Left)
Vintage Colour Bunting | Styled by: The Aleit Group | Shot by:
Ryan Graham Photography
|
(Above Right)
 Antique Brooch & Lace Napkin | Styled by:
Blank Canvas Events
| Shot by:
Warren Williams Photography
Johnny from Aleit Wedding Co-ordination points out that "the biggest word when designing a vintage wedding is miss-match". Indeed, centrepieces with mismatched décor differing from table to table completes the vintage look, concurs Margaux, from Blank Canvas. Other ways of mixing and matching is to pair "traditional lace with rustic textures such as burlap and wood", which Kate Barnes, from Events by Heidi & Kate, in New South Wales, AUS believes looks fabulous for both ceremony and reception styling.
4. Vintage Suitcases and Gramophones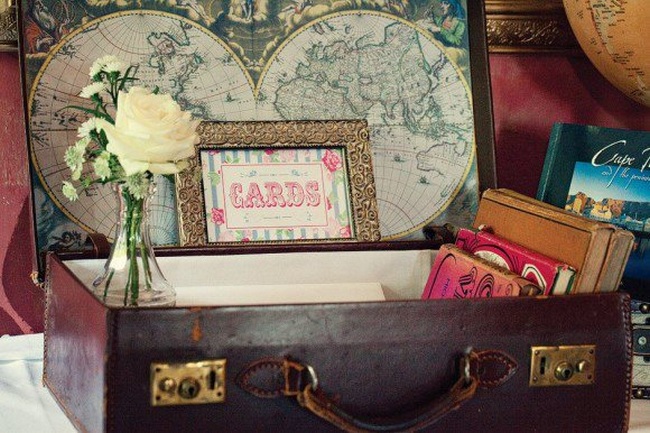 (Above)
Old Globe and Suitcase Gift Box | Styled by:
A Vintage Wedding
Sharing their ideas, our wedding décor styling experts, Barry and Margaux tell us that vintage décor can include anything from old vases and vintage cups and teapots, to vintage 1940's and 50's household items such as telephones, typewriters, appliances and even cars.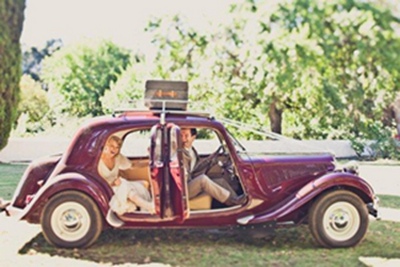 A unique and pretty vintage flavour can be achieved by combining these found objects with lace tablecloths, old suitcases, gramophones, birdcages and vintage-style flower arranging in old silver teapots, says Claire Hodge, from A Vintage Affair, in Cape Town, SA.
(Left) 
Vintage Automobile | Styled by:
A Vintage Affair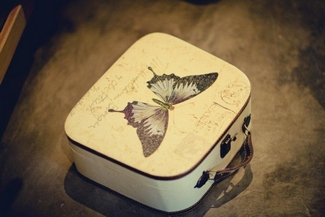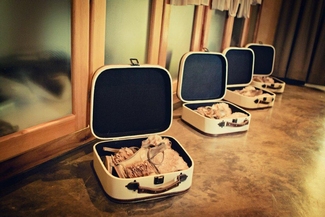 (Above) 
Bridal Party Vintage Suitcases | Styled by: The Aleit Group | Shot by:
Sybrand Cillie Photography
The main point to remember, says Angie, is to steer away from the "cookie-cutter" centrepieces where each table is identical and rather opt to have fun with your wedding tables by incorporating a few different arrangements. Rosie agrees that styling décor items such as old suitcases into your table plans is right bang on trend! Furthermore, Margaux reveals that one can even add stacks of yummy mint-coloured macaroons as centrepieces.
5. Hanging Backdrops & Signs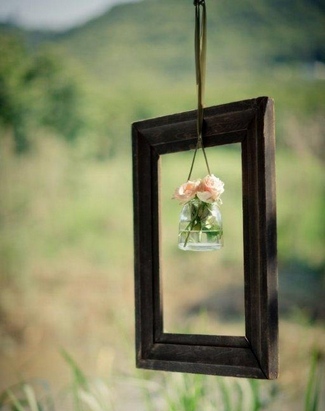 Another fun décor idea is to "suspend anything", says Johnny. High in fashion, he elaborates that suspending a selection of vintage tea cups or props above your reception tables look magnificent when combined with several candles displayed in different vintage containers as your table décor.
Hanging flower-filled jam jars all around your venue is also a great idea, says Rosie.
Then again, chandeliers used as a single statement piece or in an abundance of different styles and sizes are perfect to make a dramatic impact, reveals Kate, from Events by Heidi & Kate. She adds that crystal or wrought iron candelabras dressed with Amaranth make great table centrepieces.
(Above) 
Framed Flower Jar | Styled by: The Aleit Group | Shot by: Sybrand Cillie Photography |
(Below) 
Wooden Reception Sign | Styled by: A Vintage Affair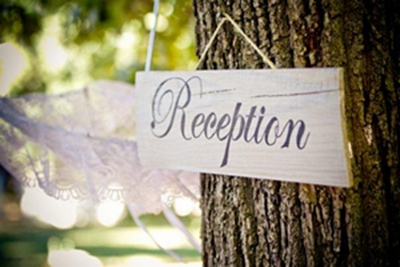 Overall, when it comes to other aspects of your wedding décor, Johnny clarifies that your wedding tables should once again be timeless, with various textured venue backdrops serving to frame and enhance your wedding venue.
Vintage-inspired garlands or banners that feature a couple's wedding date or a saying such as 'JUST MARRIED' are very trendy right now for backdrop décor, states Joanna from JoBlake. Furthermore, wedding arches crafted from bamboo or simple wooden arches adorned with an abundance of flowers and greenery are the way to go, shares Kate.
(Above) 
Old-Style Liquor Table | Styled by: The Aleit Group | Shot by: Sybrand Cillie Photography
Guiding you to wedding décor that is sure to hit the vintage spot, this collection of fabulous vintage trends shared by those in the know, shows us that the best vintage décor inspiration can be found right on your very own doorstep! [