Mint & Coral Vintage Wedding
Los Angeles, Ca
♥  ♥  ♥
What a FUN wedding! Planned and handmade by the couple and their loved ones, Marcus and Mary had a vintage inspired Summer wedding with irresistible soft and pretty mint and coral colours!
From their tissue paper place cards and lace table runners to their wildflower seed bomb favours and their keepsake painted portraits of each other, the lovebirds were quite the DIY power couple! As they both love places and things that are aged and have a story to them, the vintage feel was perfect. Take a look at the splendid details taken by Laura Goldenberger of their day.
Mint & Coral Vintage Summer Wedding Look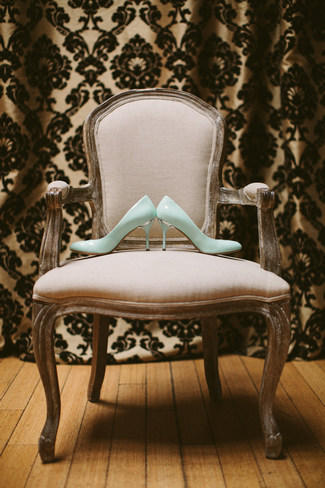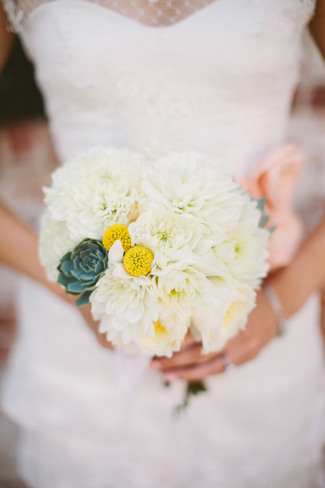 (Above Right) Vintage Summer Wedding Bouquet: Mary's bouquet was a collection of crisp whites, eye-popping yellow and mint accents that exuded a fresh romantic feel.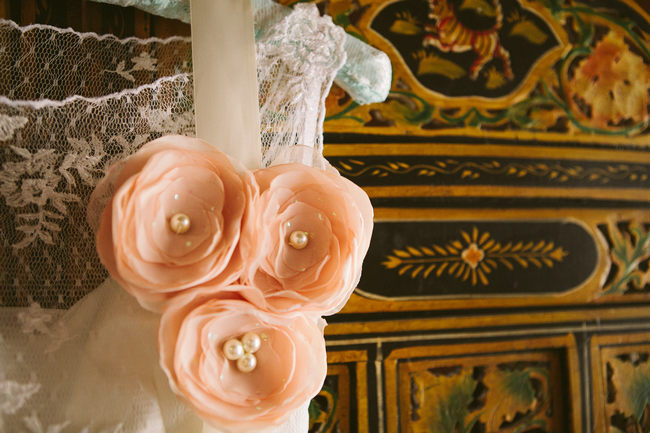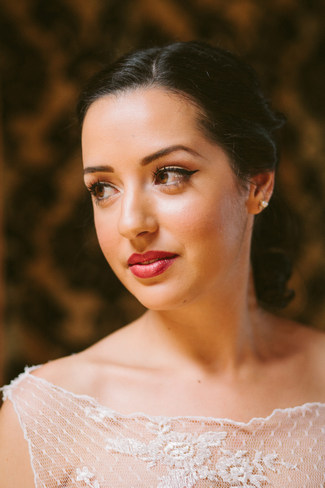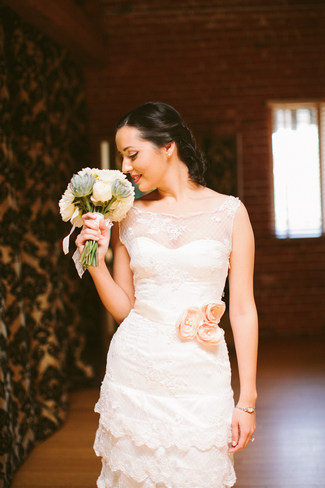 Vintage Summer Wedding Dress:  Mary wore two dresses, a 1920's inspired vintage, lace tiered wedding gown for the ceremony and a tea length 1960's inspired wedding dress for the reception. Her amazingly talented sister handmade both of her dresses!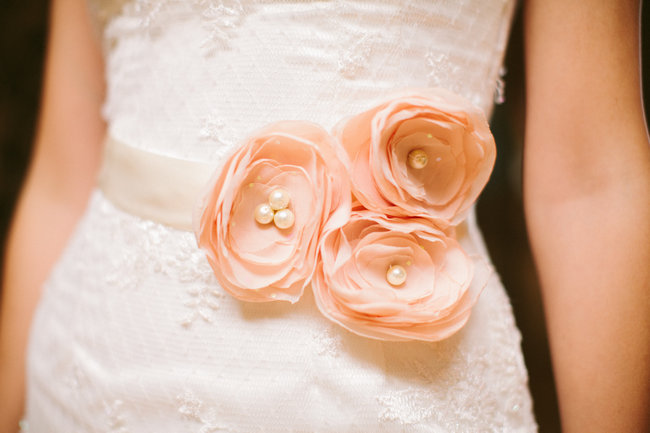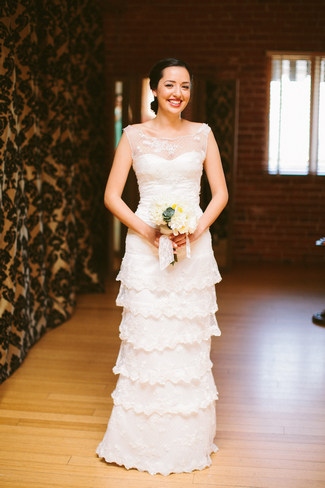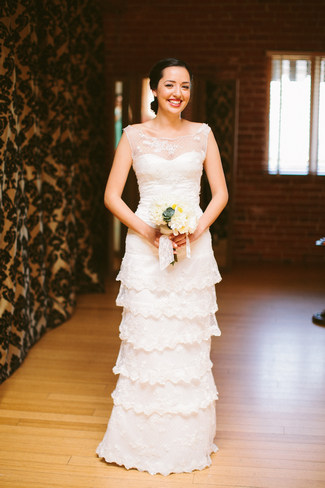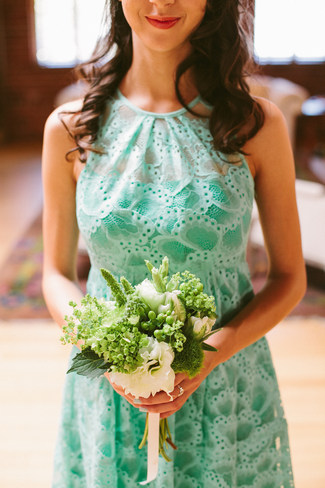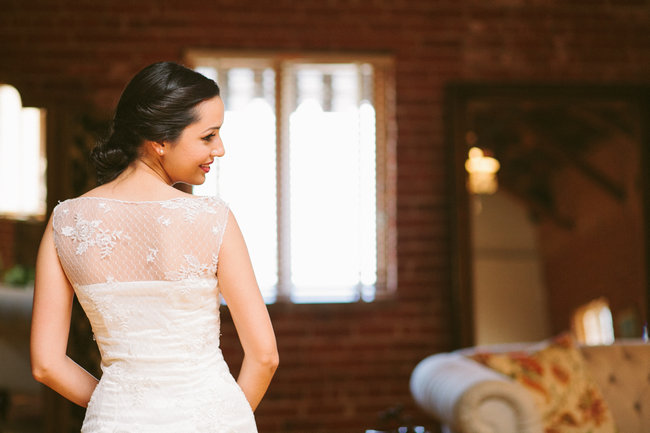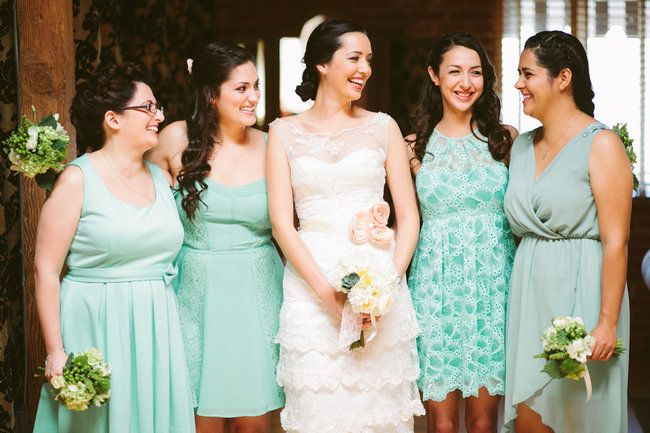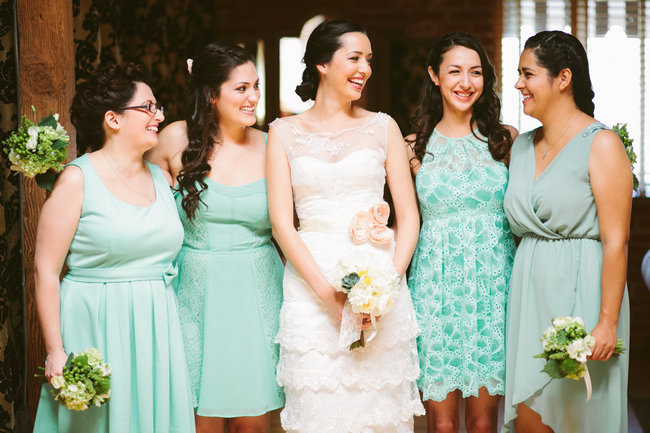 Mint Vintage Summer Bridesmaids Dresses and Bouquets: The bridesmaid wore deep mint dresses in various styles and carried green bouquets with touches of white florals.
Mint & Coral Vintage Summer Wedding Ceremony
Their neighbourhood church saw the couple exchange their wedding vows. Mary tells us about the few fun songs they chose for their piano player to play during their ceremony:  I walked down the aisle to "Moon River" as I am a big Audrey fan. We closed the ceremony with the Beach Boys' "God Only Knows" and had the Pixies' "Where is My Mind" as one of our songs playing where the guests were entering.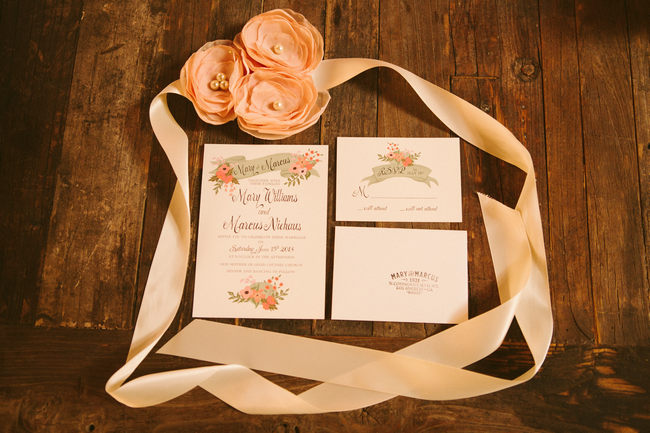 Mint & Coral Vintage Summer Wedding Stationery: Their beautiful wedding invitations were designed by Behold Designs. They featured a beautiful floral design that matched their wedding colours.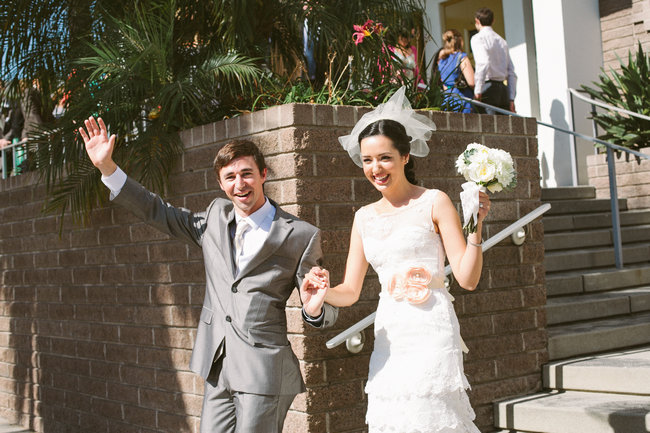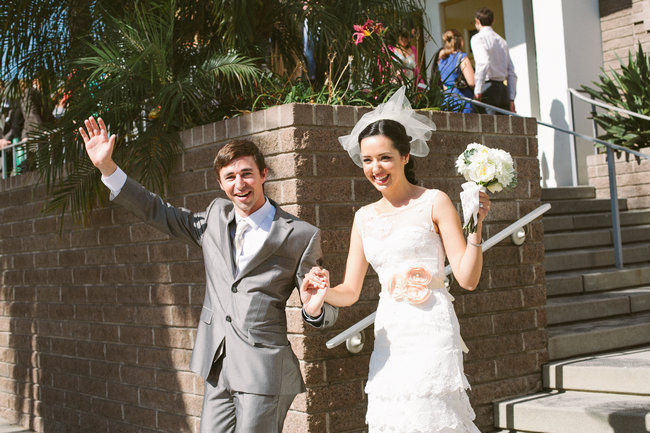 Marcus and Mary's Love Story and The Tale Of Their Proposal
Mary lets us in on how they met, fell in love and became engaged: We met downtown dancing at a bar. I saw Marcus, my husband, just tearing up the dance floor, so I asked him if he would like to dance. As we both like the outdoors and hiking around the area, on one hot Saturday afternoon, Marcus kept insisting that we go for a hike up to the Hollywood sign. I really did not want to go, because it was hot and I had a bit of a headache, but I finally gave in. When we got to the top of the trail, it was perfect; the sun was setting, the view was clear and we were alone. He got down on one knee and proposed!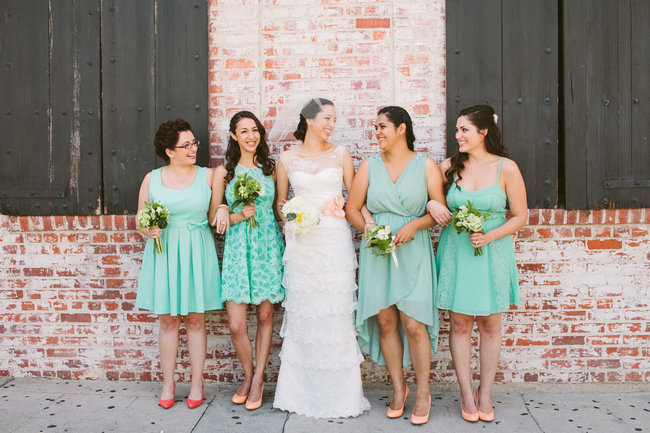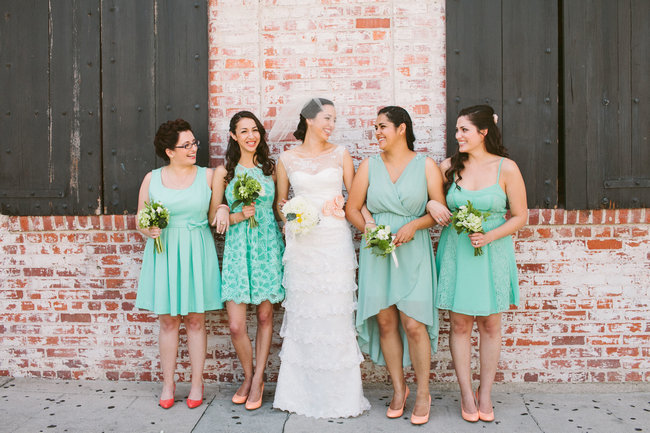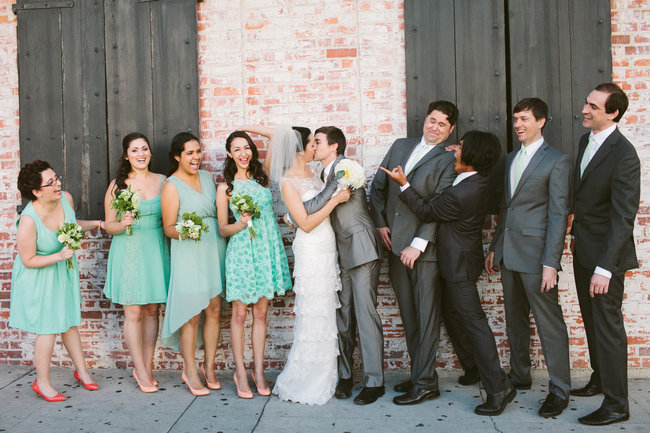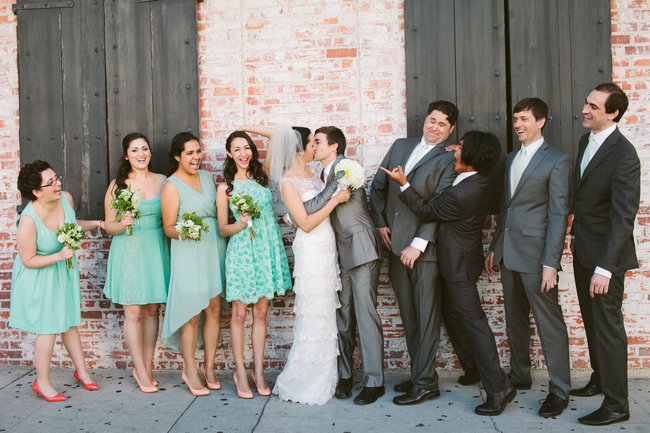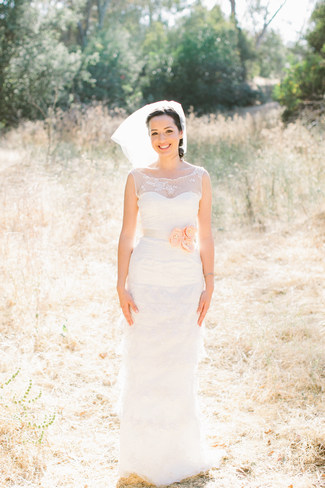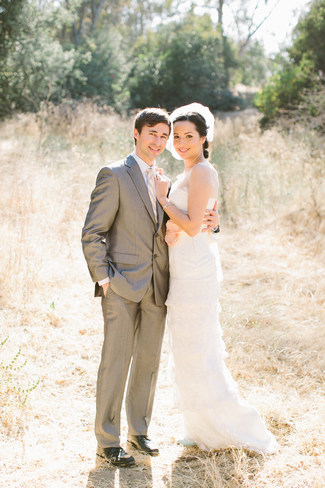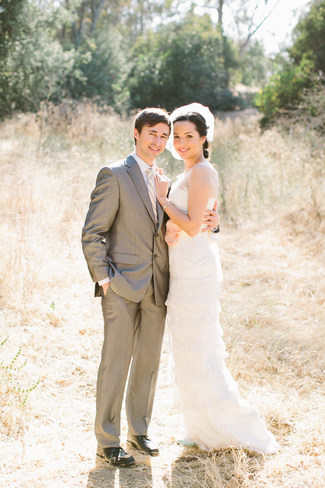 Mint & Coral Vintage Summer Wedding Reception
The wedding party kicked off at the incredible Carondelet House wedding venue in Los Angeles that was the perfect canvas for a down-to-earth vintage style wedding.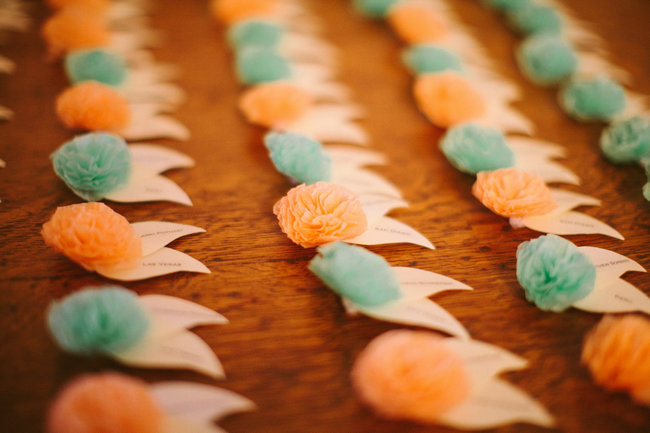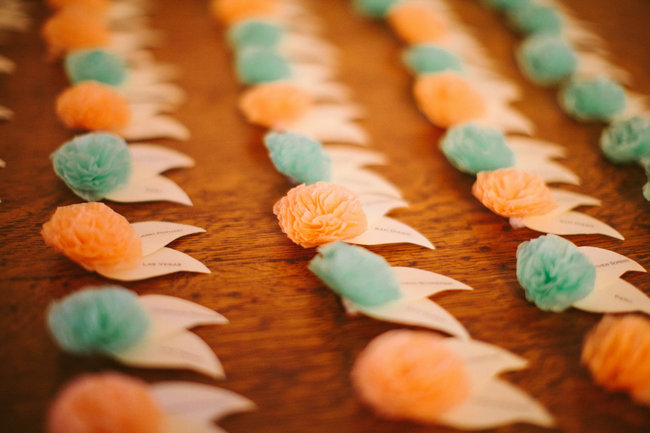 Mint & Coral Vintage Summer Wedding Name Place Cards: The couple handmade their own name place cards. Using peach and mint tissue paper, they created adorable little flowers with their guests' names printed on the leaves.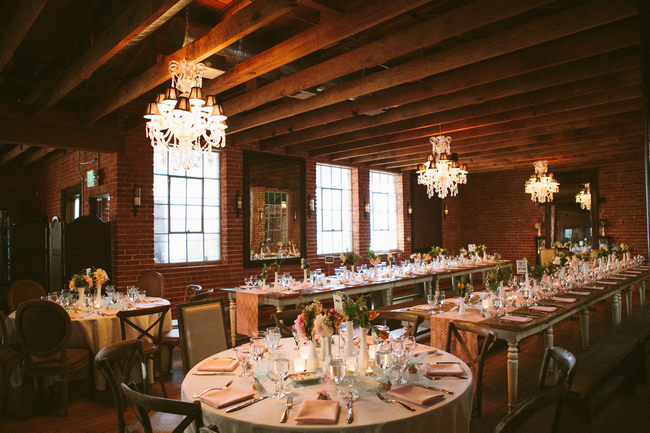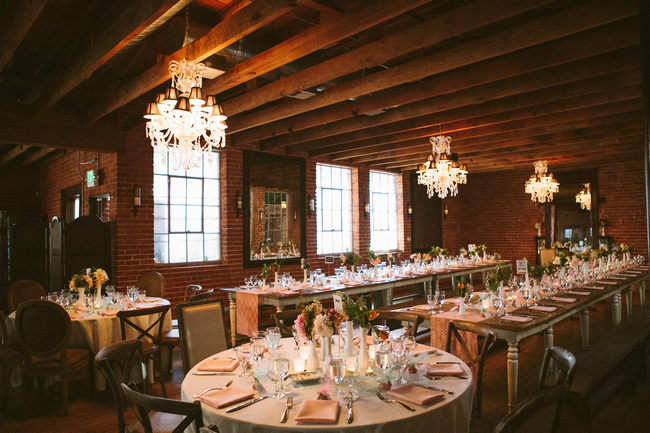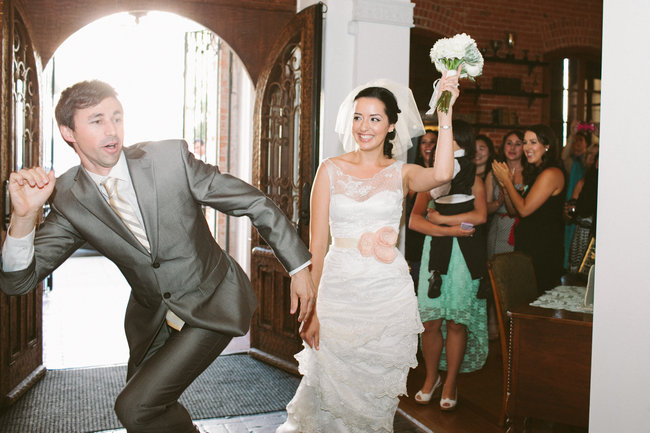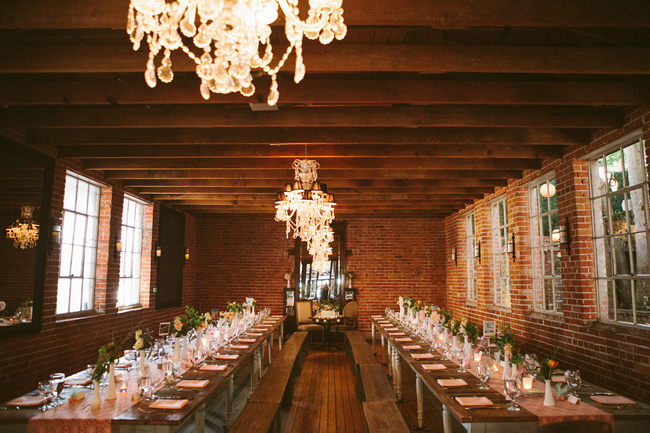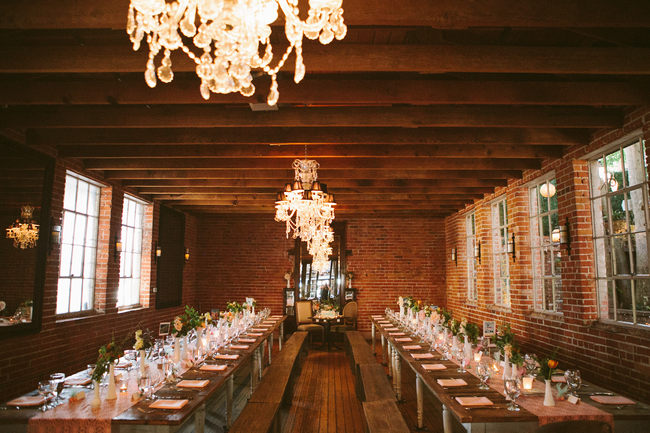 Mint & Coral Vintage Summer Wedding Décor: Their wedding decor was vintage-inspired with lots of fresh flowers, lace, and personal touches.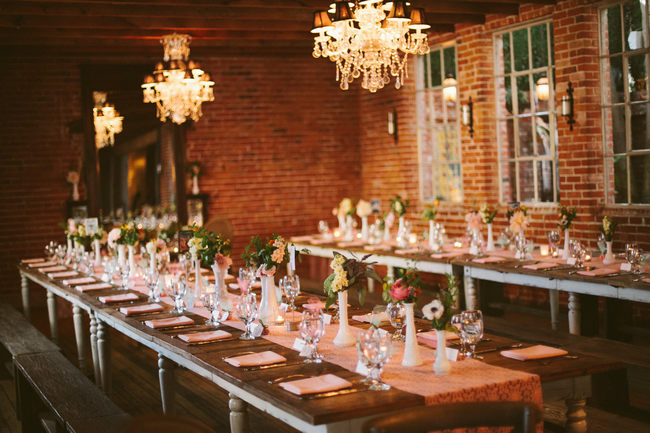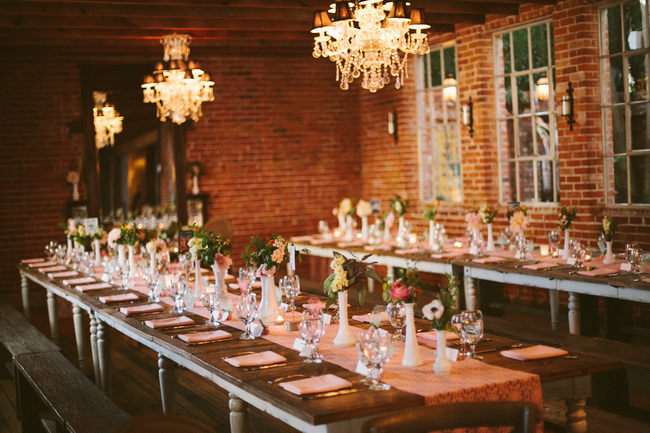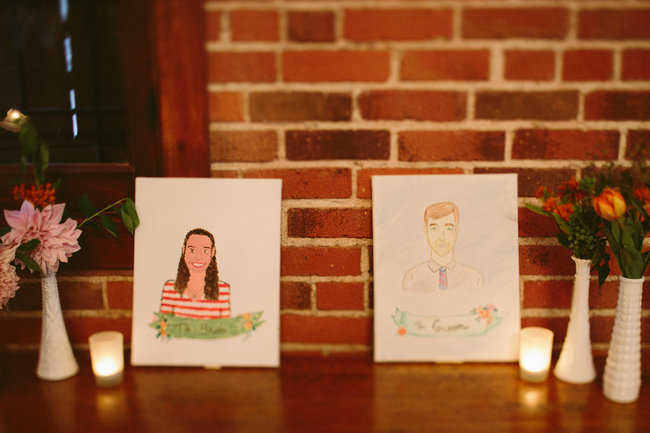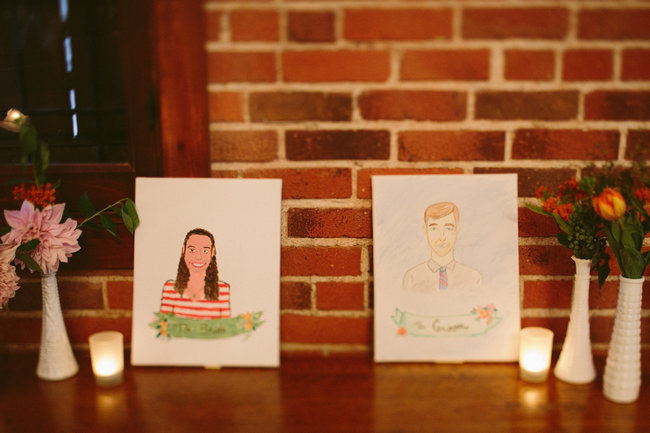 DIY Wedding Keepsakes and Photo-Props: Probably the most fun DIY project that they couple did was the portraits that they painted of each other. Although neither of them are professional artists, they thought it would be fun to see what it would look like if they painted each other. They revealed their paintings to their guests and to each other on the day of their wedding! And their amazing photographer, Laura Goldenberger, had the great idea to capture the big reveal with photographs, which happened to be some of the best pictures of the whole day!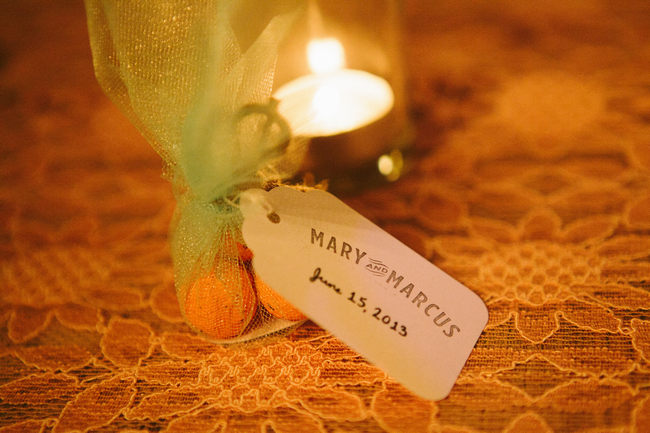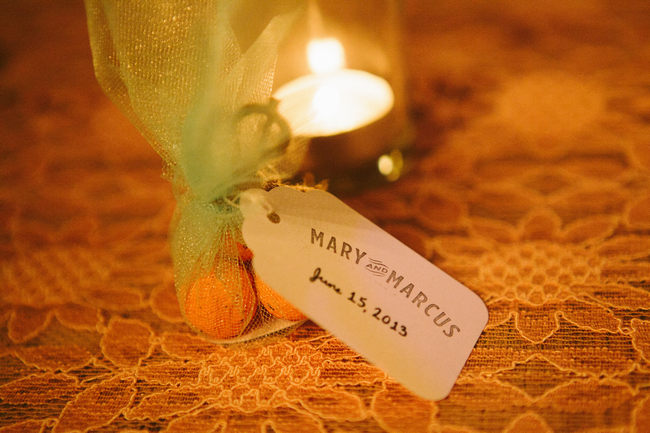 Mint & Coral Vintage Summer DIY Wedding Favours: The favors were wildflower seed bombs wrapped in mint and coral tulle, which were created by Mary and her bridesmaids. Mary bought the wildflowers seed bombs from Etsy and she precut the tulle, twine, and made the tags beforehand so that her bridesmaids could just lend a hand to help put them together.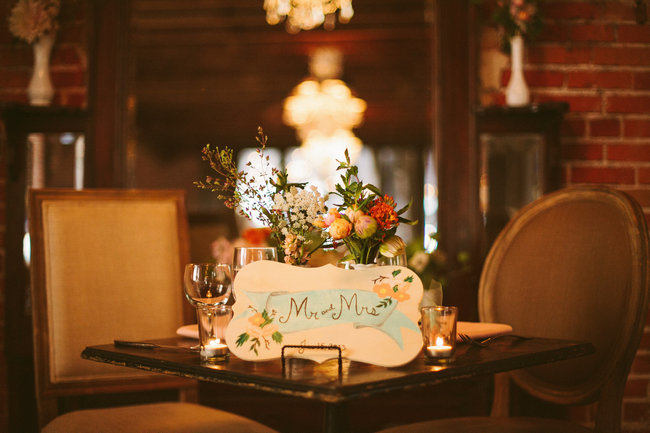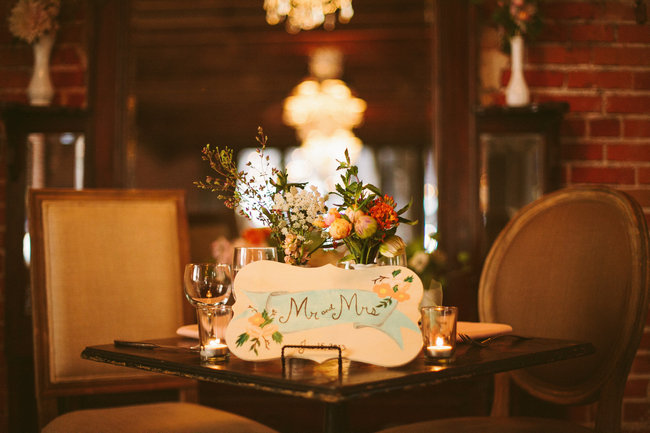 Mint & Coral Vintage Summer DIY Wedding  Signs: Mary bought plain wooden signs from Micheals and handpainted signs that matched their wedding invites for the sweetheart table, dessert table and photobooth area.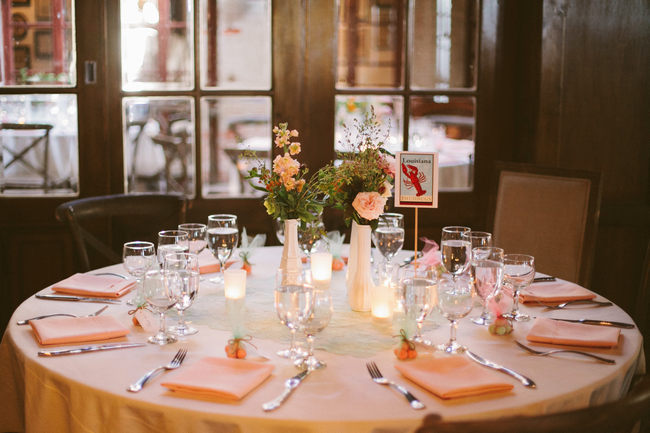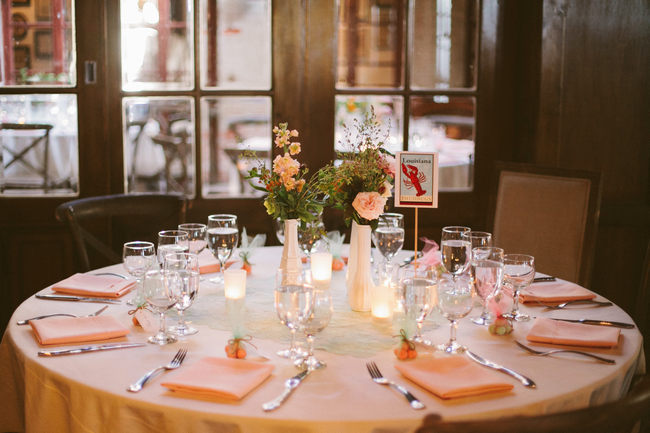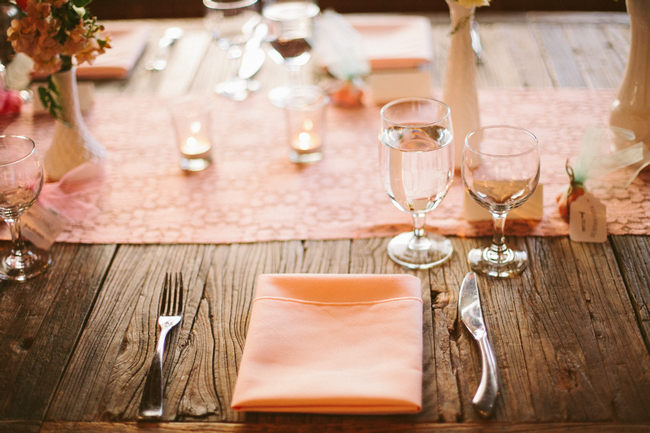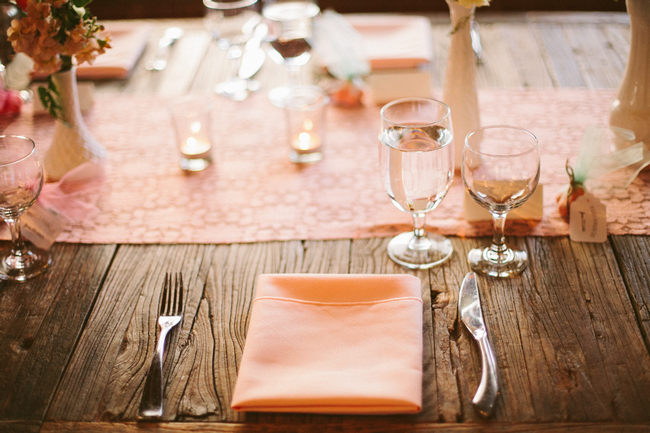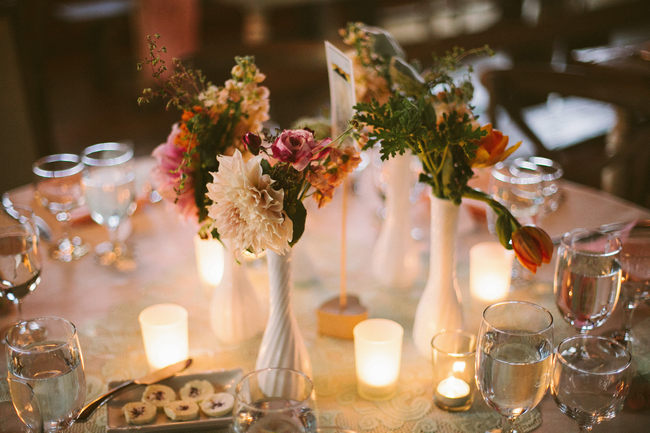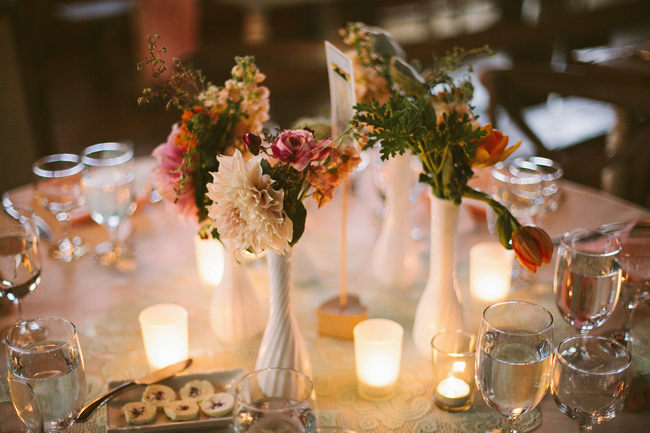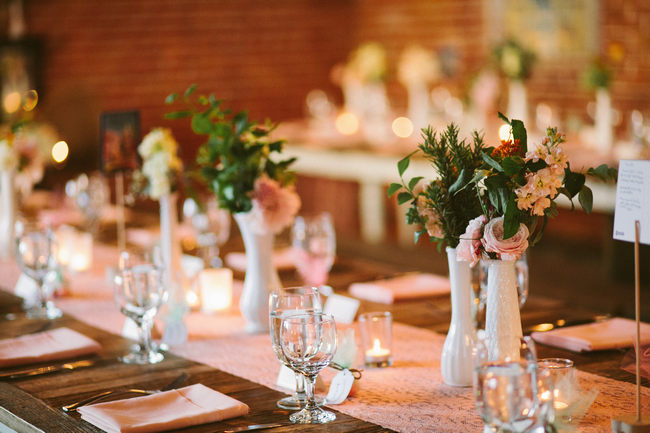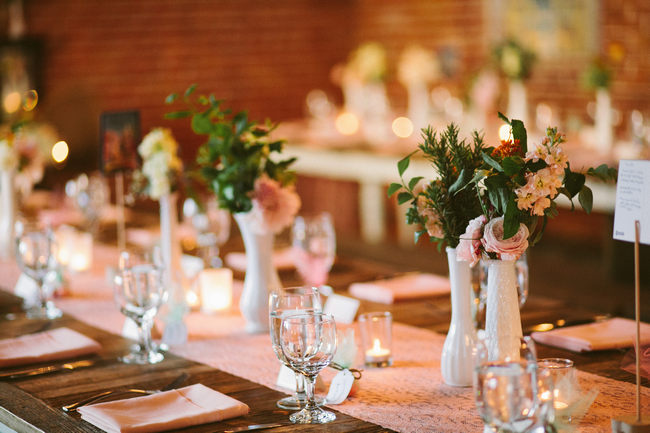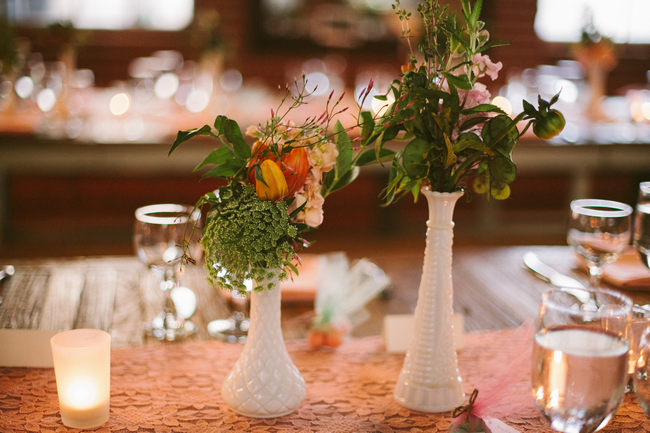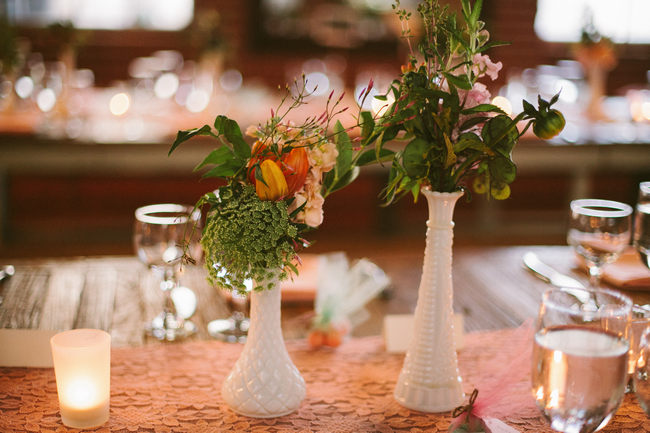 Mint & Coral Vintage Summer Wedding Floral Arrangements: Their wedding flowers created a romantic feel featuring a variety of different flowers in peach, coral and mint colours, which they presented in vintage milk glass vases. The couple traveled to pretty much every thrift store collecting milk glass vases for the flower arrangements.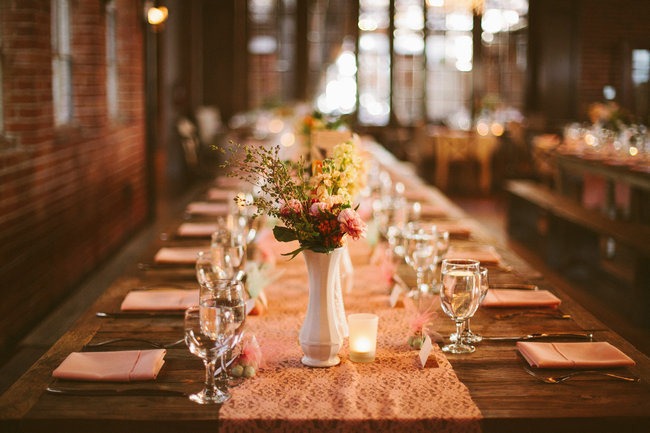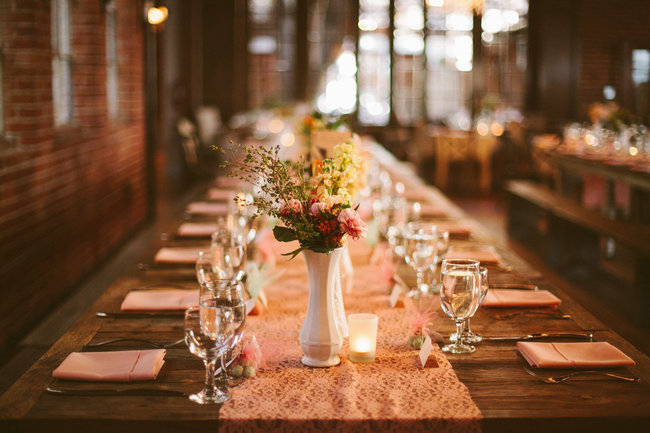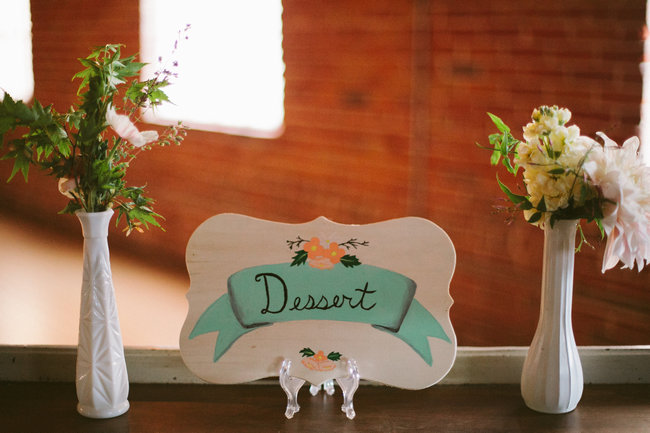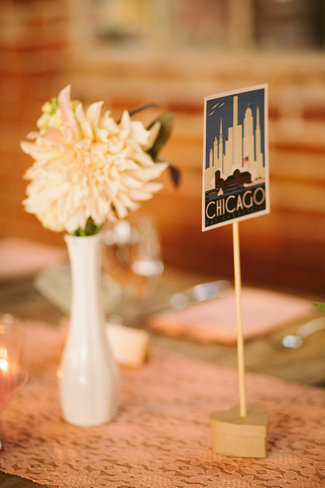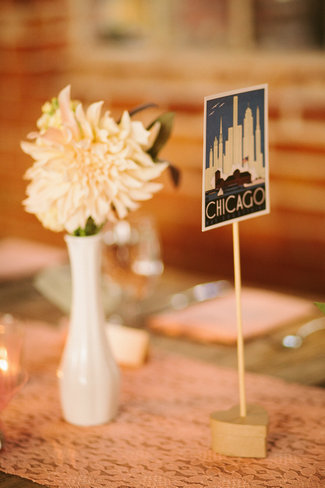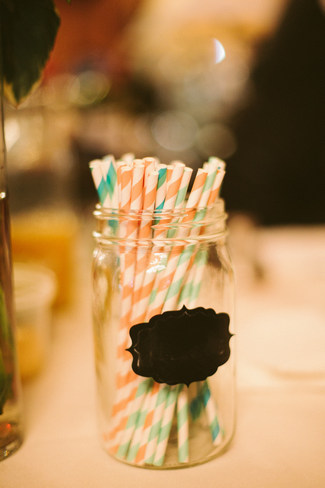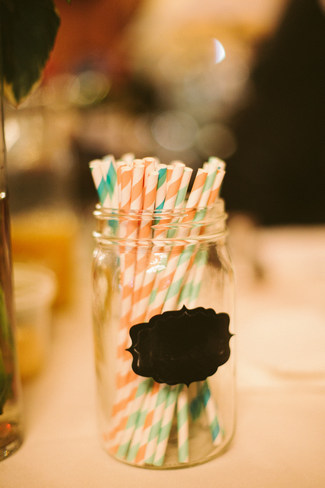 (Above Left) Mint & Coral Vintage Summer DIY Wedding Table Names: For the table numbers, Mary bought postcards with vintage images on them of all the places that they had traveled to together. On the back of each postcard, they wrote fun facts about each place and an interesting detail about their trip to that place.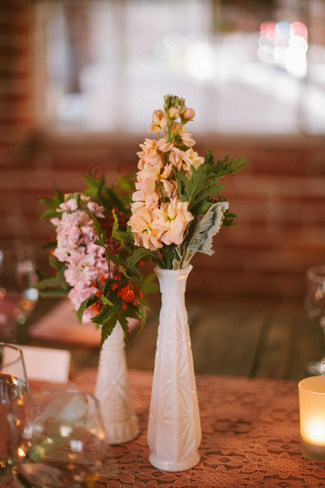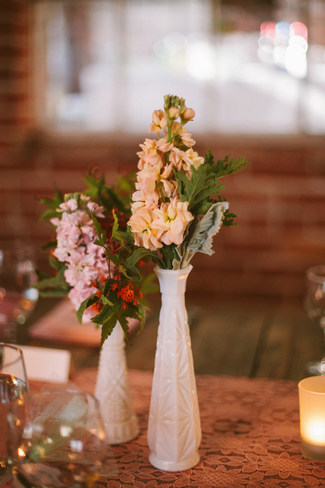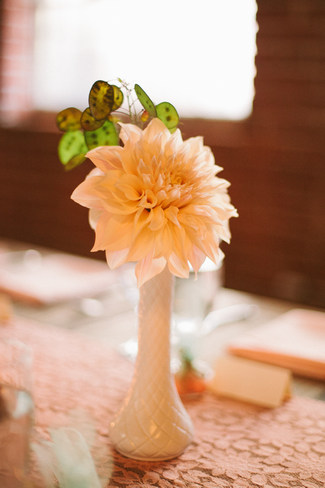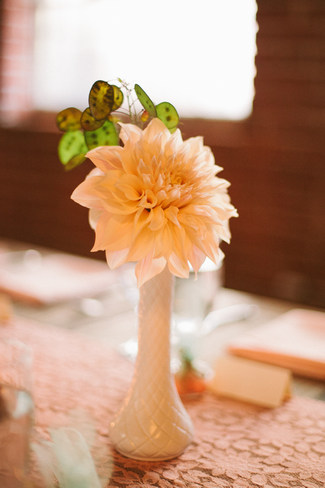 Mint & Coral Vintage Summer DIY Wedding Table Decor: For the table runners, they purchased pastel coral lace to complement the table settings.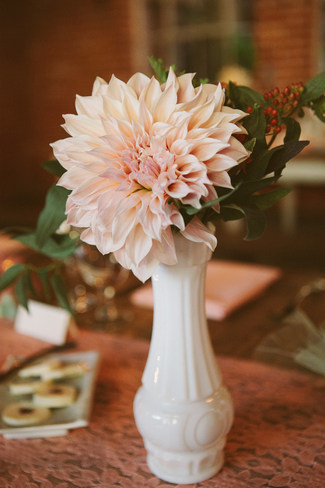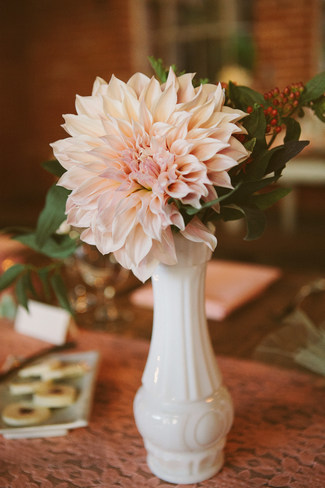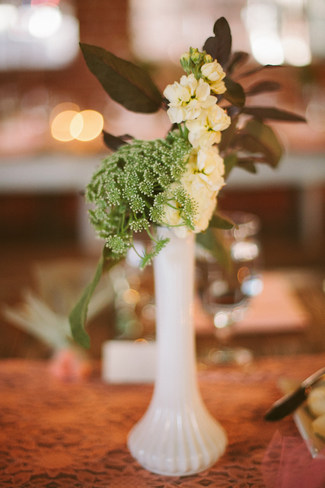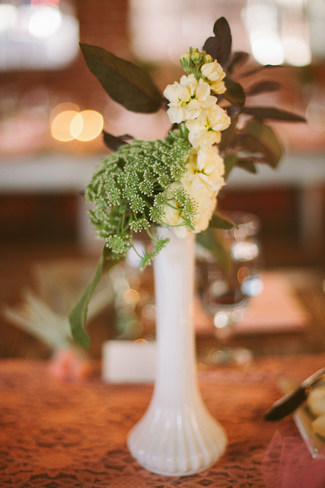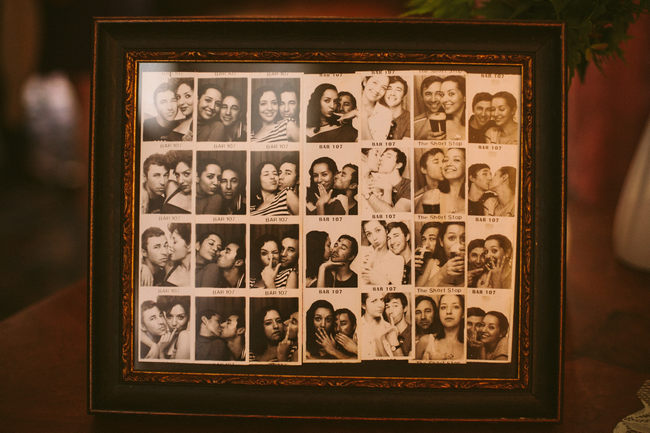 Mint & Coral Vintage Summer Wedding Guest Book: The guestbook was provided by the photobooth company, the Traveling Photobooth Company and it was wonderful as each guest's signature was placed alongside a picture of them in the booth!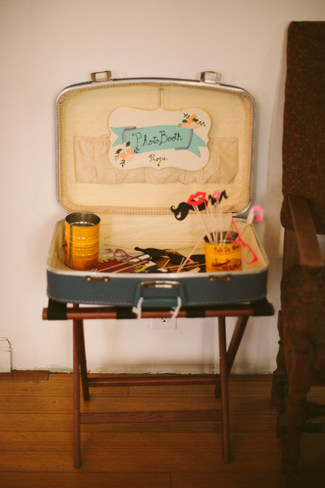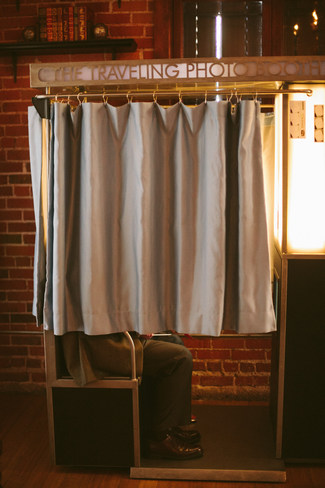 Vintage Wedding Photobooth: Vintage suitcases were used to store the groovy photobooth props.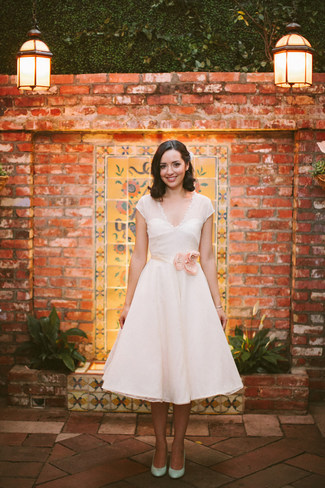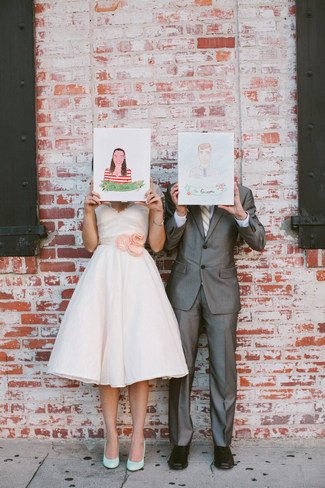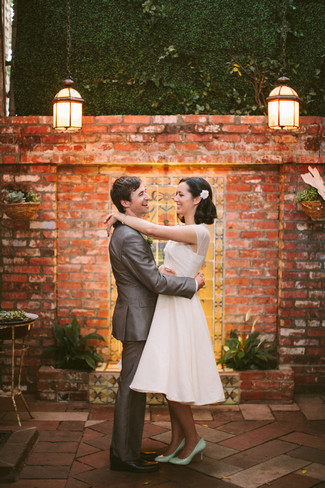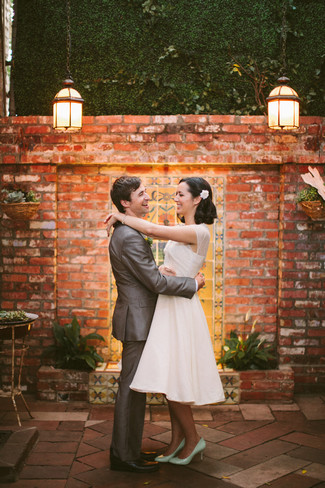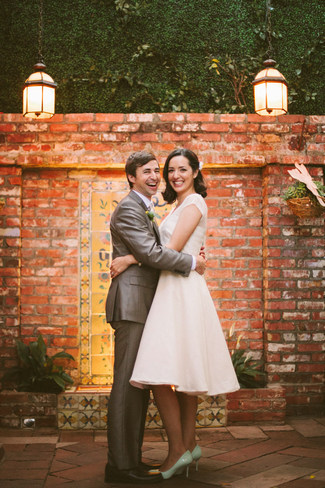 Real Bride, Mary's, Tips For Brides-To-Be
Time is your most valuable resource! Start projects early if you plan on doing a lot of stuff yourself. Even though something may seem easy to make, by the time you make 110 of something you'll be tired and spacing it out over time makes it easier. It's never too early to get started on the wedding favors.
Shop around and asked friends that have gotten married recently for suggestions because they have already done the research and may have already used the vendors. 
If you can do something yourself, do it. You can even have a fun girls night in, working of projects for the wedding.
Use Etsy. It was great for unique, affordable wedding stuff.
Hooray for mint and coral colours, brought to life, vintage-style! If you're wanting another yummy cocktail of coral and mint, grab some more ideas from these 8 DIY Vintage Cake Accessory Ideas.