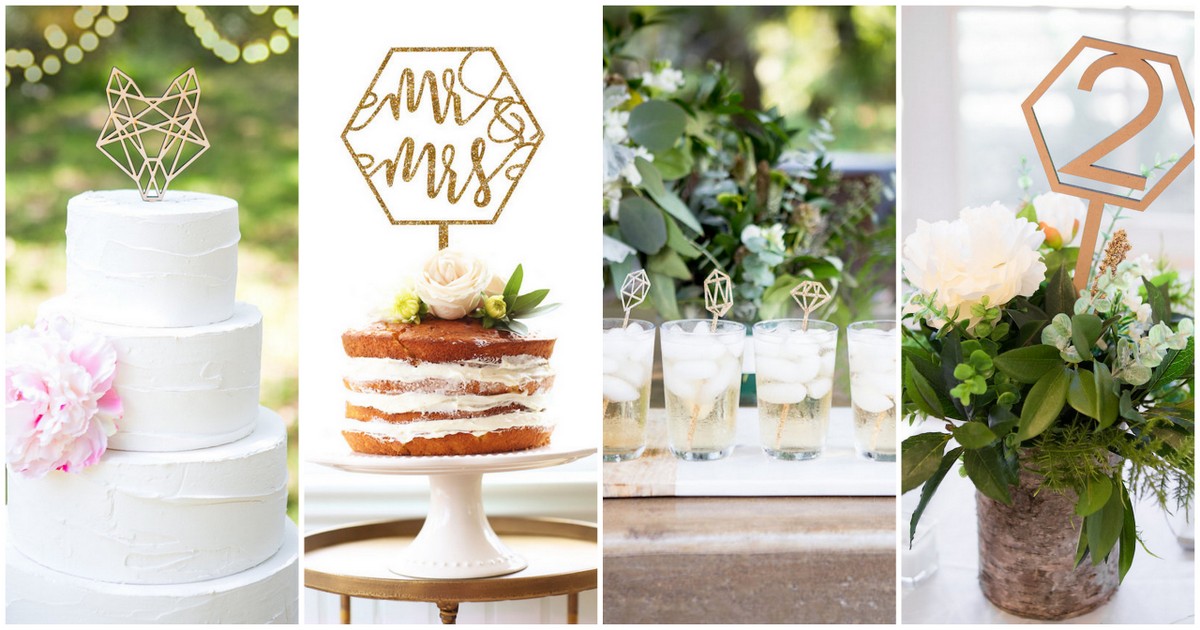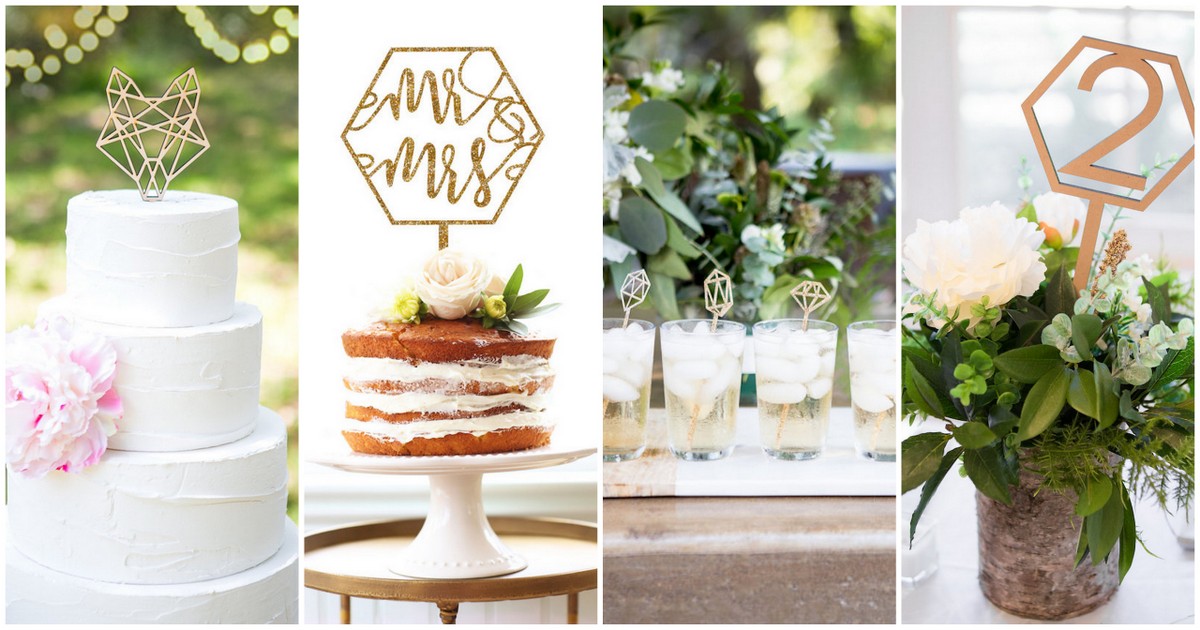 Planning an awesome geometric wedding like this? Today we're looking at 15 geometric wedding ideas that you need in your life, and we're doing so with the help of wedding decor and custom signage experts ZCreateDesign. Think hexagon and diamond cutouts, strong, angular shapes, modern clear acrylic accents, and clean, sharp lines with a touch of romance!
Chic + Trendy Geometric Wedding Ideas
The 2017 bride wants to incorporate geometric inspired accents and signs into her wedding decor while also staying as unique as possible, explains Holly of ZCreateDesign.
Easy Geometric Wedding Ideas:
One of the best places to have fun with this trend is by using geometric wedding table numbers. Here they can have as small or as big of an impact as you choose. "Try using geometric inspired hexagon shaped table numbers which can be customized in color and style – for example on sticks to be inserted into floral arrangements, or made with stands for placing directly on the table," shares ZCreateDesign.
Geometric chair signs make a statement: "Customize them for your sweetheart table using your names, nicknames or some humor!"
A trendy hexagon "thank you" sign makes for a beautiful DIY thank you card, adds Holly.
Geometric "Guestbook" and "Cards" signs create another opportunity to play with geometric wedding decor, and can even be customized to include your wedding hashtag!
Other ways to work geometric pieces into your wedding day decor include cake toppers, drink stir-sticks, and even cupcake toppers.
Geometric Wedding Ideas + Tips:
Tips for purchasing custom geometric wedding decor:
Order your geometric wedding decor early. Some companies will offer couples discounts for ordering early. (Example: ZCreateDesign offers 10% off if ordering 6+ weeks prior to your big day.) Ordering your geometric wedding decor early also allows for avoidance of any rush fees and extra time to inspect products upon arrival.
Order as many things from one place as possible to get package pricing and keep shipping costs to a minimum. Look for stores that offer a range of items from decor signage to bridal party totes and robes, gifts, etc."This can cut hundreds of dollars out once the wedding arrives," explains Holly.
15 Geometric Wedding Ideas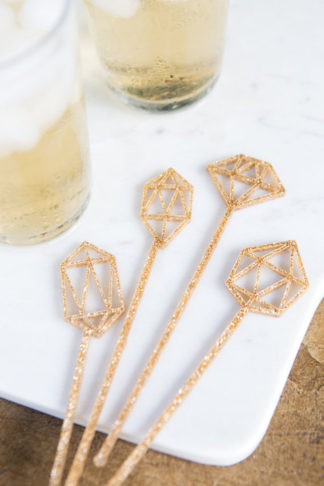 ♥If you love fall in love with a pretty piece from this hand-picked selection of designs and decide to make a purchase, we'll receive a small referral fee for curating and sharing them with you. Thank you so, so much for supporting our content! ♥
1. (Above) Gold Glitter Geometric Wedding Gemstone Stir Sticks: Add sparkling stir sticks to your wedding cocktails, drinks table or dessert station for a touch of geometric glam. Get them online here.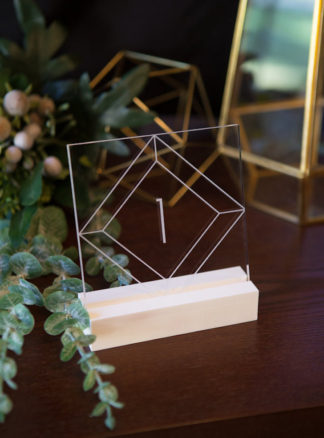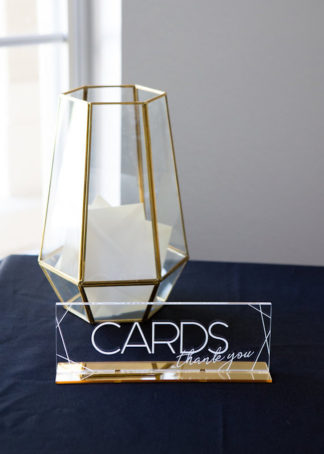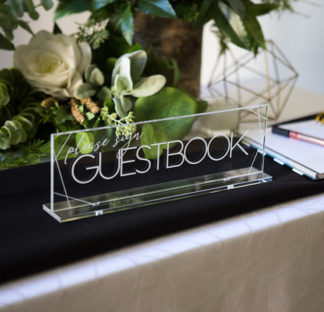 2. (Above Left) Clear Acrylic Geometric Wedding Table Numbers. These sophisticated acrylic wedding table numbers from ZCreateDesign can be engraved in white, gold or black bases to match your desired theme. They are propped up on a cute stand for a chic, clean look. // 3+4. (Above Center and Right) Geometric Card & Guestbook Signs in Clear Acrylic. This handy set of two wedding signs, designed in a modern minimalist style, are geometric and chic. The interchangeable bases mean you can further customize the look to best suit your big day. Order the set online here.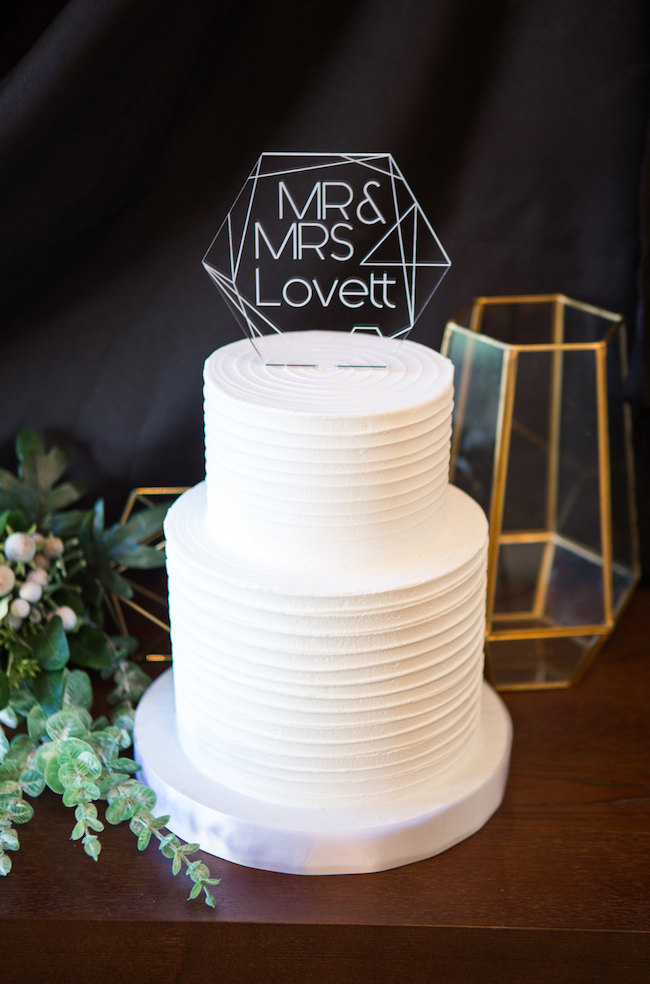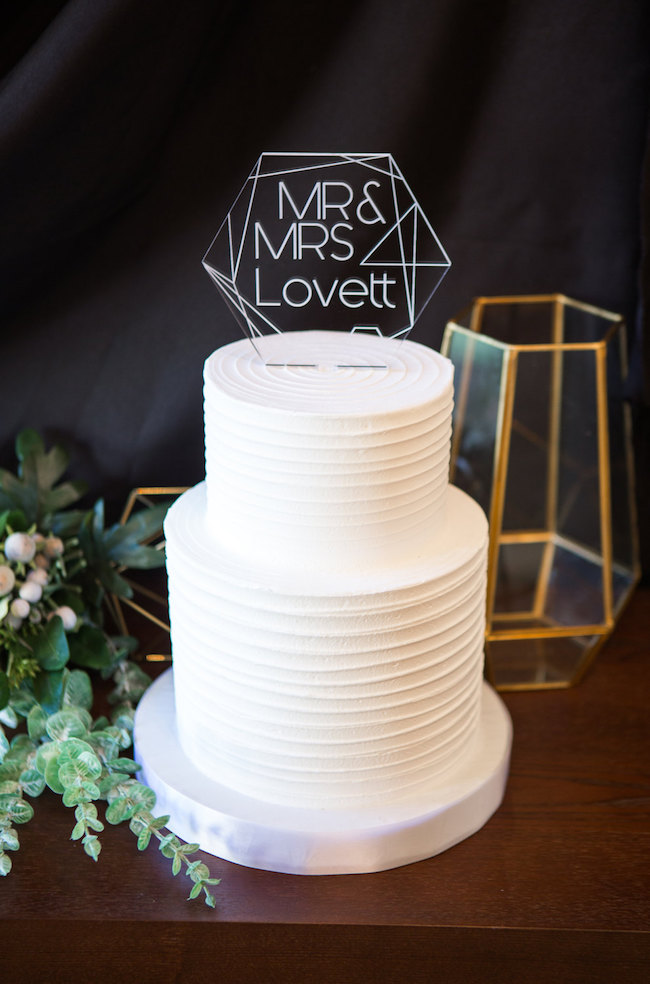 5. (Above) Personalized Acrylic Mr + Mrs Geometric Wedding Cake Topper. Add an eye-catching, modern touch to your wedding cake with this understated but stylish wedding cake topper available for order online here. Less is more!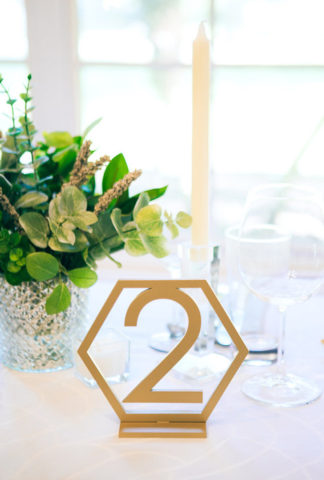 6. (Left) Gold Laser Cutout Hexagon Wedding Table Numbers. 
Include a bit of geometric gorgeousness to your wedding with these  angular table numbers .
They can be ordered in gold glitter, rustic wood or painted in your wedding colors.
These geometric table numbers stand up on their own stand, and can be placed anywhere you desire!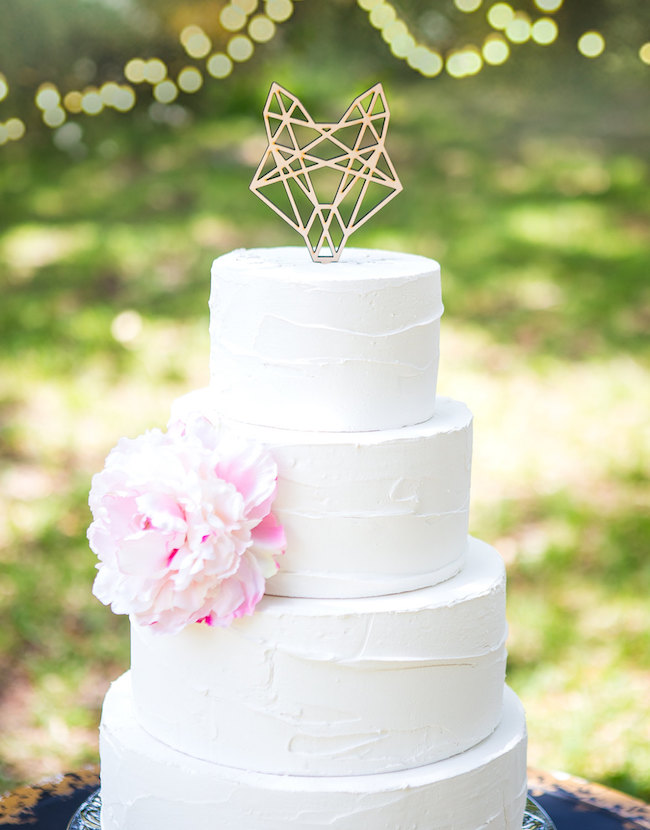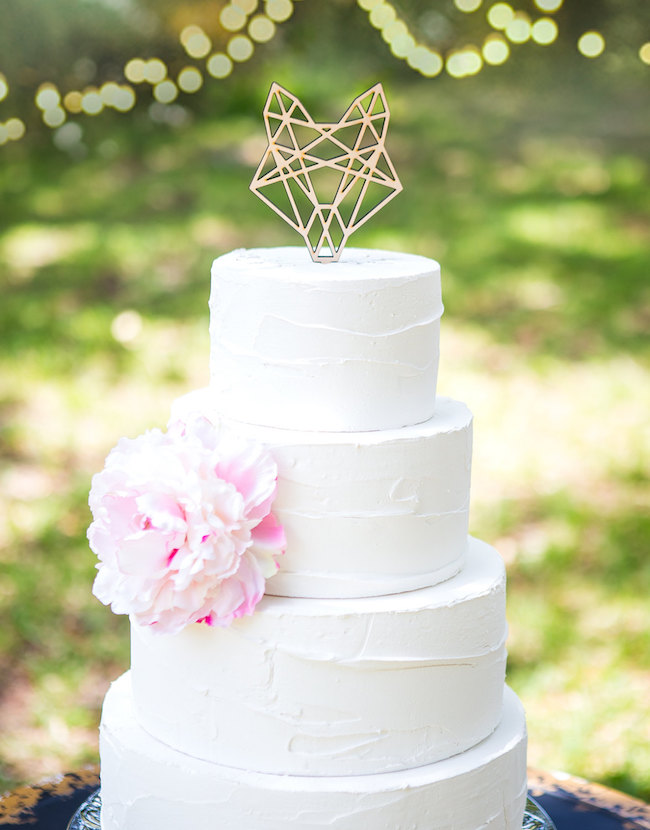 7. (Above) Boho Fox Head Geometric Woodland Cake Topper. Give your boho chic wedding some geometric flair with this  fun, fab and foxy cake topper in glam gold. Grab it from ZCreateDesign here.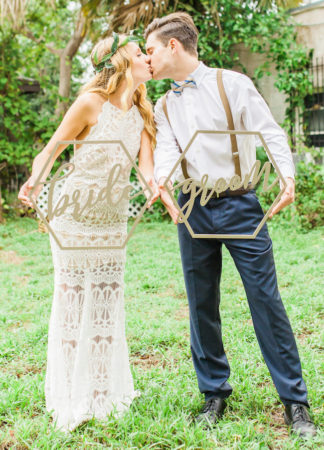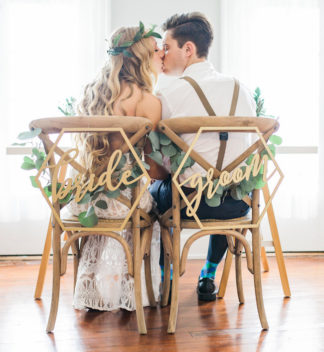 8. (Above) Hexagon Bride and Groom Calligraphy Wedding Signs. Combining a romantic calligraphy script with a fun geometric frame, these bride and groom wedding chair signs double up as wedding photo props! Hang them on your wall after the wedding to make modern, meaningful keepsakes, too. Available for order here.
Check out more wedding decor and trend ideas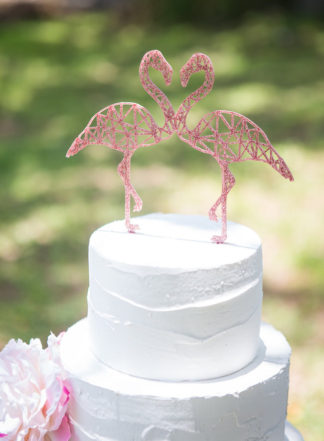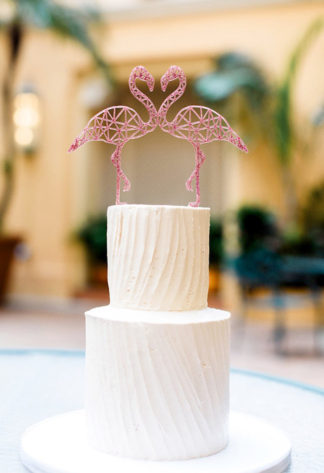 9. (Above) Geometric Flamingo Cake Topper. Kinda perfect for your summer beach wedding or a hot tropical wedding, this cute pink flamingo wedding cake topper is all about love bird FUN! Check it out here.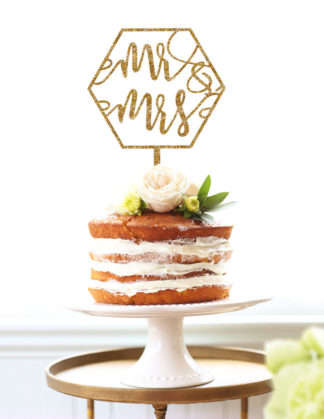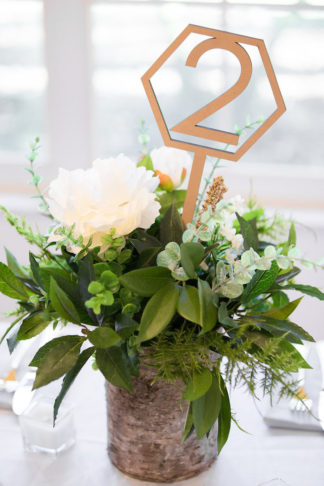 10. (Above Right) Geometric Calligraphy Wedding Mr & Mrs Cake Topper. Another romantic "Mr & Mrs" wedding cake topper with a stunning boho script font, this topper can be ordered in a wood finish for a rustic wedding or with glitter for a touch of sparkle. Purchase online from ZCreateDesign here.  // 11. (Above Right) Rustic Geometric Table Numbers on Sticks. Just pop these hexagon table numbers right into your wedding table centerpiece and instantly upgrade your wedding tables to get the geometric look in minutes!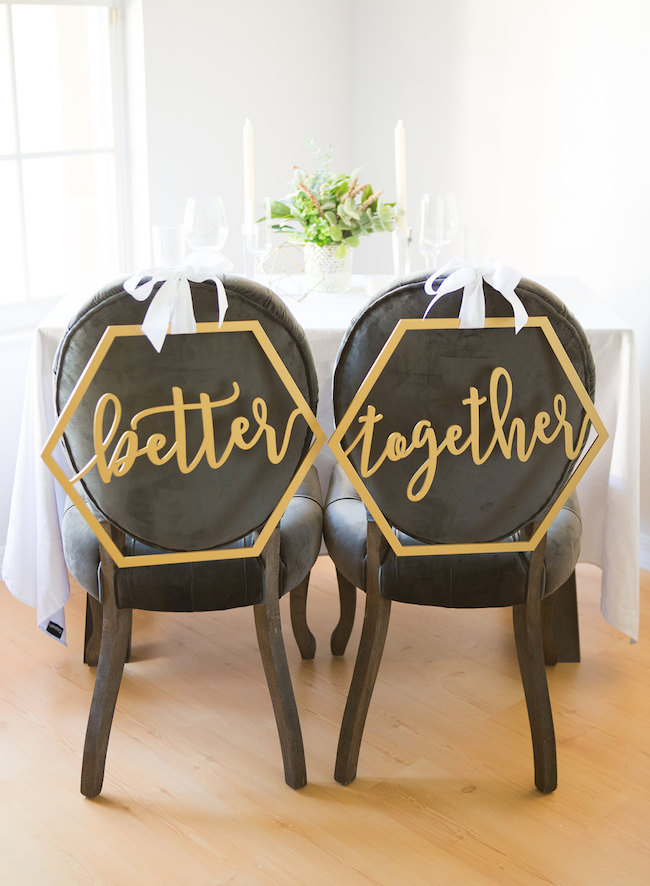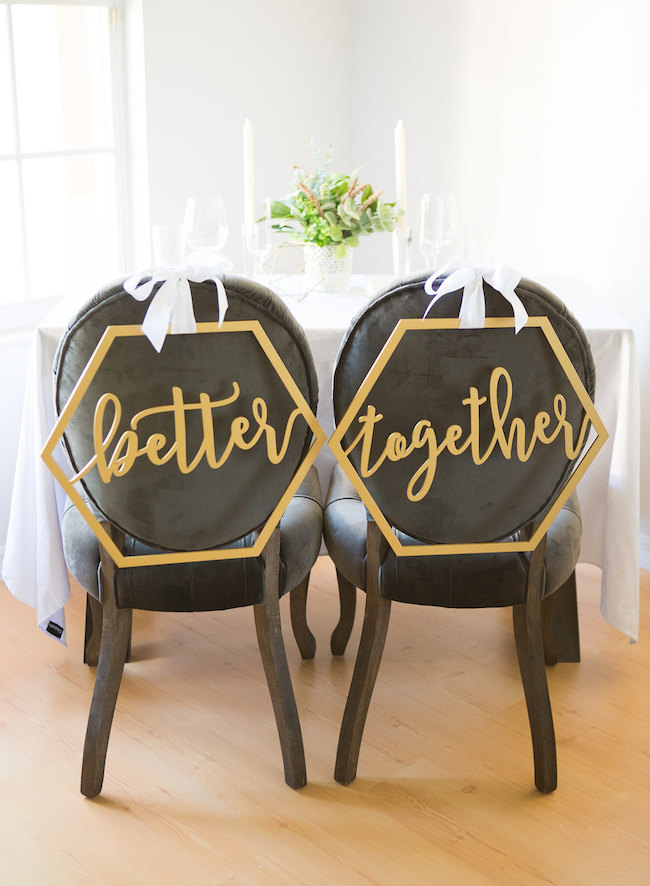 12. (Above) Hexagon Geometric "Better Together" signs. All eyes are on you with these geometric 'Better Together' signs that add a modern touch to your wedding sweetheart table. Use them as wedding chair signs, use them as wall signs for your geometric wedding backdrop, or just as props to add take your wedding photos to the next geometric level!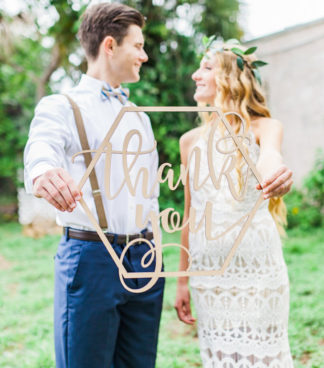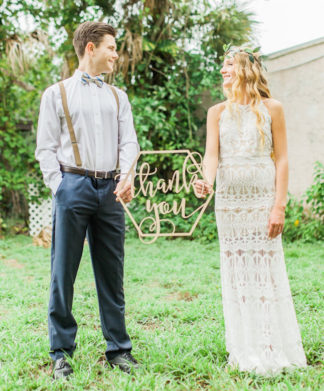 13. (Above) Geometric Wedding Thank you Sign. Grab hold of this beautiful lazer cut wedding photo prop thank you sign with elegant calligraphy script wording, and get your photographer to snap an awesome shot for your wedding thank you cards! Available from ZCreateDesign here.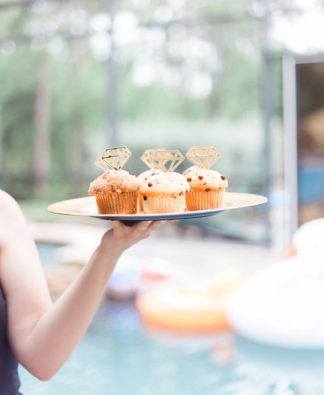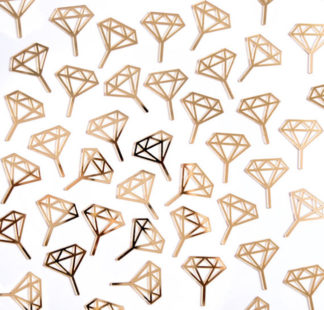 15.  (Above) Diamond Ring Cupcake + Canapé Toppers. These geometric engagement ring diamond cupcake toppers make fun snack or cupcake toppers and are also a super cool option for a bridal shower or engagement party!
Credits: Images courtesy of ZCreateDesign + Arlene Jacobs Photography,