Easy to Create Gold & Glitter DIY Vases ♥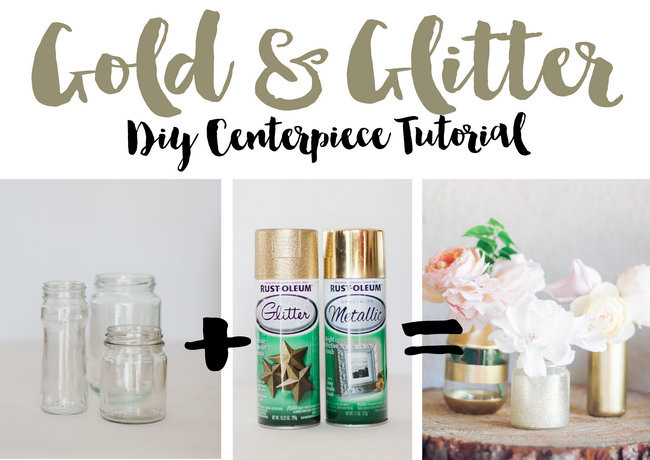 Easy DIY Gold & Glitter Wedding Vases
---
Time to Complete: 3 – 10 minutes per jar depending on number of coats
Skill Level: Very Easy
Okay, we're on a bit of a gold and glitter blitz at the moment – and can you blame us? It's so easy to upcycle a bunch of bottles and jars, turning them into ultra-cute vases for your wedding tables. All you need is a lick or two of this nifty gold and glitter spray paint, some newspaper to protect the surface you're spraying on, and a bit of tape if you're keen on creating a few fun patterns.
But these little beauties are not just totally gorgeous – they are super affordable to make because they re-use glass bottles and jars. That means you don't have to pay for centerpieces vases. Score! Pretty much any type of bottle or jar will work – from beverage bottles to jam jars to spice containers. You can ask your friends and family to help you collect, instead of throwing them away when they're done.  In addition, you could affix a little handwritten tag to each vase arrangement, and gift them to the ladies at your wedding as favors too. That's taking upcycling to the next level – and we like!
Take a peek at how this gold glitter handmade wedding was filled with similar DIY ideas, and see how this bride used touches of DIY gold vases filled with candles to create a romantic, intimate ambiance at her 350 guest wedding!
We totally recommend getting your hands on this awesome gold spray paint, as it can be used for so many different aspects of your wedding – including creating this fabulous
DIY gold-sprayed sea-animal escort card display
which we shared with you a few weeks back.
EASY GOLD & GLITTER WEDDING VASES
So now that we've got you all excited to go ahead and create a whole roomful of these babies, we're going to tell you how we did it and what we used so that you can replicate the look in minutes! <3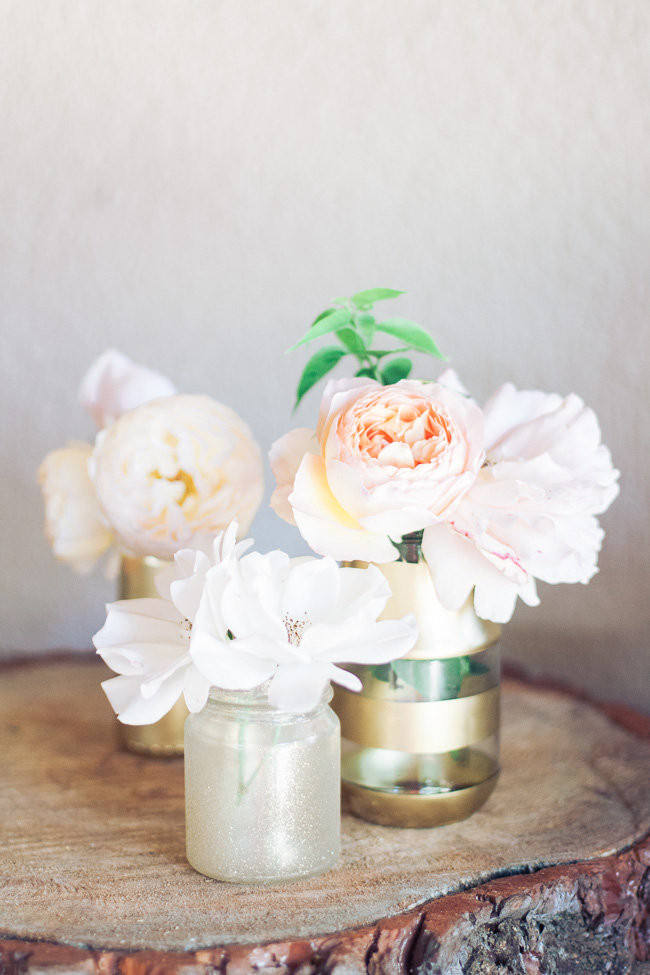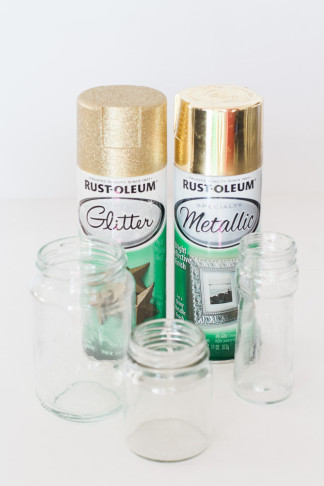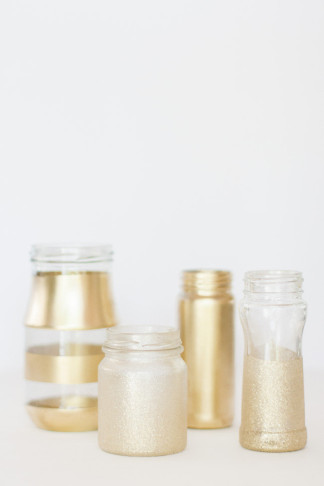 Glitter DIY Vase Centerpieces Tutorial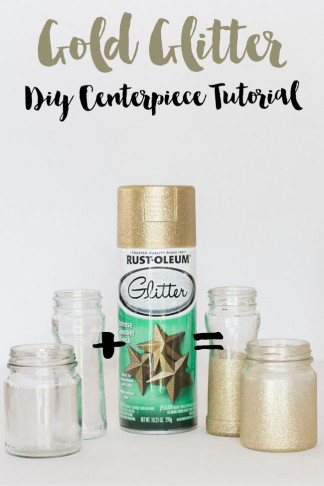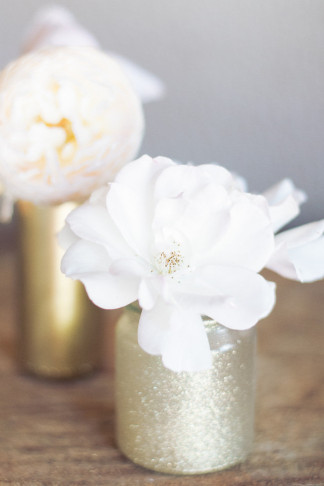 Here we sprayed spice bottles and small condiment jars with three thin coats of Rust-oleum glitter paint. The glitter spray needs to dry completely between each coating or it will turn goopy and run down the sides of the vase. You can, of course, use just one coat if you'd like a translucent look. We preferred the vases to appear more opaque. To create this effect we built the color up by layering several coats. We wrapped clear tape around the top third of the longer bottle before spraying to create a pretty design. Once dry, we removed the tape, filled with water and added white roses.
Metallic Gold DIY Vase Centerpieces Tutorial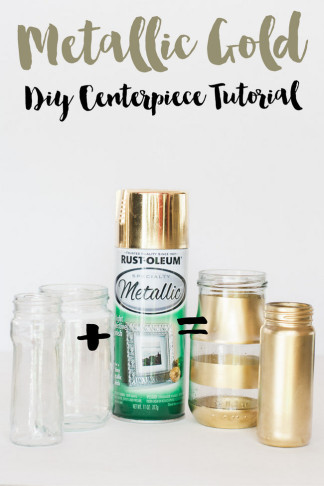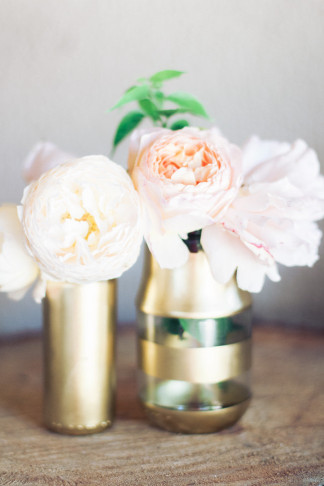 Here we sprayed spice bottles and pickle jars with Rust-oleum's gold metallic paint. We wrapped clear tape around the pickle jar before spraying to create a striped pattern, and gave both bottles two coats. Once dry, we removed the tape, filled with water, and added a mix of peach and cream garden roses, with filler greens.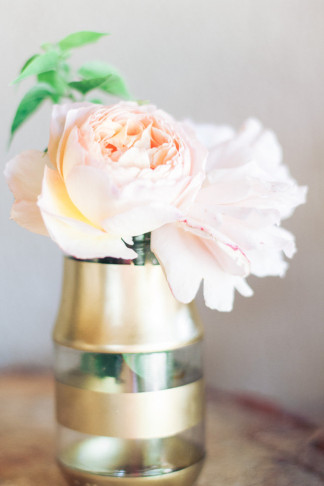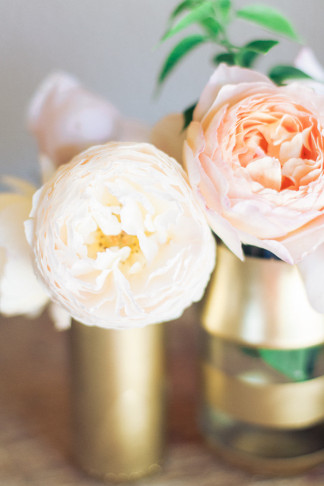 (This post contains affiliate links. Thank you for supporting our content!)
MATERIALS: DIY Gold and Glitter Wedding Centerpiece Vases
A mix and match collection of bottles and jars
Newspaper to spray paint the vases on, as well as some gloves to protect your hands
OPTIONAL: To create the finished styled look for your tables
Instructions:
Set bottles and jars on newspaper. It's best to do this outside, in a well ventilated area, using gloves. Avoid spraying on a windy day 🙂
If you're creative you can create stripes or designs by wrapping the jars in tape of varying thickness to create patterns. 
Spray jars with either glitter or metallic gold spray paint.  (Make sure you read and follow the usage and safety instructions on the can of paint that you have purchased.)
Apply a second or third coat, as desired, allowing the paint to dry fully between coat. Please resist the temptation to just spray the glitter on thick first time round. It doesn't work that way. 🙂
When fully dry, remove tape and you're done! Decorate with flowers of your choosing, and add a pretty name tag with twine if you're going to gift the arrangements as wedding favors.
Move onto your next project – creating these DIY gold spray painted sea animals that make awesome name or escort cards.
DIY Gold and Glitter Vases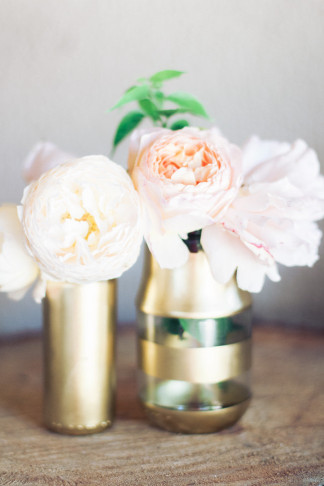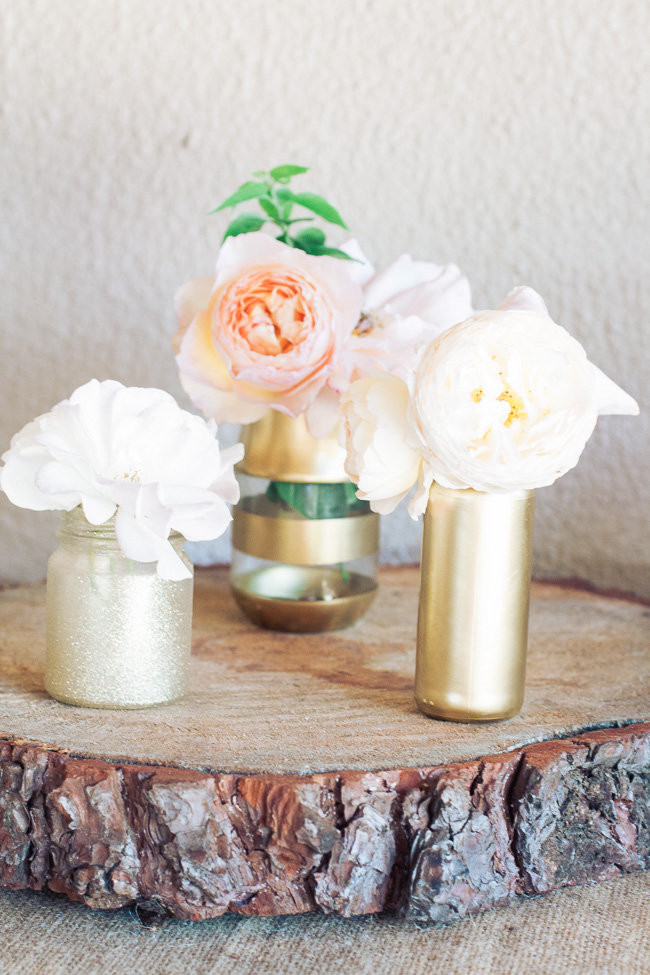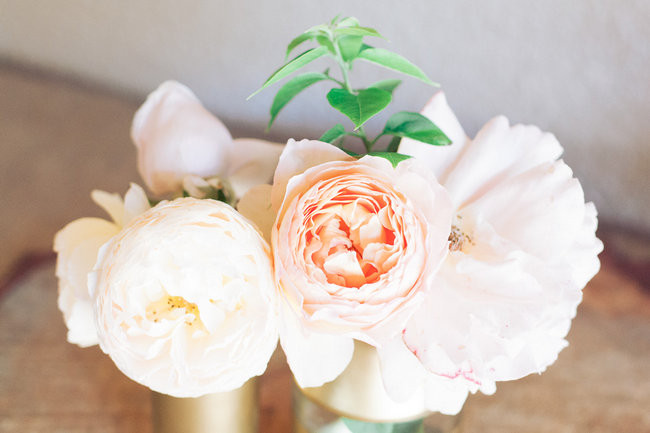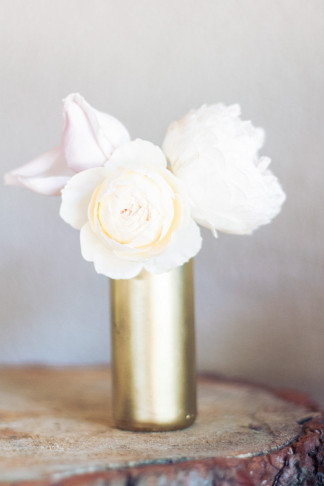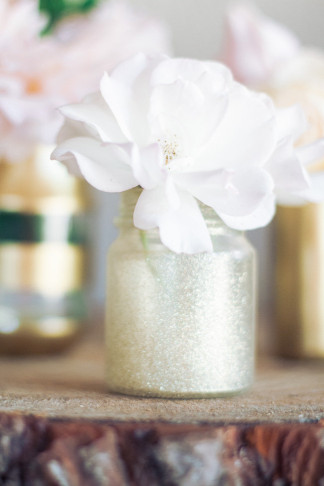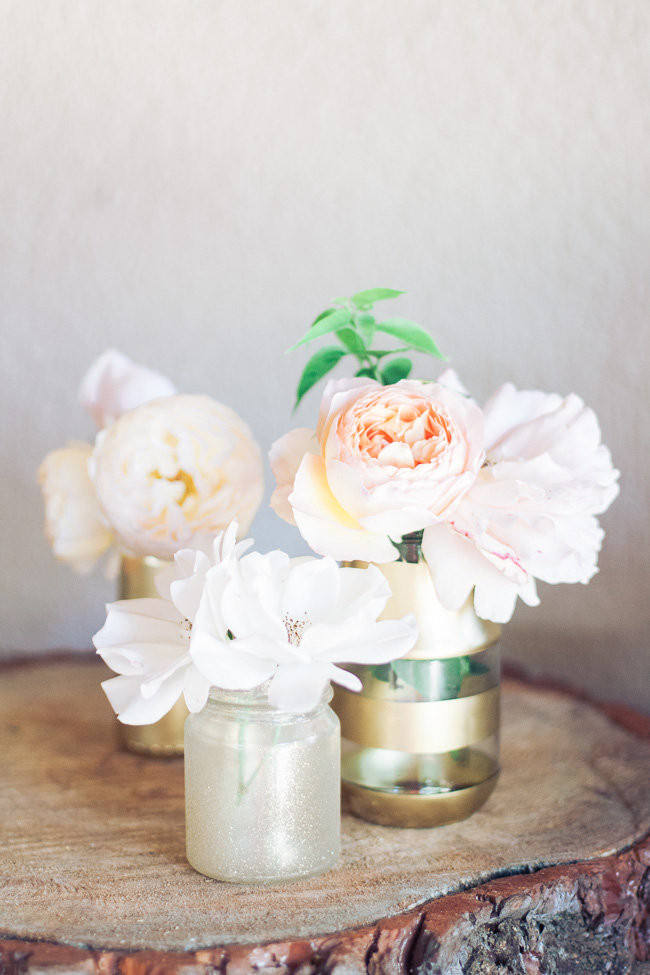 DIY Gold and Glitter Vases
If you loved this project make sure you're signed up to get our email updates so that you never miss a pretty post. We'll send our latest wedding projects, new printables and latest wedding ideas right to your inbox.
PS: Check out this fun wedding guest book alternative – the newlywed tip jar tutorial and printable. Your guests will love it!