Gorgeous Gowns: Bohemian Bridal Beauty
♥ ♥ ♥
Today we chat with Jennifer Kessler, the founder and creative director of ByGhinda, who shares her inspiration for her Spring/Fall 2013 Bohemian inspired Wedding Gown Collection. Jennifer tells us that their gowns "look and feel incredible from the inside out!"
Named after Ghinda, a small village in Eritrea, East Africa where she grew up as a young girl, ByGhinda is a US-based couture bridal design house that handcrafts gowns from unique fabrics such as metal-infused nylon and cupro, which is made from the pulp of the cotton plant. Wow! Take a look!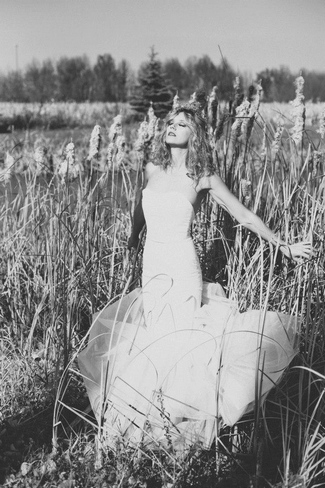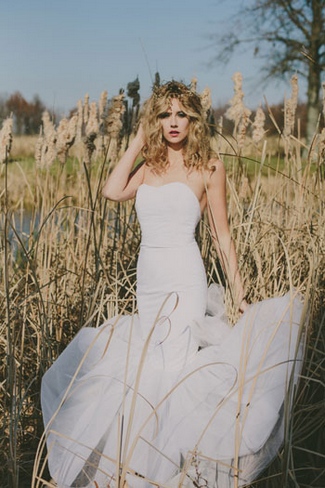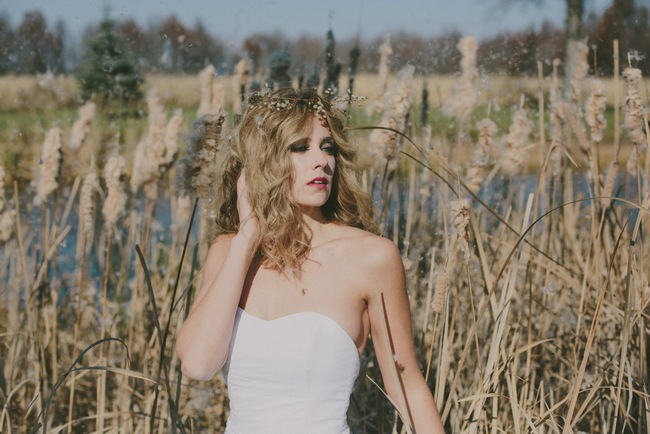 (Above)
This is Florence. She is made of metal infused nylon and is lined in silk. She is glamorous and incredibly sophisticated! She is $3,200.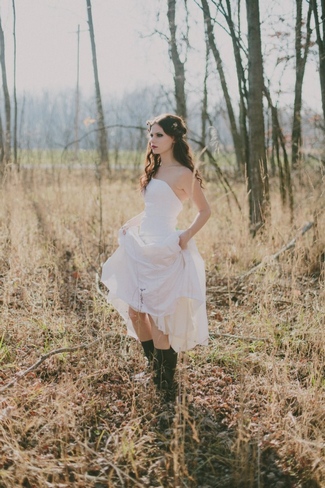 What are the season's wedding dress trends?
"We are seeing uniquely shaped backs and bodices making a lovely entrance. Our brides are loving textured fabrics and subtle nuances of line, shape, and colour.
Brides are also loving unique options that come with their dresses…custom fits, the story behind the dress, production photos, their future initials on the inside hem, a little sketch from the designer, little things that make her dress special and unique to her and her story."
(Left and Below) This is Harvi. She is made of metal infused nylon and is lined in cupro. She fits your curves beautifully creating a breath-taking silhouette! She is $2,500.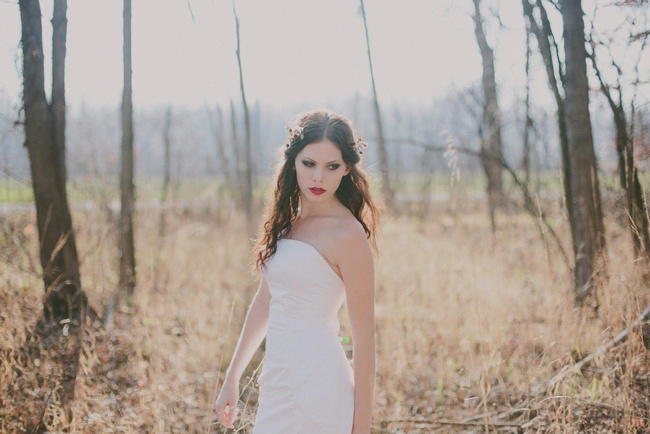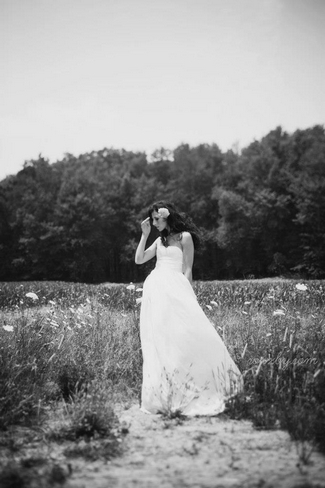 What advice do you have for the bride trying to choose the perfect wedding gown?
"Love every square inch of how it makes you feel. The fabric, the fit, the shape…everything. Don't be afraid to ask for changes or modifications. Make it YOURS! Be confident in what makes you feel like the most beautiful you! If there are two loves out there right now…decide on one dress for one week, visualize your wedding day in that gown…first look, first dance, first kiss etc. Then, switch the mental image to the other gown for one week….you will know when you know!"
(Left) This is Hera. She is 100% silk charmeuse! She feels like a little piece of heaven with a full silk skirt that is sheer classic beauty. She is $2,000.  
Bohemian bridal accessory trends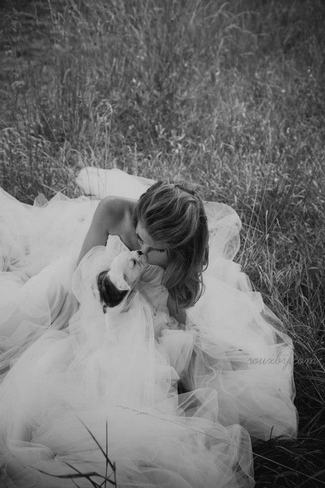 How can a bride incorporate a touch of boho beauty  into their wedding gown? 
"Headpieces are what's hot right now. In any way shape or form, over your veil, under your veil, instead of your veil and especially bohemian head pieces that wrap across the forehead! Add a beautiful memory to your day by incorporating your grandmother's brooch or mother's pearl necklace to your headband design!"
Headpieces are wonderful when worn as an adornment to long flowing hair. Take a look at our inspirational 16 Bridal Hairstyles for Long Hair for ideas on how to achieve this look.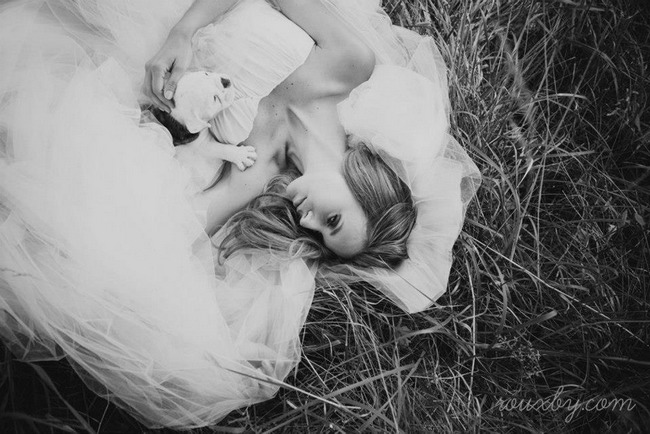 (Above) This is Helen. She is a gorgeous blush silk jersey that drapes and swirls perfectly around you! She is $2,000.  
Vintage Upcycling vs. Vintage Inspired
In addition to the soft Bohemian look, the feminine feel that the vintage look offers brides is extremely popular at the moment! Here, Jennifer from ByGhinda shares her view on  upcycling an authentic vintage gown or creating a modern day vintage-inspired dress.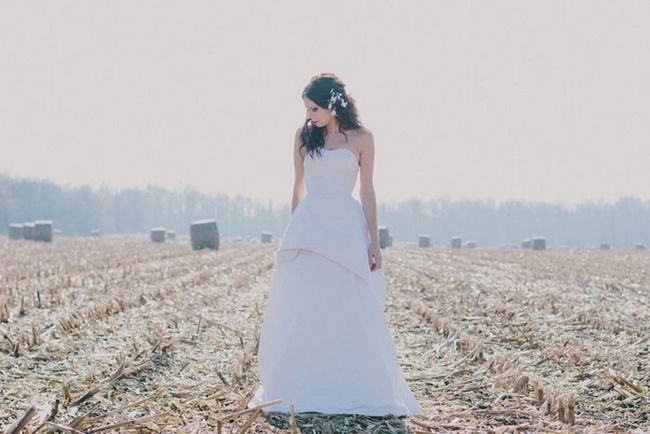 (Above and Below Left) This is Relli.  She is made of metal infused nylon and is lined with cupro creating an absolutely exquisite silhouette. She is $3,600.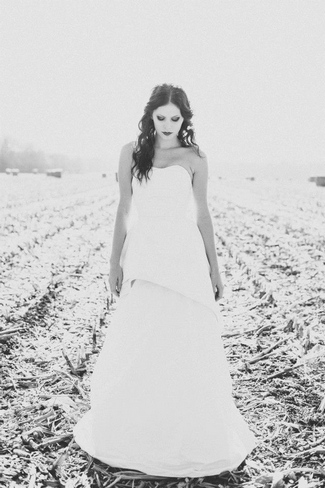 Is it better to "upcycle" an authentic vintage gown or to transform a modern dress into a vintage-inspired creation?
"Either inspiration is beautiful.  Upcycling is a great way to keep a beautiful tradition alive while adding a depth of history and culture to your day. Just be sure you trust the designer who will be re-envisioning your gown!
The beauty in creating a vintage look in a new gown is that you will have complete control over the vintage touches and inspirations, making your aesthetic shine! There is less stress on the bride when she knows she is in control over each styling choice."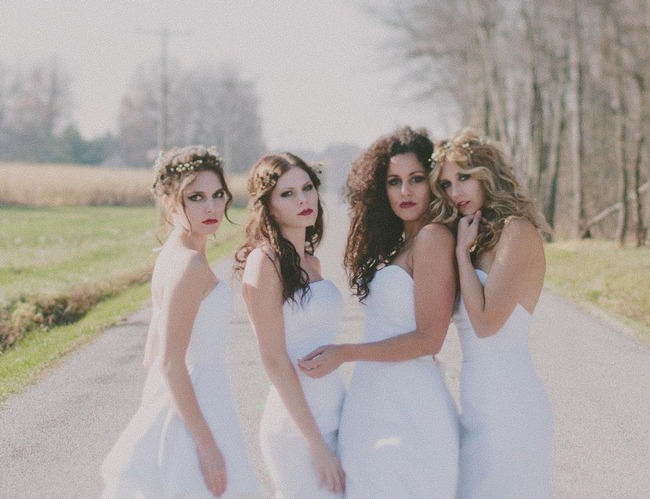 What's your fave ByGhinda Wedding Gown creation?
Such a fresh and flowing wedding gown collection that oozes flowing flower-child fantasies! Share your fave ByGhinda wedding gown pick by letting us know in the comments box below!
To view more of ByGhinda's luscious gowns, visit www.byghinda.com or get in touch by emailing [email protected].