Printable Wedding Day Emergency Must Have List ♥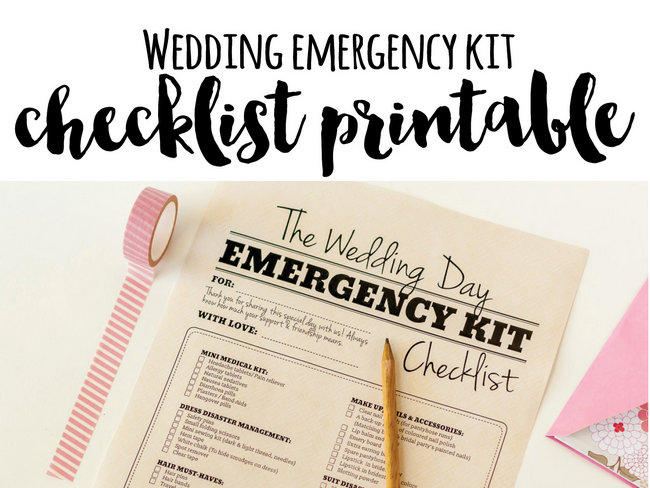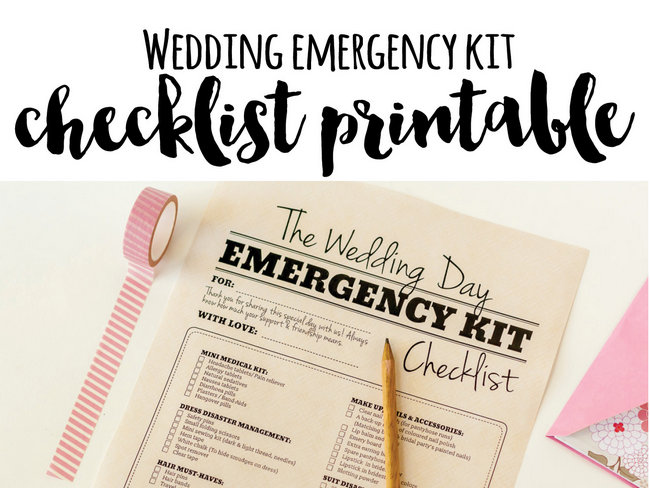 Grab today's newly updated wedding emergency kit checklist printable to share with your bridesmaids or groomsmen. It's a handy downloadable list that is filled with useful item's to have on hand to head off the majority of last minute wedding day emergencies.
Ever wondered what you'd need to stay fresh, handle wedding dress disasters, beauty touch ups, suit maintenance (yes guys, we're on it!), stay hydrated, energetic and deal with last minute allergies? Don't worry, we've got you covered!
Wedding Day Emergency Kit Checklist
Dress Disaster Management:
Safety pins
Small folding scissors
Mini sewing kit (dark & light thread, needles)
Hem tape
White chalk (To hide smudges on dress)
Spot remover
Clear tape
Suit Disaster Management:

Black chalk (To hide smudges on suit)
Shoe polish kit in correct color for groom & groomsmen)
Lint roller for suits
Corsage pins
Mini Medical Kit:
Pain reliever pills just in case of any minor aches or pains.
Mild medication to treat allergies, nausea, diarrhoea or even a hangover!
Natural sedatives and smelling salts to calm those nerves, ease head pains, congestion or dizzy spells.
Plasters or Band-Aids to bandage any scrapes or small wounds and to protect sore feet.
Hair Must-Haves:
Hair pins
Hair bands
Travel sized hair spray / gel for groom
Important Contact Details:
A comprehensive printed list of wedding supplier's names & contact numbers. (Landline and mobile.)
A printed list of mobile numbers for wedding party and family members on both sides
Hydration & Energy Needs:
Bottled water and straws to drink it with once lipstick has been applied
Something healthy & light to snack on & keep energy up (dried fruit, nuts, etc)
Technology:
Mobile phone charger
Charged camera for getting ready group selfies
Make Up, Nails & Accessories:
Clear nail polish (for pantyhose runs)
A back-up bottle of coloured nail polish
(Matching bride & bridal party's painted nails)
Lip balm and gloss
Emery board
Extra earring backs
Spare pantyhose
Lipstick in brides color
Lipstick in bridesmaids colors
Blotting powder
Freshness Kit:
Dental floss/toothpicks
Eye drops
Deodorant
Tampons
Mints / Breath Spray / Mouthwash
Toothbrush and paste
Q tips
Perfume / cologne
Hand towelettes
Tissues
Razor for groom
Tweezers
Insect repellent (if outdoors)
Nail clippers
Wedding Day Emergency Kit Checklist Printable
Grab this wedding day emergency kit checklist below, print it out and give a copy to your maid of honor or best man so they'll be fully prepared. Make sure you include a great big thank you to them for supporting you during this special time, and why not use this opportunity to have a catch over dinner to talk about what's going on in their lives too. 🙂



Make sure you check out the rest of our fave DIY projects too!
Get more helpful wedding planning advice: