DIY Guest Book Alternative: Newlywed Advice ♥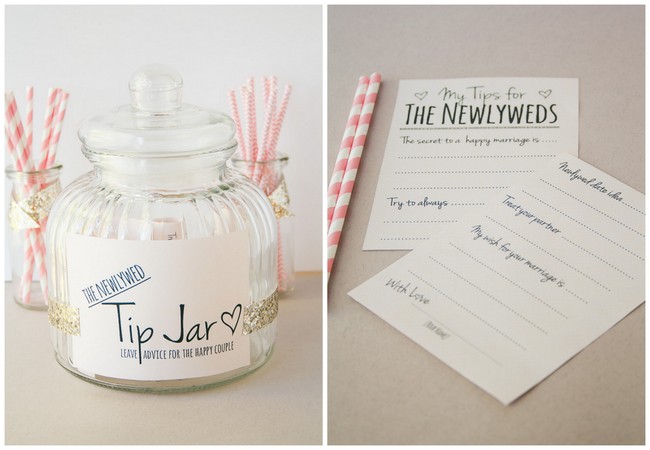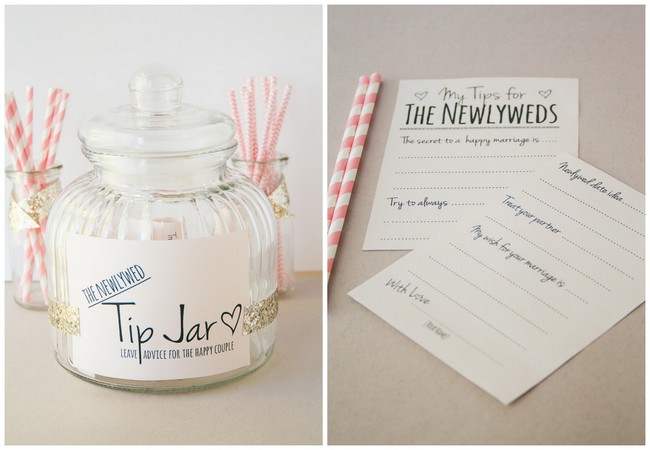 DIY Newlywed 'TIP' Jar Guest Book Alternative
---
Time to Complete: Less than 15 minutes
Skill Level: Very Easy
The Newly Wed Tip Jar is a fun guest book alternative which puts a unique spin on mad libs. Using a large cookie jar, some lightweight cardstock, paper, glitter tape and our free printable downloads, we'll show you how to create an entertaining  way for your guests to leave you advice and insights as you begin your married lives. In addition to giving your guests something fun to do with cute prompts for the secrets to a happy marriage and date ideas, the Newly Wed Tip Jar also leaves space for a message from your guests, making it a totally unique guest book alternative, too!
After the wedding you'll be able save these messages in a folder, scrapbook, album or keepsake box which you can lovingly revisit on every wedding anniversary for the rest of your lives. Plus it matches these cute rustic DIY table number printables and our wedding seating printable too.
Newlywed 'TIP' Jar: Guest Book Alternative
Learn how to create this cute Tip Jar project in a matter of minutes using our cute and totally free Newly Weds Tip Jar printables made for you with love. <3


Create your DIY Newlywed 'TIP' Jar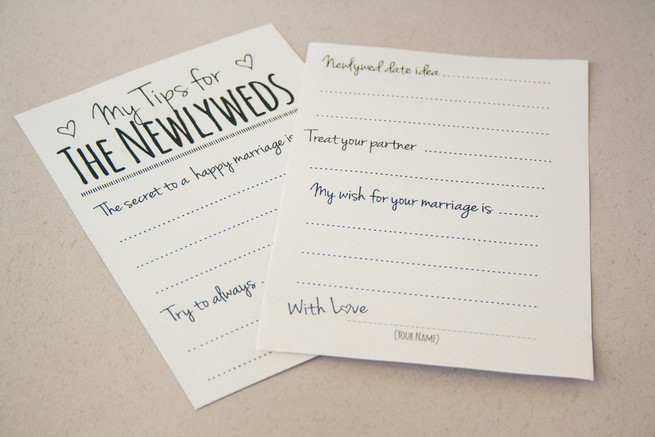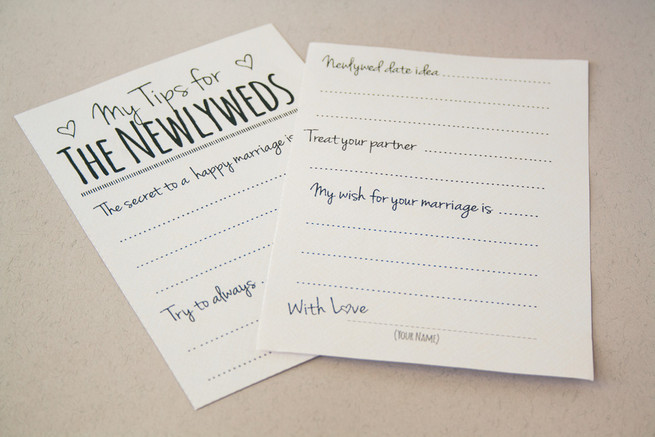 This post contains affiliate links, which means that if you choose to make a purchase by clicking on one of our links below, we earn a small percentage of the sale for sharing them with you. Thank you for supporting our content!
MATERIALS: NEWLY WED ADVICE CARDS
Tip Sheet Advice Card Printable
Paper
Printer
Scissors or a super handy paper trimmer for quick, straight cuts. Try this one!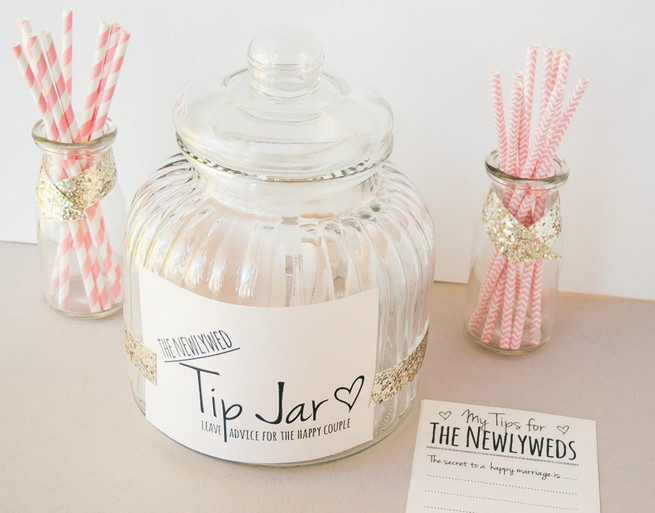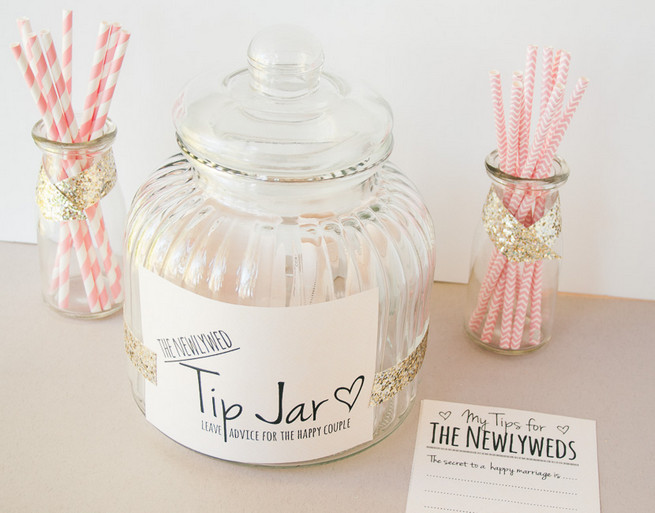 MATERIALS: NEWLY WED TIP JAR
Tip Jar Sign Printable
Lightweight Cardstock (A5 size)
Printer
Adhesive Glitter Tape or Glitter Ribbon
Crafting adhesive
Optional for styling: Milk bottles and paper straws
Instructions:
Raid your kitchen for a large cookie jar, or purchase one.
Download and print the Newly Wed Tip Jar printable on a piece of lightweight cardstock which is firm and textured, but flexible enough to bend slightly in order to wrap along the curve of your cookie jar.
Measure and cut adhesive glitter tape by wrapping it around the circumference of your jar. Position your Tip Jar sign and allow for a small bit of overal so that the glitter tape is affixed to the sides of the Tip Jar sign, securing it in place.
Secure the Tip Jar Sign in desired position. Apply clear craft glue to the borders of the Tip Jar Sign and affix to cookie jar. Once the glue has dried, affix glitter tape. (You can also use glitter ribbon, and affix using craft or project adhesive.)
Download and print the newlywed advice cards. They are sized to print four to a regular Letter / A4 sized page. Remember that the tips will need to fit inside the neck of your cookie jar, so choose paper that your guests are able to roll in order to skip in, or a jar with a very wide neck. Each page is double sided, so print a test page to check which way your printer requires paper to re-inserted.
Cut to create individual advice cards. Using a paper cutter can save loads of time and help you stay straight. We use ours for lots of projects, it's very handy!
Embellish with additional ribbons as desired and display.
Newlywed 'TIP' Jar: Guest Book Alternative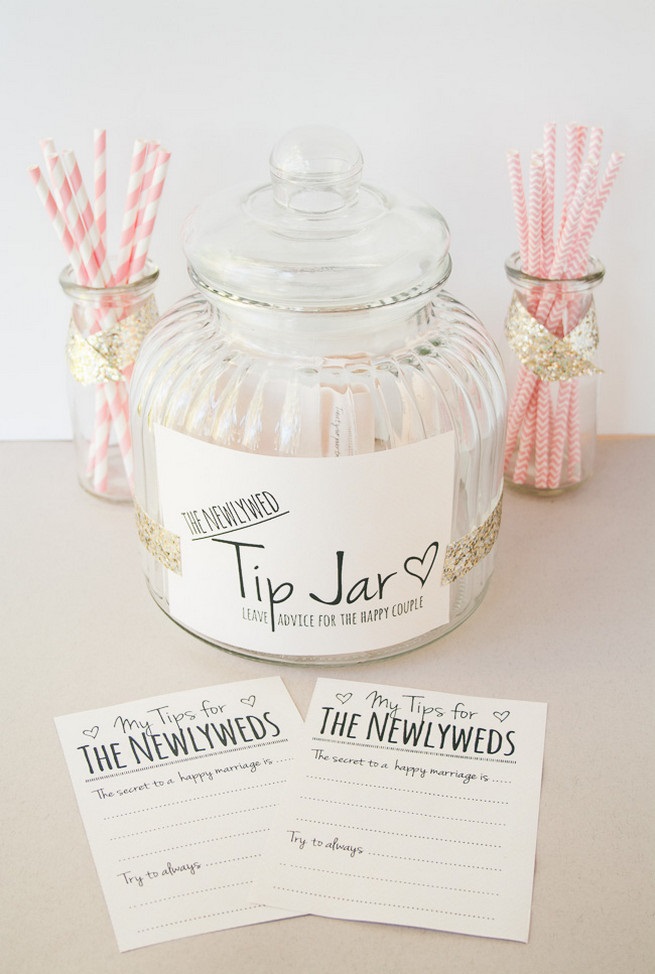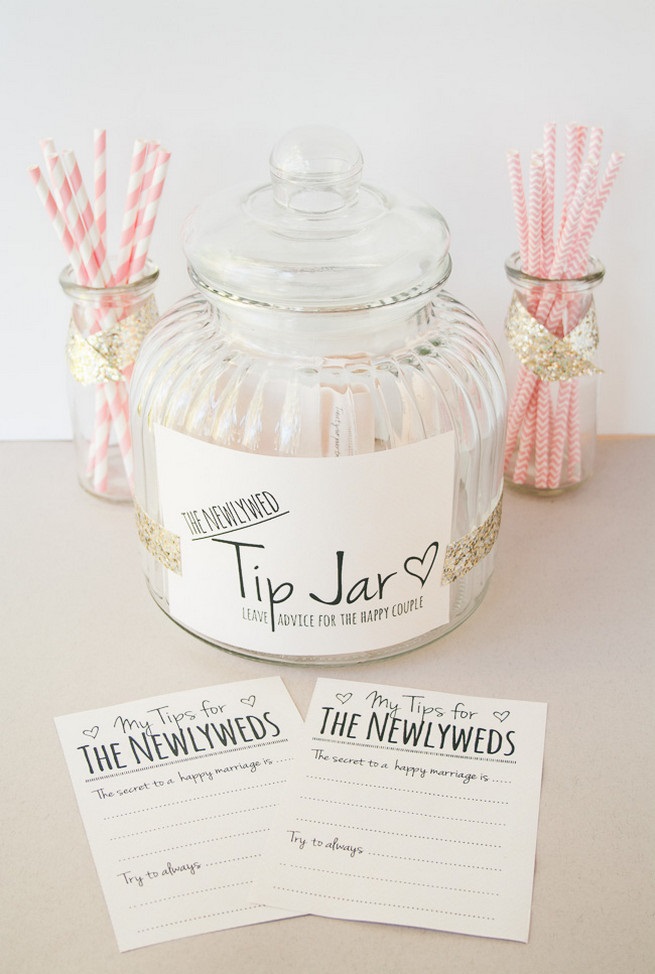 Make sure you check out the rest of our fave DIY projects here including this cute Groom Card printable freebie. Happy crafting!  ♥ ♥ ♥