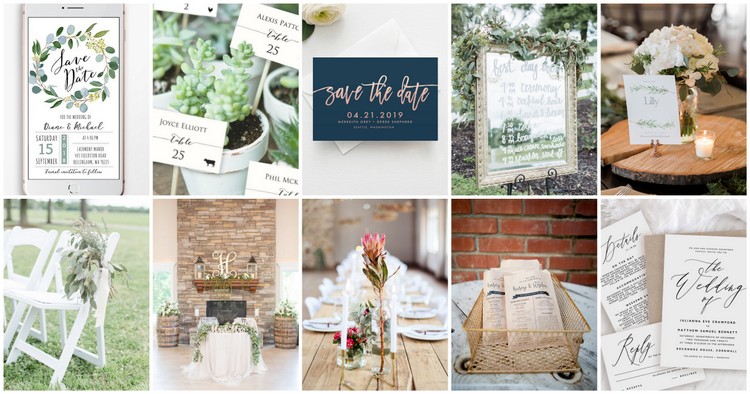 Looking for ways to save money on your wedding? These genius wedding money saving tips are here to help make the most of your wedding budget. Whether you're living large or feeling frugal, when it comes to wedding expenses every last cent counts!
Money saved in one area can mean extra budget for another, or simply less spending overall. Once you've put in place some of these genius ways to save money on your wedding, you can use the extra cash to splurge on your honeymoon, put it towards your home, or simply save it for a rainy day.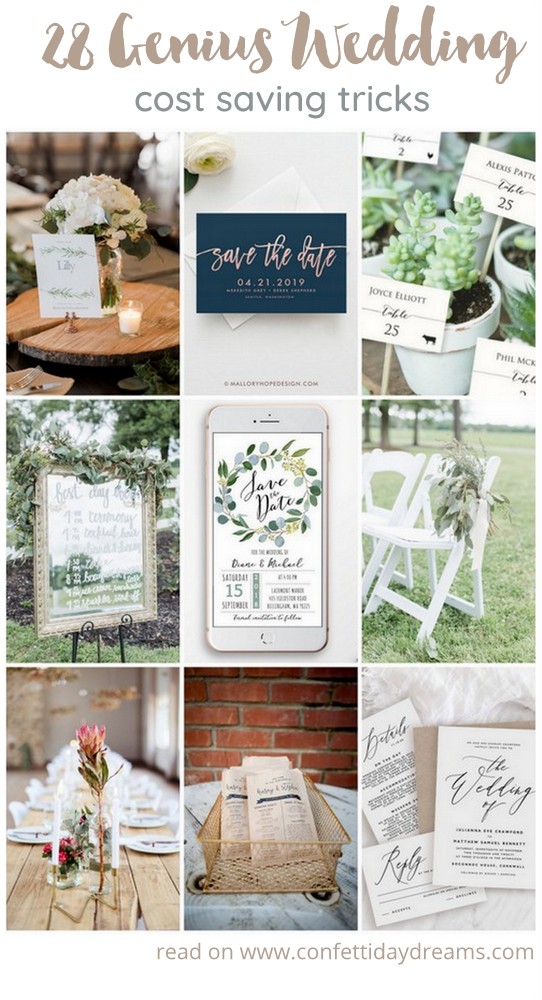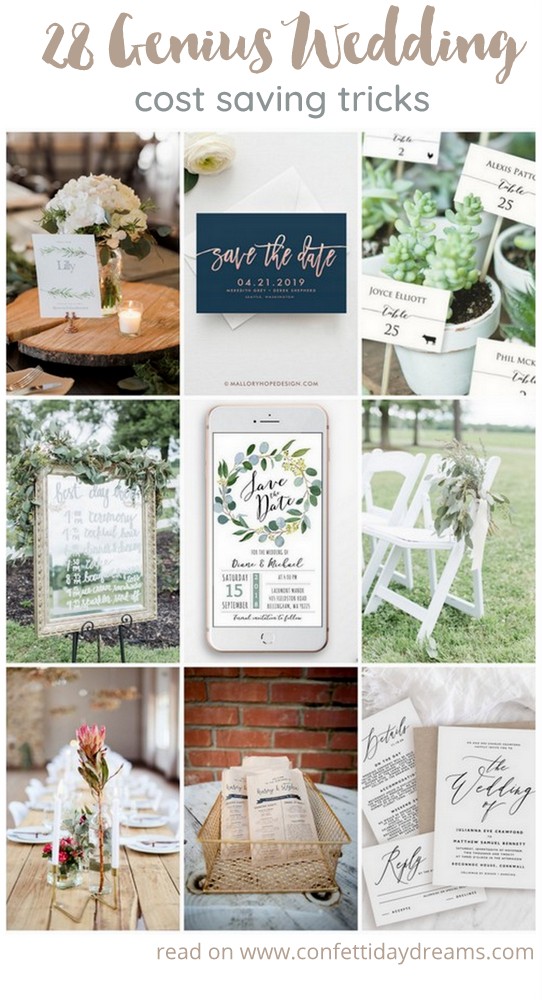 28+ Genius Ways to Save Money On Your Wedding
Instead of using a credit card, use a wedding debit card that is linked to a loyalty program so that you can gain rewards or cash back – which you can use to cover other wedding costs. If you do use a credit card for the rewards, make sure you pay back the full outstanding balance at the end of each month so that you don't have to pay interest. Don't start your marriage in debt if you can avoid it.
Save on printing and postage by emailing or texting your Save the Dates. Create your own digital Save the Dates using a photo and image editor app on your phone, (or buy ready-made, customizable options by like the ones below) then mail, WhatsApp or text them to your peeps! 

Digital Save the Dates for under $15: Send this pretty digital  Save The Date template (left) to your loved ones via email or, text this digital save the date template (right) via mobile! (If this feature inspires you to purchase one of these items for your wedding, in some cases we'll get a small percentage of the sale for sharing it with you. Thank you!)
.
If you can't afford a real calligrapher, choose wedding invites which use a calligraphy-style font. These are much more affordable, and are also quite lovely. In most cases, you'll be able to purchase the templates for at-home printing, too!  Which brings us to…
Print your own invites at home using a wedding invitation printable – this is a great way to save money on your wedding. You can buy many gorgeous premade wedding templates for DIY editing, or in some cases you can even have a template customized with your details, to print at home. Keep the cost of color ink in mind when making your choice – a cute white invite with a beautiful black font can look amazing, and it only needs a black and white printer.
 
DIY Calligraphy Printable Invites: Both of these gorgeous invitations are available as instantly downloadable templates for under $20! Check them out from Kismet Print Co (left) and Printable Moment (right).
.
Go completely digital with your invites and automatically manage your RSVP tracking using an online invitation service greenvelope. It's affordable, saves energy and paper, plus it's SUPER convenient because all responses are so easily tracked. Plus, you can choose and customize your design from a range of ready-made templates. Check it out here.
Rent designer bridesmaid dresses online from Rent the Runway. Starting at $30 for Badgley Mischka and so many other designers!
Buy a sample or pre-loved designer dress online from Nearly Newlywed. We're talking Galia Lahav, Grace Loves Lace, Berta, BHLDN and more, anywhere from 40 – 80% off the original sale price. Then re-sell it when you're done and recoup some of the costs!
Get married during the week instead of on Saturday. This can often help the budget stretch a bit, as venues sometimes give discounts for off-peak times, explains wedding planner Cara of Mosaic Weddings.

Host your reception at a beautiful, family-owned restaurant

! Forgo the hassles and costs of wedding venue hire, and book out your fave local Italian Trattoria or cosy bistro for the night. Just make sure you're upfront that it's your wedding reception, so that they can help with menu planning, service requirements and the like.
Skip the wedding programs (your guests will follow along, I promise!), or print them on cute paper bags, which are also filled with confetti. So fun, and practical!
 
Wedding Program Confetti Bags: Let your programs do double duty. Check out these craft paper bags from Red Letter Vows, or these from Paper Shoppe CA in white.
.
Be incredibly selective over how many guests to invite. Try to stick to your nearest and dearest as much as possible, says Kerrith Coleman of Boutique Styling in Cape Town. Don't just think of the per-person guest fee as the only thing that drains your wallet, explains Danielle Aspromatis, owner,  d'Luxe Events in New Jersey: "As you add onto your guest list you spend more on your floral budget because you may be adding to your table count, more on your stationery budget as you add more invitations, menus, programs and escort cards, and more on your transportation budget as that may translate into additional or even larger guest shuttles!"
Reuse bouquets as centerpieces for your guest tables. Or your card, sweetheart or head table. Or anywhere the reception needs them, really!
 
(Above) Bridal bouquets double up as beautiful table arrangements. See more in this stunning neutral wedding with organic details, photographed by Jenna Marie Weddings.
.
Skip the favors! Remember, most guests are happy with their free meal and drinks, explains Cara of Mosaic Weddings. "Use the money you would have spent on favors for lighting or more flowers as this is what gives the wow factor to your day," says Cara. But, if you absolutely MUST have favors…

Cleverly use favors that double up as escort cards. Create a display table filled with your guest's gifts and simply include their table number on each favor's name tag. Your guests get to find their seats, and you'll save on printing costs. We love eco-friendly options like succulents, lavender sachets, or tree saplings.
 
(Above) Escort Card Favors: How about a table of sweet succulents (left) using cards like these which include your guest's table details, or DIY Eco-friendly tree saplings (right) as seen in this DIY Fall wedding photographed by Christopher Smith Photography.
.
READ: 18 Cute and Thoughtful Eco-Friendly Wedding Favor Ideas.
.
Instead of a wedding cake, use cake pops or cupcakes – which do double duty as guest favors. If you go the cake pop route, you could make these creations your table centerpieces. "Centerpieces can be very expensive, especially considering they are usually forgotten once everyone starts dancing. I recently had a couple use their dessert as their centerpiece. The cake pops were decorative during the dinner and gone by the time everyone left the table!" says Barb Culbertson from Lumber Exchange Wedding Venue in Minneapolis. 

Instead of a dust-collecting guest book, have guests sign a map or custom illustration designed to match your home decor, so that you can display it in your living room afterward as an awesome reminder of the day.
 
(Above) Instead of buying a guestbook, frame a portrait for guests to sign. Use your engagement pics like this couple did. (Left image credit: Jennifer Stuart.) Or, try a cute custom portrait illustration like this (right image). You now also have art for your home!
.
Print your menu on pretty paper bags which guests can use at your candy station. How genius is this?
Print or write out a single, large framed 'order of events' and do the same for your seating chart. Ceremony guests can view the order of events as they enter the ceremony area, instead of printing individual programs. Similarly, receptions guests can consult the framed seating chart as they enter to find their own seat at the table, instead of paying to print individual escort cards.

(Above) Double Duty Wedding Program Display: Write your ceremony's order of service or reception seating plan on a beautifully framed mirror with erasable marker as seen in this greenery and succulent wedding, photographed by Lindsay Fauver. You save on individual printing costs, and reuse the mirror at home afterward.
.
Use a large, cafe-style framed menu instead of printing one for each table. Use a chalkboard, a mirror, or purchase a downloadable menu template for printing at your local printer, then frame it. You can then re-use the frame at home later.

(Above) A single, jumbo-sized wedding menu placed prominently replaces the need for printing individual menus. It can be displayed like this instantly downloadable black and white menu (left) in a beautiful frame, or displayed on an easel like this pretty editable menu template with gorgeous gold text (right.)
.
.

(Above) DIY welcome wedding sign: This bride's calligraphy style wedding welcome sign was a combination of an Etsy design vinyl adhesive transfer and Michael's materials, assembled by the bride. (Image: Krysta Norma Photography)
.
Purchase a cool, customized jumbo menu or order of service decal like this to add to a large framed mirror, board or chalkboard backing. They are super affordable, save on having a piece hand designed by a calligrapher.
Create your own DIY wedding photo booth. With a little imagination, you can often create the same type of fun for a lot less money. "Instead of paying for a photo booth, make a decorative background and add in a few inexpensive props to create a selfie station, says Barb. "Create a unique hashtag on Instagram where everyone can share their pictures. Your guests get a similar experience, but you don't get stuck with the bill."

Think double-duty for all flowers and decor used at your ceremony. 

Reuse the pretty ceremony chairs, floral arrangements and decor. Find versatile, portable arrangements and items that can easily be moved from ceremony to reception.
 
(Above) Double-Duty Wedding Decor: Garlands, florals and barrels do double-duty at both ceremony and reception in this greenery and succulent wedding, photographed by Lindsay Fauver.
.
Skip the personalization. Let's be honest, you don't need to engrave every piece of wood or glass with a saying. "Printing items is cheaper than engraving them and they can still look elegant and classy," says Cara of Mosaic Weddings.
But if you must personalize, use easy-to-edit wedding templates that you can personalize and print yourself. 
Greenery and foliage are cheaper than flowers. Consider centerpieces and bouquets made mostly or exclusively from eucalyptus, kale or whatever greenery is easily available in your area during your wedding season.
 
(Above) Instead of expensive flowers, use greenery to line your tables, decorate your chairs and aisle.  (Left image: Photographed by Ryan Lindsay Photography// Right Image: Photographed by Lindsay Fauver.
.
Save on Wedding Flowers with these 15 brilliant floral hacks!
Keep your bridal party to a limited number. You will be surprised at how the numbers add up for hair and makeup, dresses, bouquets, boutonnieres and gifts for large groups of bridesmaids and groomsmen, says Kerrith Coleman.
Avoid rush fees by planning as far in advance as possible. Set your own deadlines a week prior to those that vendors have given you, to ensure that you avoid expensive rush fees, says Kawania Wooten of Howerton+Wooten Events in Maryland. 
Seat guests at larger tables to reduce the number of per-table expenses, such as linen hire, printing of table number signs and floral centerpieces required.

(Above) Seating guests at long, family-style tables means less decor, centerpieces, linen and table signage are required. Check out more ideas from this burgundy and gold wedding, photographed by Christopher Smith.
.
Get creative at the bar – consider beer and wine only if you're on a budget, or find a venue that will let you bring your own alcohol, suggests Amrit Dhillon-Bains of Anais Events in San Francisco.
Get an all-inclusive venue.

 

Finding a one-stop-shop venue is another way to save money on your wedding, one which gives you the added bonus of convenience. "From catering to linens to sound equipment, even tables and chairs, some venues will do it all," says Barb. "There's no need for you to run around town looking for rental companies and vendors. Utilize what your venue offers. If your venue offers free linens and tables, use them! The cost and the added hassle of dealing with multiple vendors is usually not worth it." 
If you're doing your own flowers, buy from a farmer's market or bulk online seller. There's no denying it – florists are absolute magicians, and the arrangements that they create can take your wedding to the next level! However, if you are really trying to cut costs, consider DIY wedding flowers. "This will require some creativity and a little elbow grease from friends and family to put everything together, but this is a great way to save money on your wedding," says Barb. Try buying your flowers from a farmer's market or bulk online flower suppliers like Blooms by the box (also a sponsor of ours.)
Consider an elopement or intimate destination wedding. This might not initially seem like one of the most obvious ways to save money on your wedding, but think about it: your guest list will most likely reduce by much more than half. You'll get to spend the extra money on your own travel. Make the most of your destination wedding budget – including getting hotel upgrades at resorts like our sponsor Sandals when all your guests book together. In some cases, you can even get additional nights, or your wedding ceremony for free.
More to read:
SaveSave