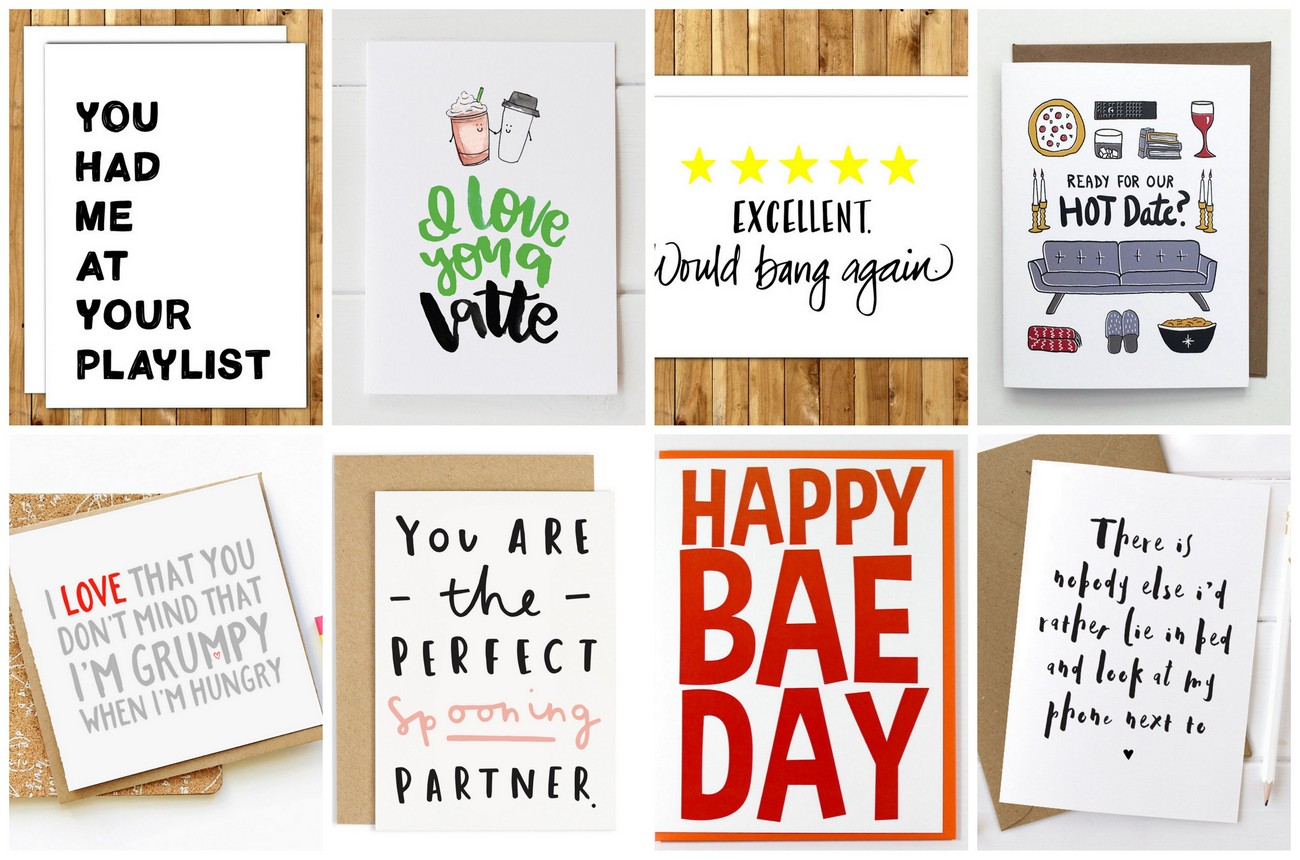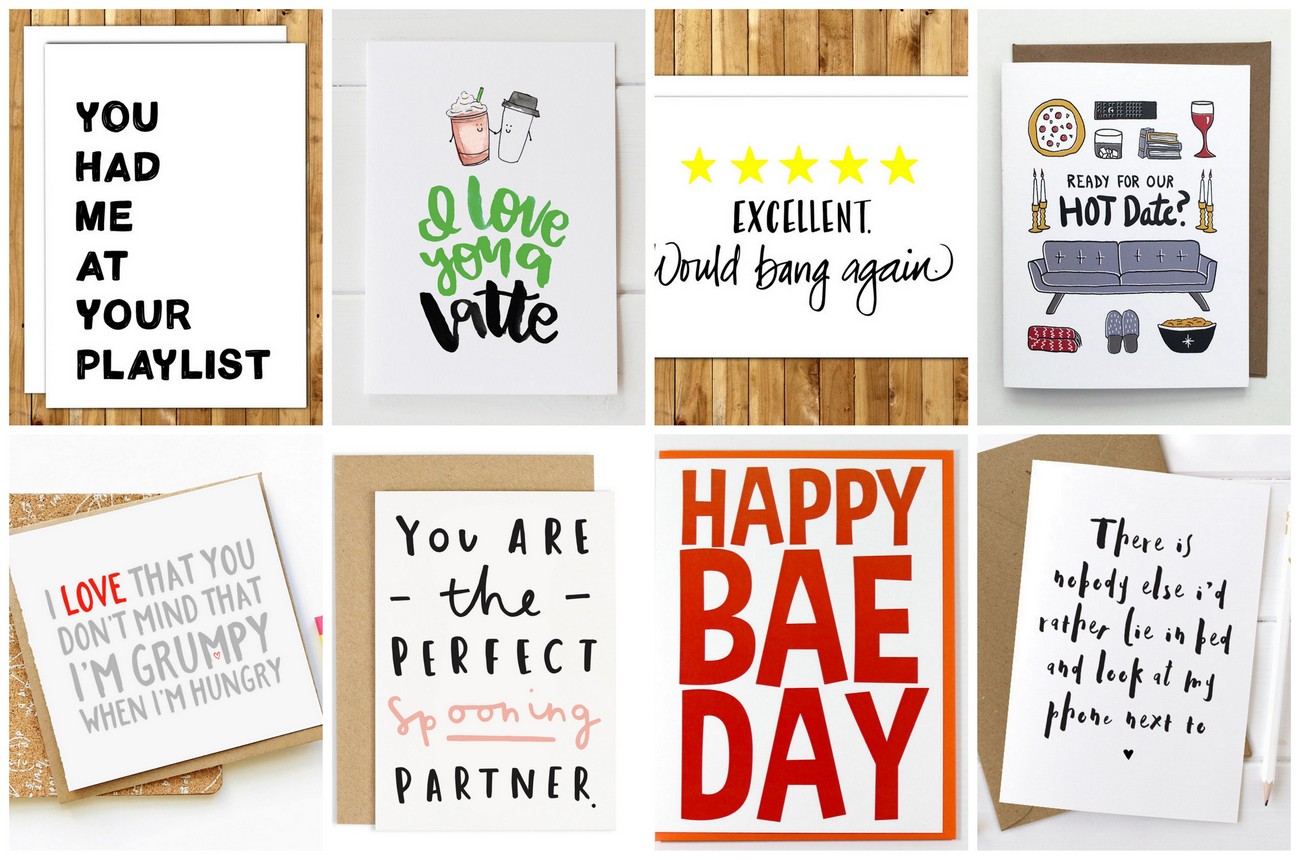 It's the month of love, and time to get your love-filled sentiments in gear. If you're a bit of a last minute person (no judgement), we've got your bae's back with our just-in-time selection of sweet and funny valentines cards for him or her! There's something for pretty much everyone here. And we mean ERRE ONE. We're talking Valentines cards for spooners, hangry other halves, introverts, chronic social media scrollers and guac lovers.
But you'd better act quick, Valentines day is right around the corner. Don't worry too much, however – if you're really running late you'll love that we included a few instant digital download options too ! Told you – we've got your back!

Funny Valentines Cards for him (or her!)
(Above Left) I love you a latte funny Valentines card. Everything feels better with good coffee and a good life partner by your side! Grab this cute valentines day greeting card from Jen Davis design here. (Original photography by White Heart Design Co.) // (Above Right) Ready for our hot date? It's all about Netflix and chill with this fun valentines card by Kat French Design. Get your hands on it here and bring a smile to your lover's lovely lips!
♥ If this feature inspires you to purchase one of these beautiful items through our links, in some cases we'll get a small percentage of the sale for sharing them with you. Thank you so much for supporting our content! ♥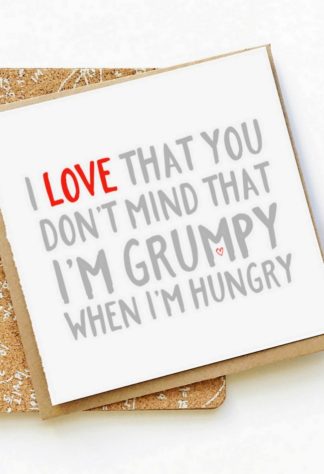 (Above Left) Hangry Funny Valentines Card. This adorbs lil' card is filled with props for the significant other who knows how we get when we're low on snack energy: "I love that you don't mind that I'm grump when I'm hungry." Get it here. //(Above Right) HAPPY BAE DAY! Finally found your bae? Then this might just be one of the sweetest, funny valentines cards for him (or her) that you need in your lives right now!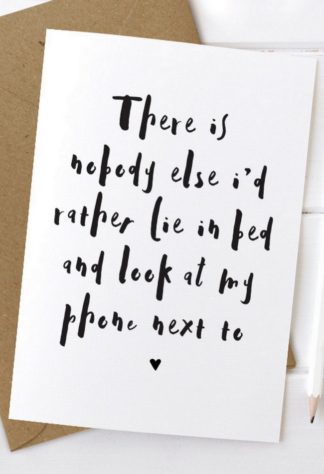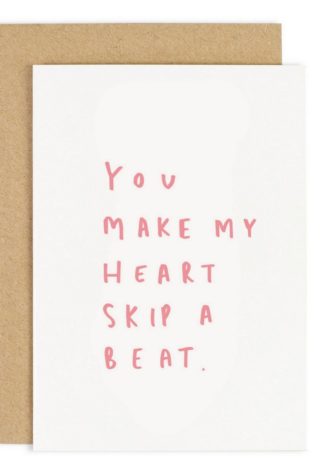 (Above Left) Swee-tie Phone Home. "There is nobody else I'd rather lie in bed and look at my phone next to." This funny Valentines Card for your husband, wife or fiance should grab both of your attention for at least five minutes, right? Designed by Mrs Best Co. 🙂  // (Above Right) You Make My Heart Skip A Beat valentines day card. Hearts aflutter, eyes that shutter, this card could land your lips in the butter! Order it from Old English Co here.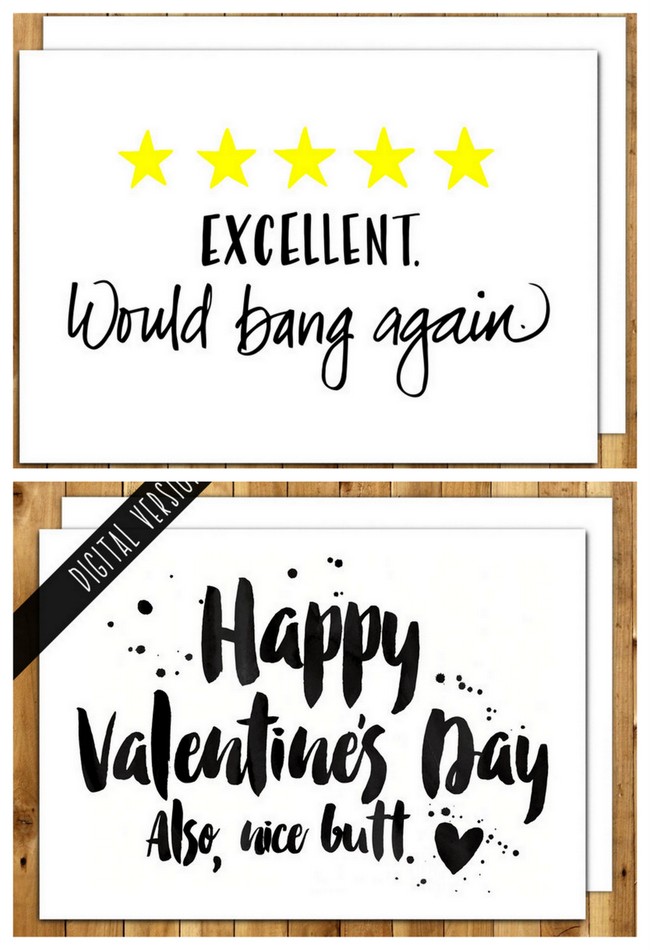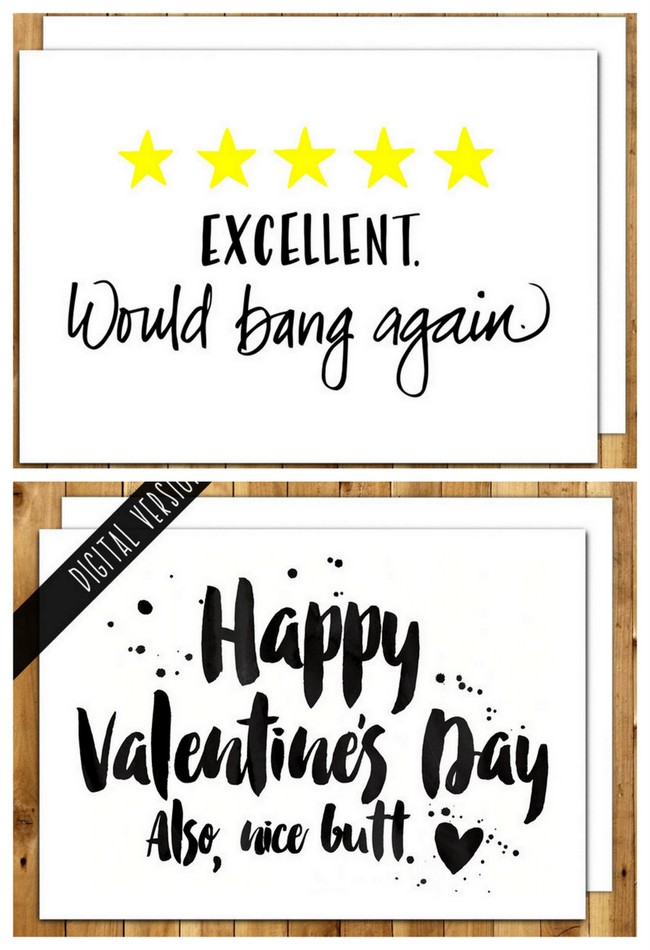 (Above top) "Five out of Five Stars. Excellent. Would Bang Again." Could this be the both the naughtiest and funniest of all Funny Valentines Cards ever known to humankind? It's a definite possibility in our books. You can get hold of this funny valentines day card here. You can get the instant download printable version here. // (Above) Happy Valentines Day. (Also, nice butt.) Another cheeky creation from In A Nutshell studio, and this card is also available as an instant digital download printable for all of ya'll latecomers.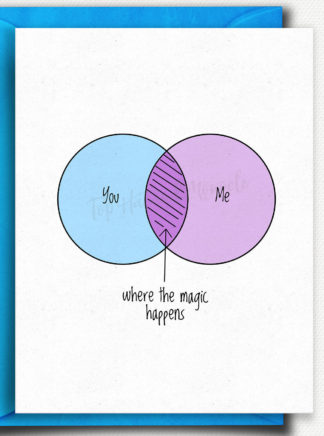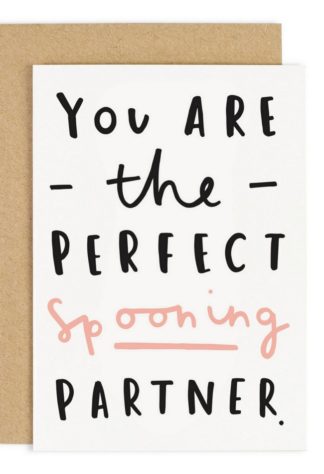 (Above Left) You + Me = Where the Magic Happens. This is one of these Fun Valentines Cards for him or her that pretty much sums up it all up! Designed by Top Hat and Monocle.  // (Above Right) You are the perfect spooning partner. Get this cute card from Old English Co if you've finally solved the deepest of all existential puzzles that cuddling couples have to face – who truly is the big the spoon?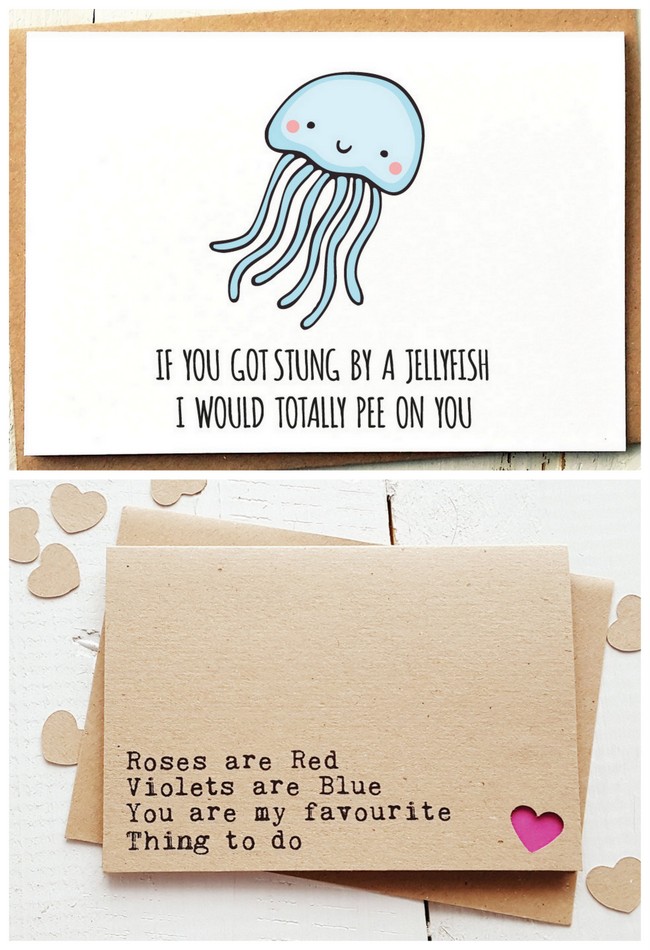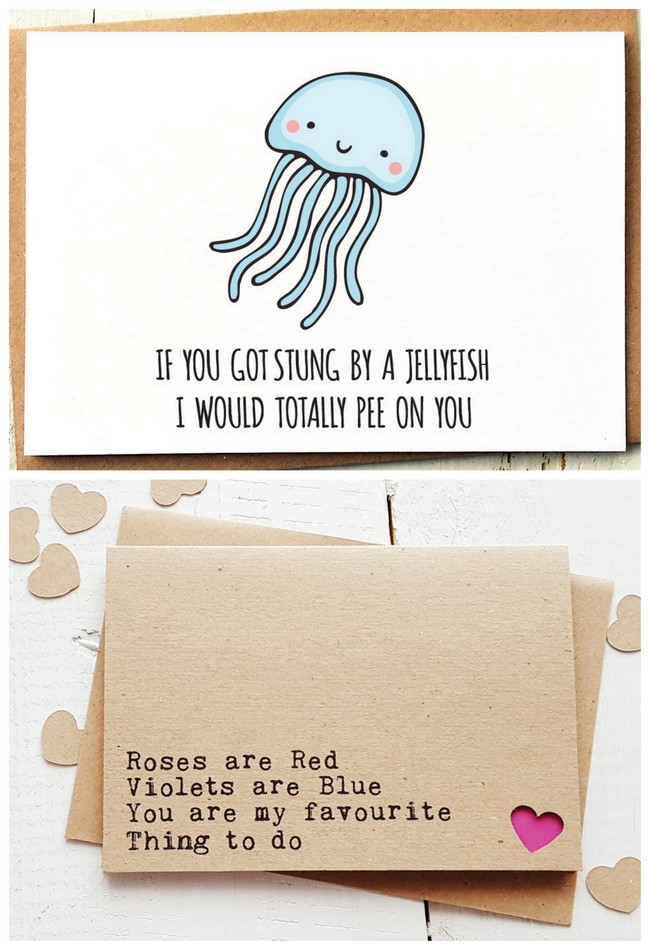 (Above Top) If you got stung by a jelly fish I would totally pee on you. Well, if that's not true commitment, then we don't know what is! Grab this Funny Valentines Card from Finch and the Fallow here. // (Above) Roses are red, violets are blue, you are my favourite thing to do! If your hobbies include being head over heels with your significant other, then this one's for you! Grab it from Finch and the Fallow.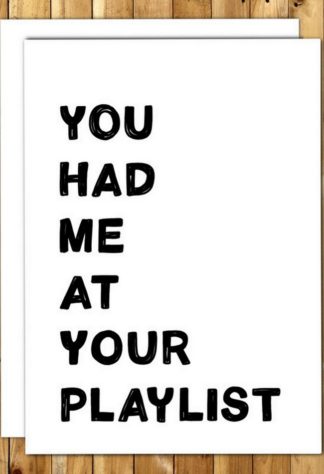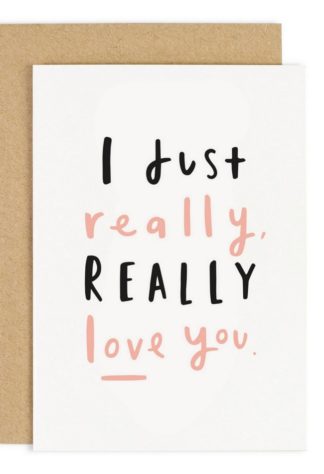 (Above Left) You Had Me At Your Playlist Valentines Card. It's true. While a picture can speak a thousand words, a playlist can speak straight to your soul. Available from In A Nutshell here.   // (Above Right) I just really, REALLY love you. You know when they say that sometimes less is more? Well this is one of the most poignant examples of a simple, sweet and straight-to-the-point Valentines card that we've seen. Old English Co has it for you, here.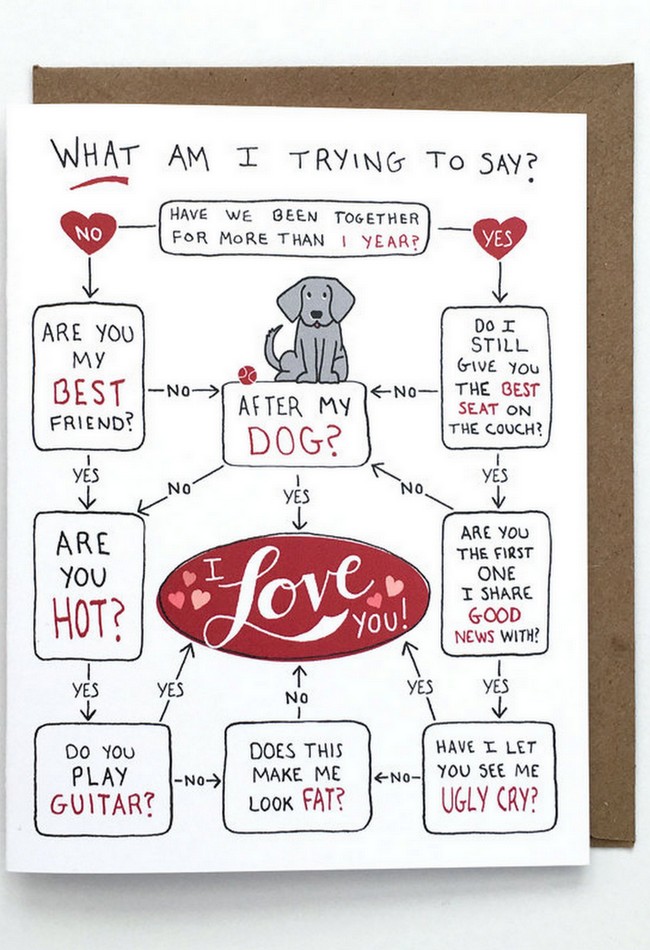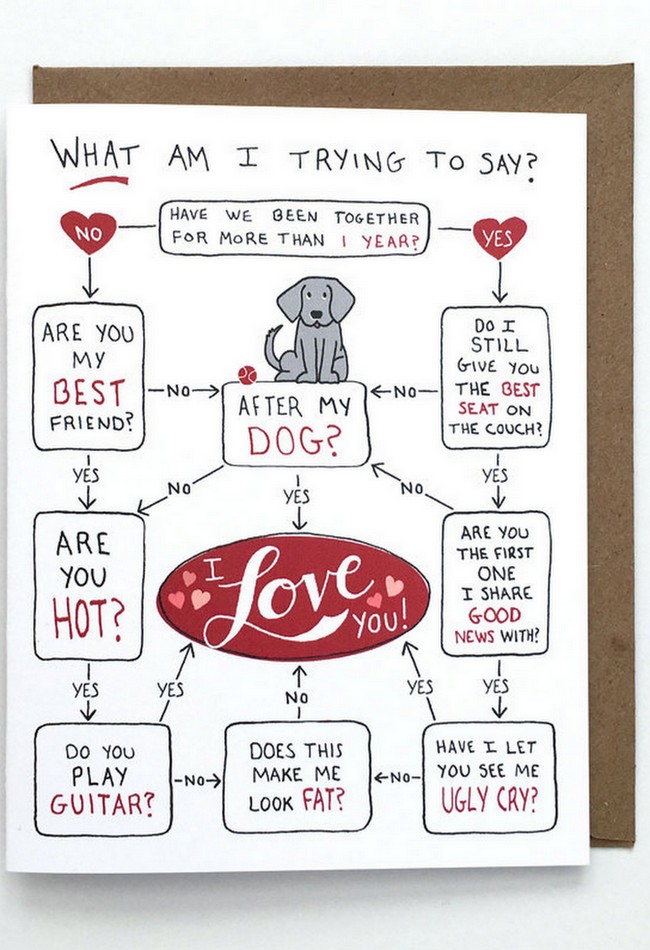 (Above) Decision tree Valentines card: I'm trying to tell you that I love you!! When you've seen me ugly cry, and you're my best friend, AND you're hot, you've pretty much checked all of those love boxes! Grab this cute card from Kat French Design here.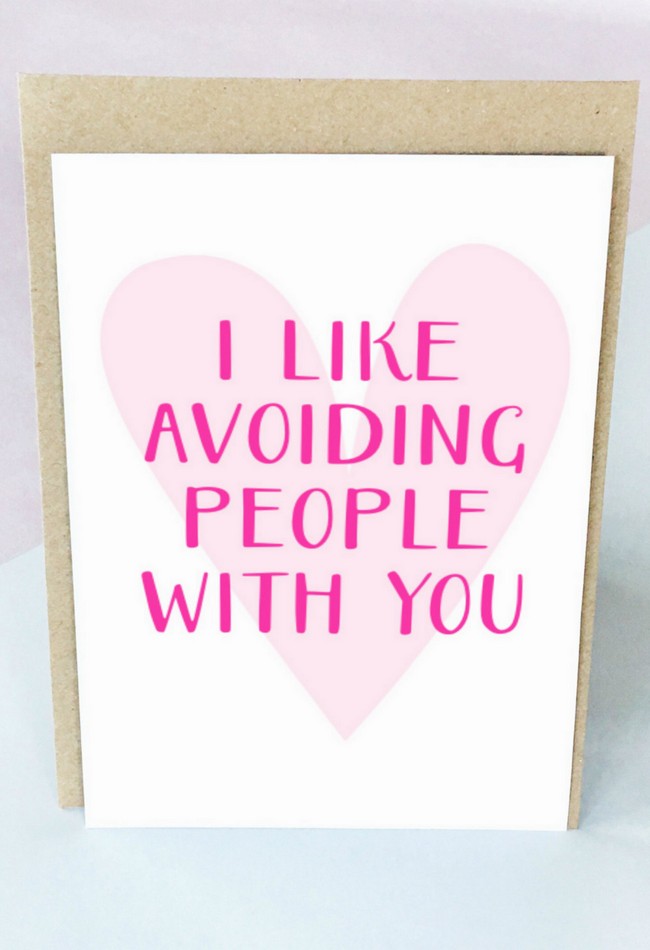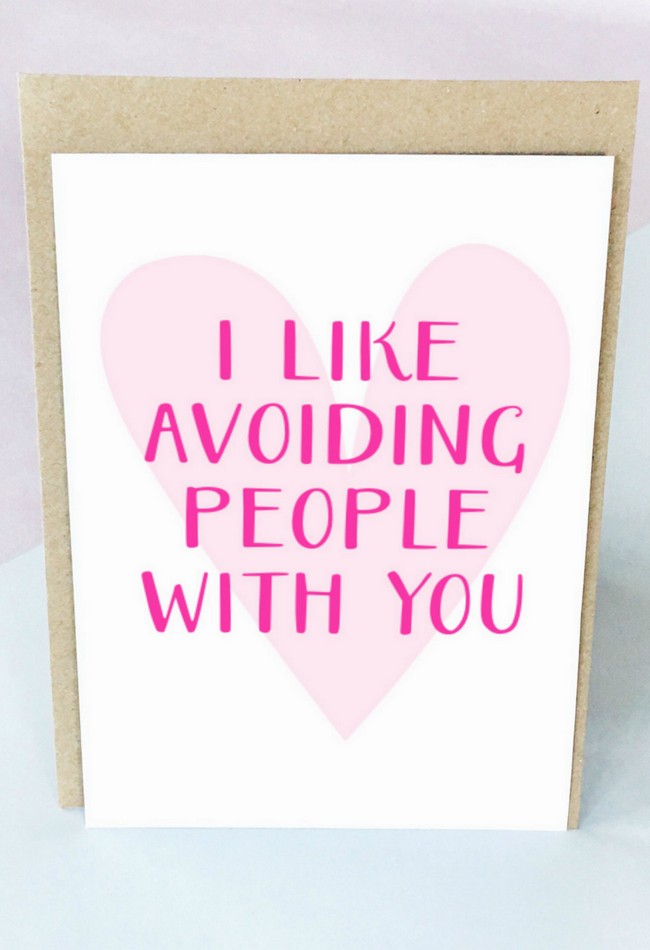 (Above) I Like Avoiding People With You. Shout out to amy fellow introverts! This valentines day card is for all of us homebodies – you can even order it online here without leaving the house. Mad props!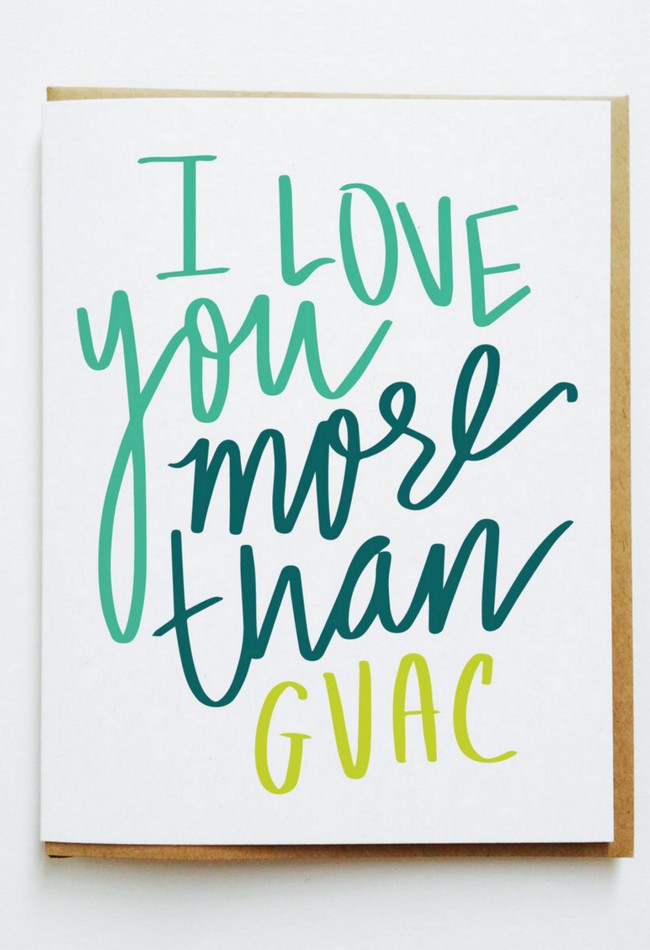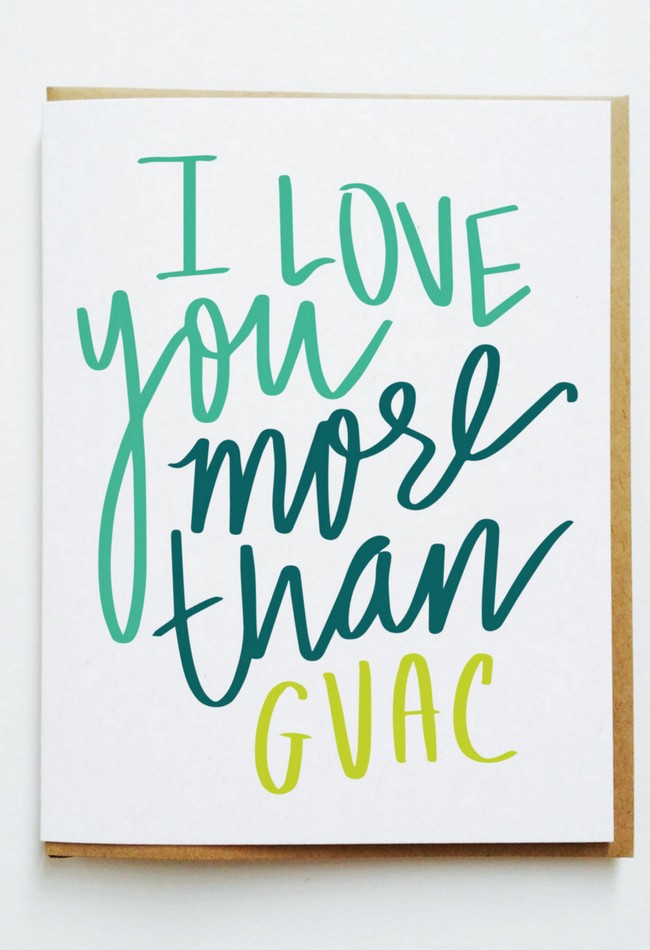 (Above) I love you more than guac! And that's a whole lot, trust me! Grab this sweet valentines day card for the love of your life from Tick Tock Press here.
17+ Creative Presents for Men: Fun Gifts for Men Who Have Everything
Check out more fun and unique ideas here.