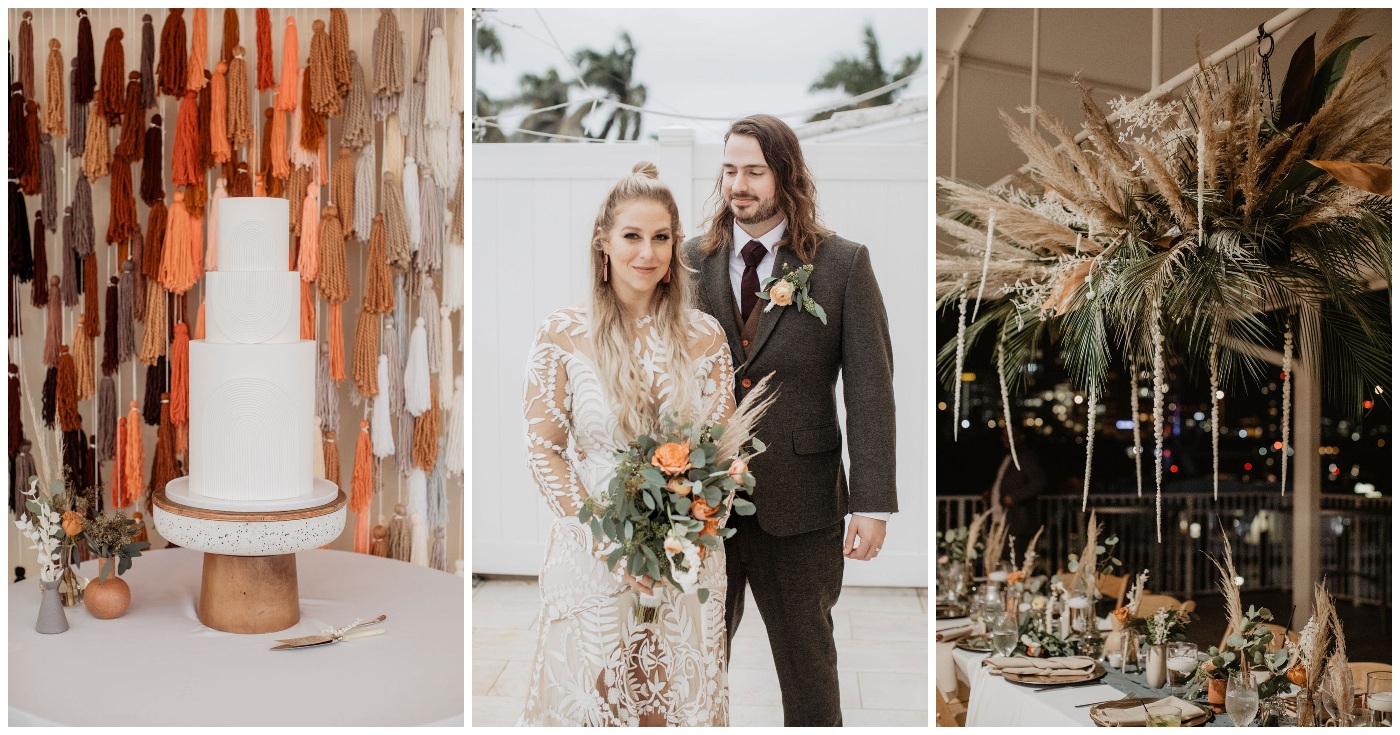 Joseph and Jordan's earthy, DIY wedding with Southwestern boho details was inspired by the couple's love of mountain vibes, something they wanted to bring to their South Florida-based celebration. Their wedding was a boho but modern event, based on the earthy color palette of the west.
They chose mostly warm neutrals with pops of sage, personalizing their day by creating a ton of DIY pieces. Jordan sourced all the vases, created the cake stand, crafted the signage, and created a large yarn tassle install behind the cake. They worked with Event Planner Gina Marie Weddings & Events and Lindsey grace photography to bring their vision to life.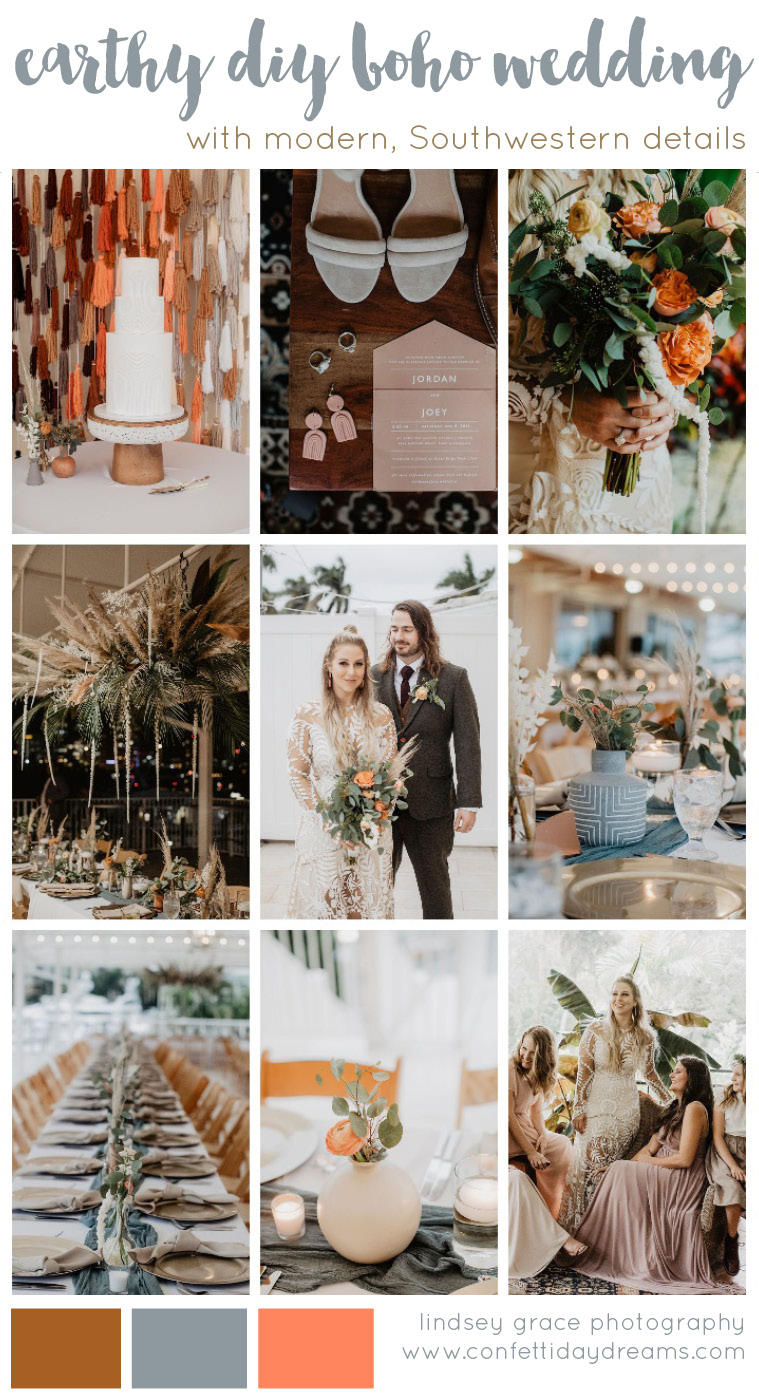 Love Story: The pair began dating after Jordan moved home from college – Joseph still had a year left. When he finished college, he moved back home. With only 10 streets between their childhood houses, it's crazy to think that the couple never crossed paths prior.
Fast forward 9 years. "We were housesitting at my brother's home in Asheville, just sitting on the front porch watching the fireflies flutter about against the view of the mountains," shares Jordan. "During our regular discussion, Joey asks me if I want to marry him. Caught off guard and also confused why he's asking this I say, 'of course I do.' He then swings off his chair and gets on one knee to say: 'Then there is no one else I would want to wear my grandmother's ring'."
Earthy DIY Wedding with Southwestern Boho Details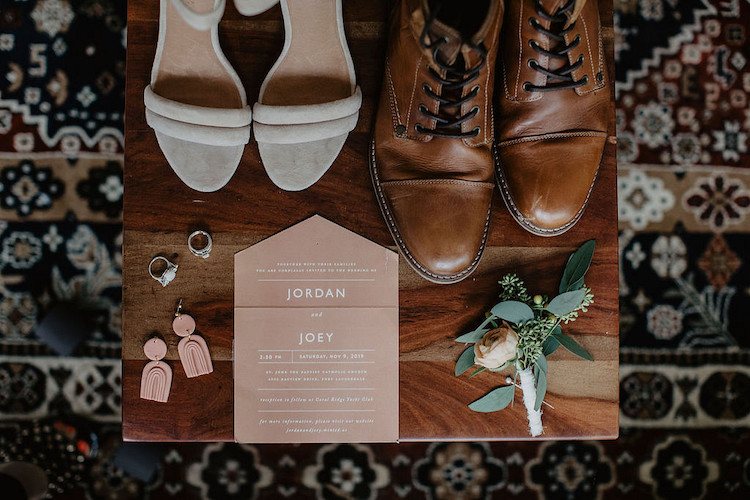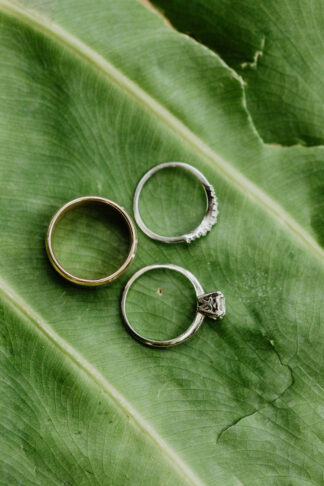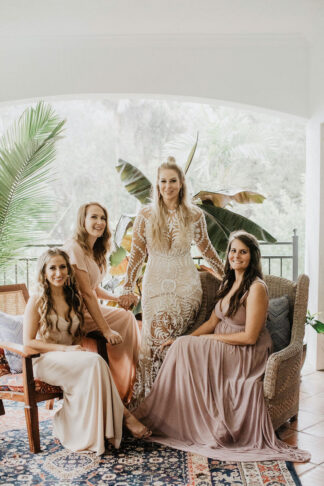 I wore a Rue de Seine wedding dress. It was a high-low slip with a separate lace layer. The lace pattern was modern and floral; bold and beautiful. It had sleeves, a deep back, and a scalloped train — truly the dress of my dreams! I wanted a unique show stopper that wasn't restricting, had a deep back, and showed off my figure. For hair, I chose loose curls and a top knot.
The girls wore neutral colored long dresses of their choosing. I wanted my bridesmaids to feel beautiful and that is why I gave them super loose restrictions on dress and color.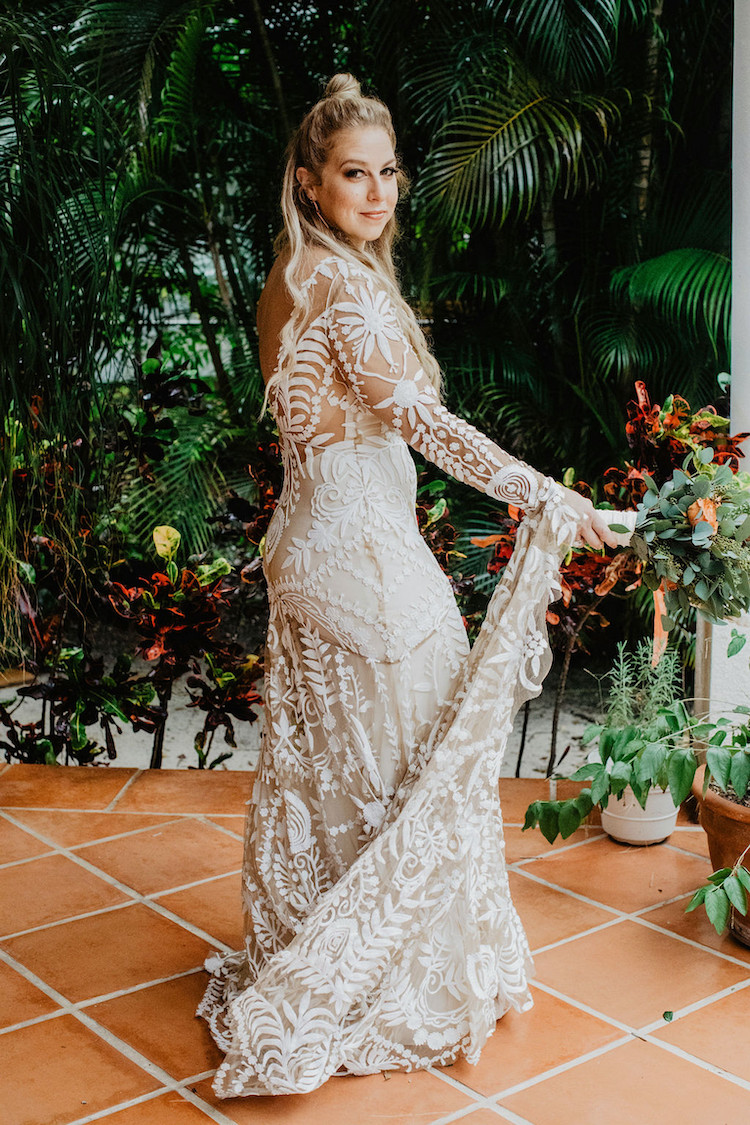 Joey chose a deep green tweed 3 piece suit and wore his hair down for their earthy DIY Wedding with Southwestern boho details. He loved the color and texture combination of the fabrics.  The men in our wedding party wore either a vest or suspenders with khaki pants. The children in our party all wore shades of light brown or creme. Boutonnieres were kept simple with a sprig of eucalyptus and a ranunculus.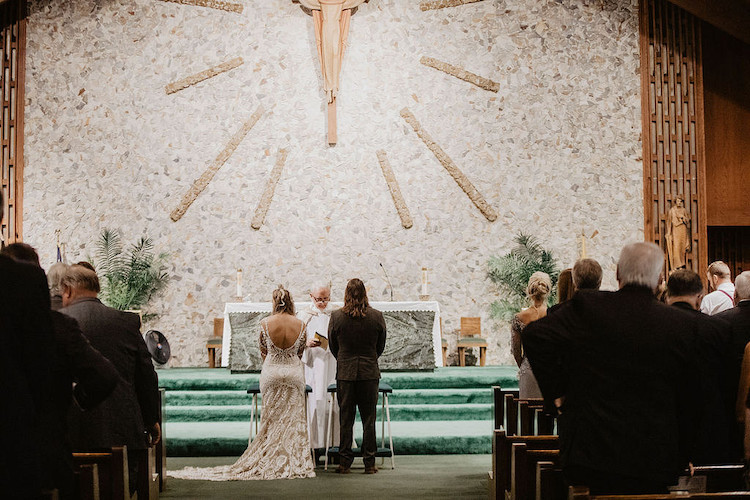 Since the ceremony was in the Catholic church, we decided to let the church speak for itself. Instead, we decorated it with sound. We hired a harpist who played throughout the ceremony.
Joey chose his favorite big band song to be played when he came out. I chose to walk down the aisle to Princess Leia's theme song. Joey and I are big Star Wars fans so that was just fitting.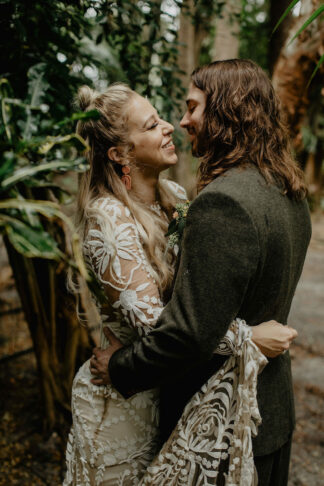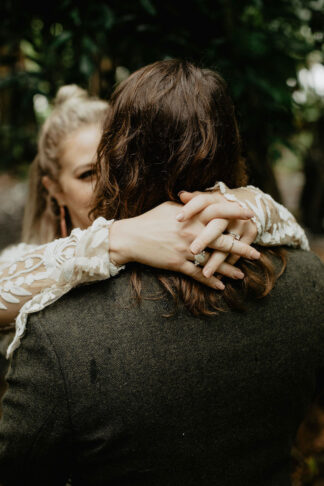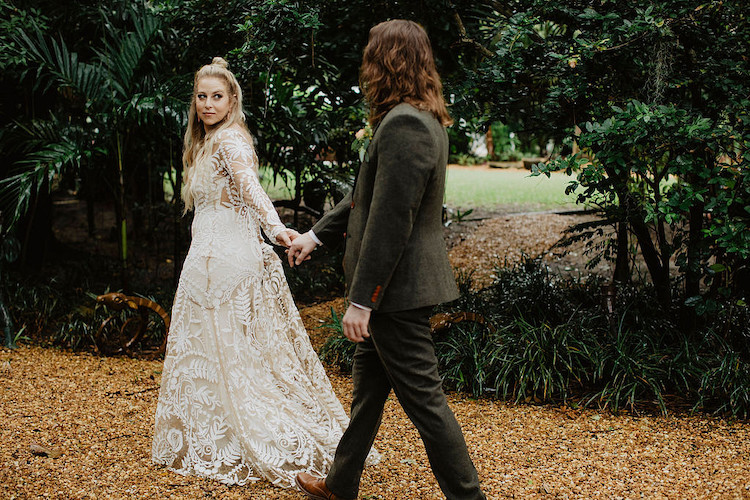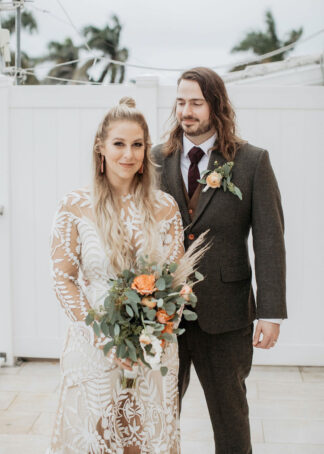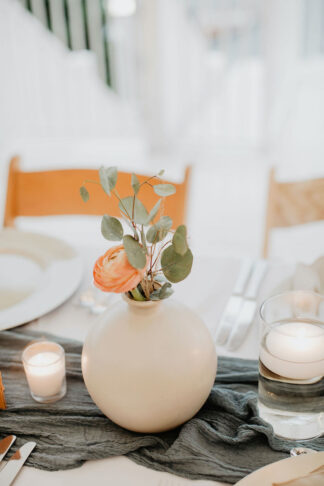 We used a lot of eucalyptus, pampas grass, and white dried florals for our earthy DIY Wedding reception, including Southwestern boho details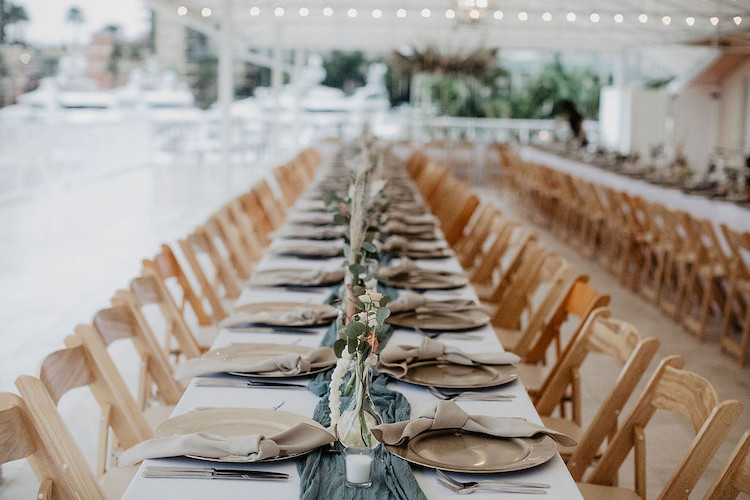 Since most of the decor was done in warm neutrals, the florals were there to break it up.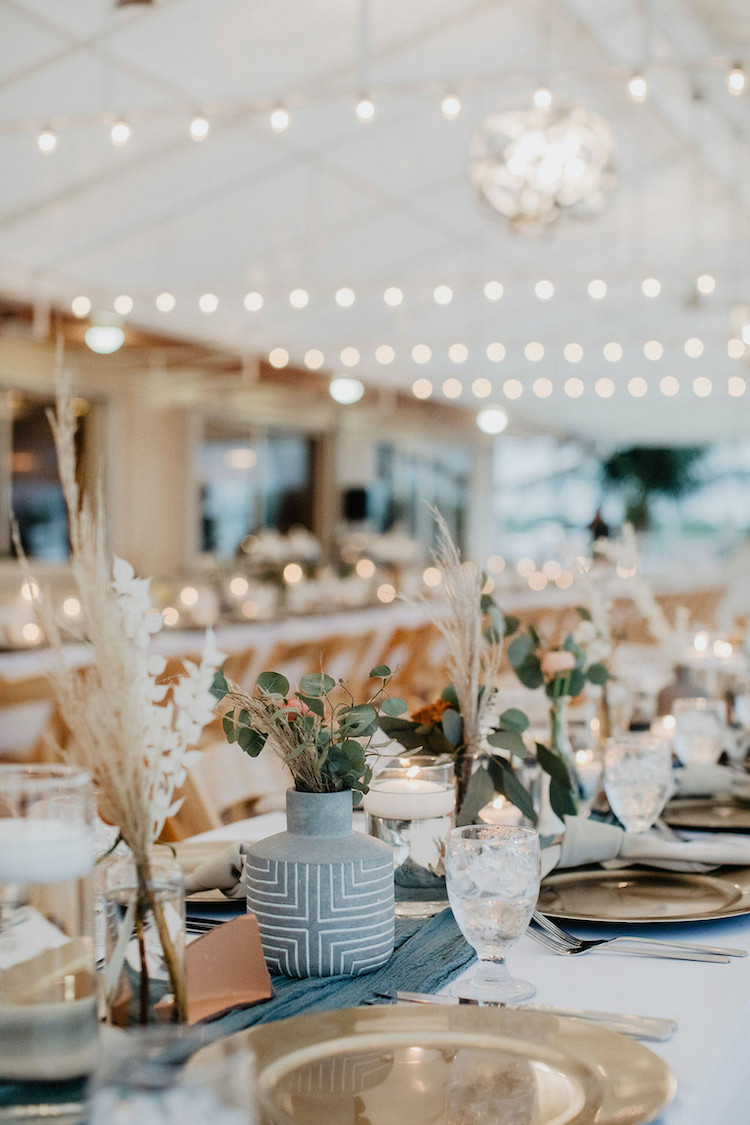 It was important to us to be outdoors. We found a venue that had a huge covered veranda that overlooked the intercostal. On the veranda were two royal tables where our guests would eat. Facing those two tables was the wedding party's table.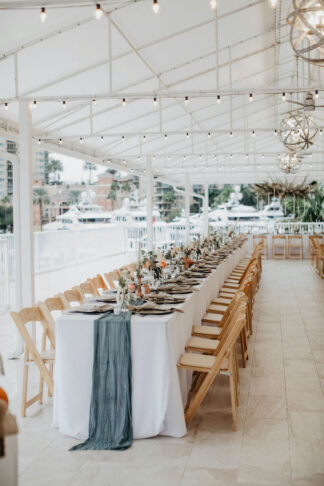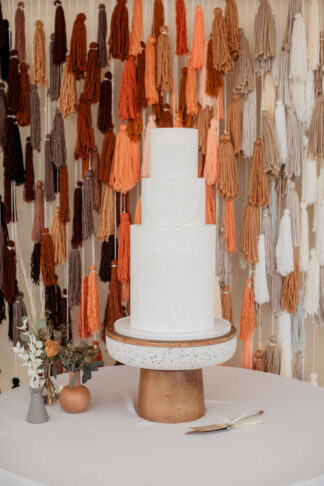 Down the center of the tables were organically placed candles & vases holding one or two pieces of floral. Above the wedding party table was a floral chandelier installation with sprayed palms, pampas grass, and dried floral.
The veranda was attached to a large room with a built in dance floor and bar. We had boho lounge furniture around the dance floor and a photo booth for guests to enjoy. We incorporated signature drinks, a polaroid guestbook, and ended the night with favors from our favorite out of town cookie shop.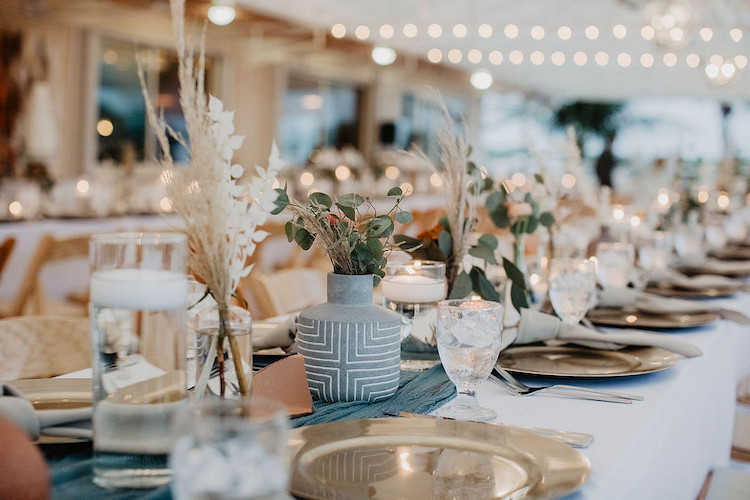 Our venue also had amazing food so we choose to have stations scattered around the seating areas. We wanted our dinner to be laid back and informal. The food stations incorporated our favorite foods — sushi, tacos, carved meats all tapas style!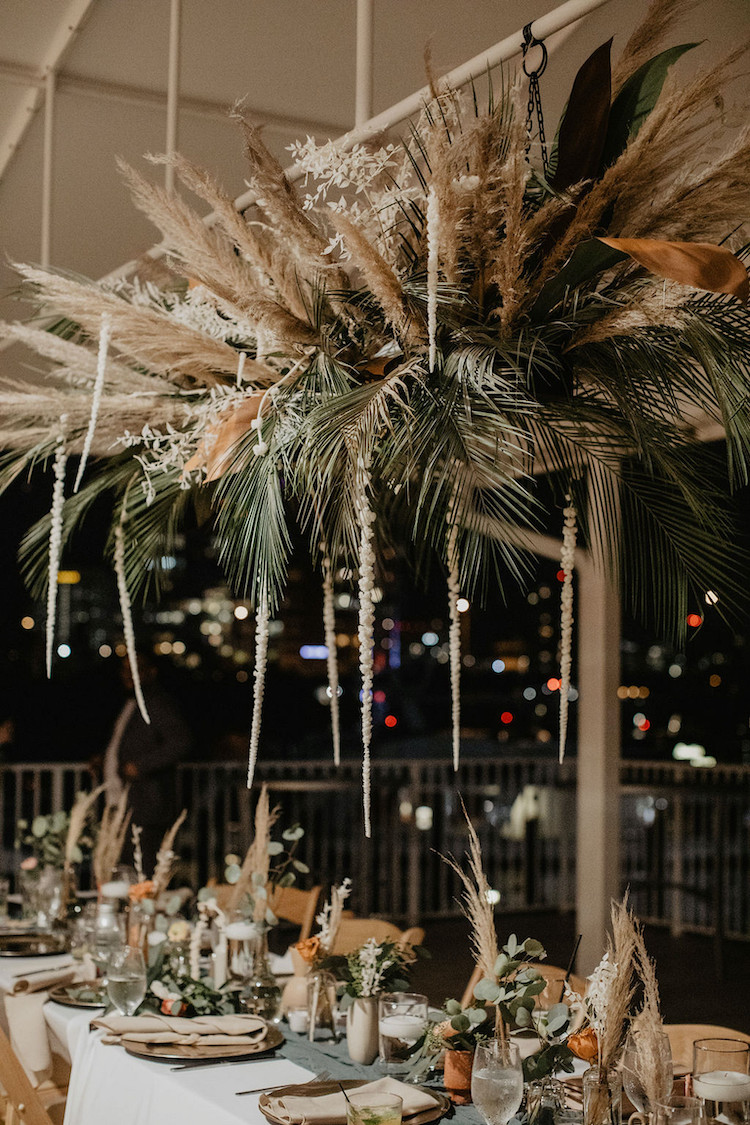 Wedding Planning Advice:
Use a wedding planner. Jordan thought she could do it all herself until she got super overwhelmed. We sought out Gina, our planner, and learned that if we did it ourselves there would have been so many things overlooked or not even thought of. Additionally a planner helps you with insight on budget, has references, and can back your ideas.
Another lesson learned is to eat. Eat as much as you can at your wedding! Enjoy it!
Lastly, remember to breathe and take it in. Your wedding takes a ton of time planning and goes by in an instant! On your day, look around at the people who are there to celebrate you, don't stress about the little things, laugh with your friends, hug your loved ones, and have fun!
SERVICE PROVIDERS: Photographer: Lindsey grace photography//Event Planner: Gina Marie Weddings & Events// Cake Designer: Earth and Sugar// DJ: Sound Event DJs// Floral DesignerHouse of Glint// Equipment Rentals: Unearthed Rentals//Event Venue:Coral Ridge Yacht Club// Hair and Makeup: Angela Molina // Stationery Artifact Uprising –  / That Girl Press via Minted //
READ NEXT:
Moody Burnt Orange + Greenery Farm Wedding with Pampas Grass