Country-Chic Wedding
A Burlap & Lace DIY Wedding Dream
♥ ♥ ♥
Take a wide-eyed look at this DIY Country Chic Wedding Theme with delicious vintage and rustic touches from floor to ceiling! Similar to our feature – A Handmade Wedding with a Rustic Twist in Portland, Oregon, this wedding is outstanding in its own right!
With their unique vintage vision,  newlyweds Jess and Cam's wedding was overflowing with vintage touches of burlap, lace and handmade items that reflected their love, artsy personalities and style. It was their photographer, Red Bloom Photography's, dream to capture all the details and decor that made this wedding one-of-a-kind.
Jess & Cam's Love Story
Meet Jess and Cam. Believe it or not, but Jess and Cam are an online dating success story! Hooked from their very first date, the couple still can't believe how lucky they are to have found each other. It was soon before long that they were dating and according to Jess, "it didn't take very long for us to realize how meant for each other we are". With similar life goals, hobbies and values, they felt like a puzzle piece had fallen into place and the rest is history!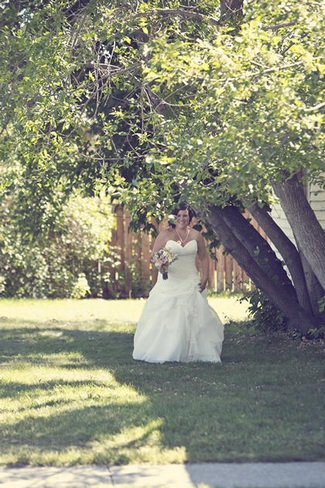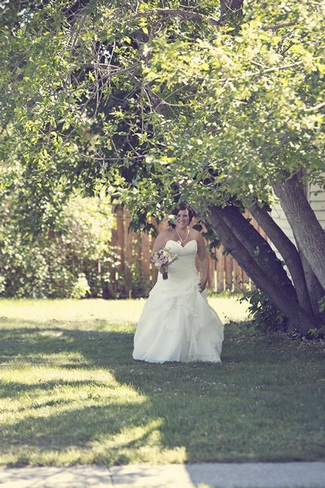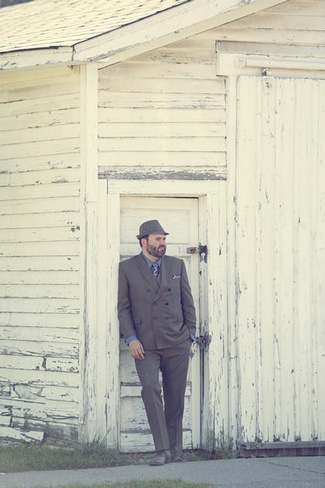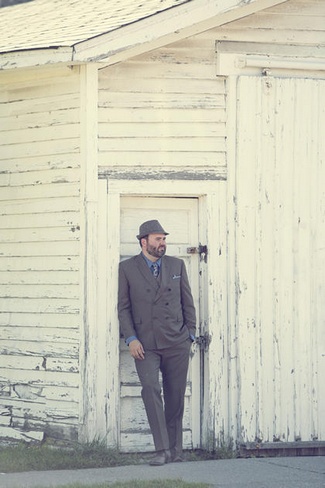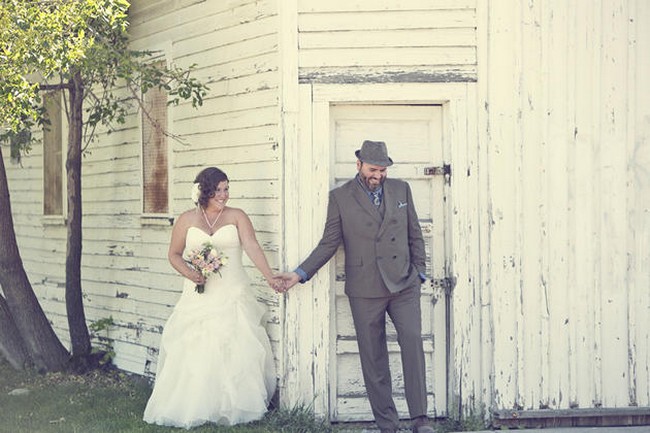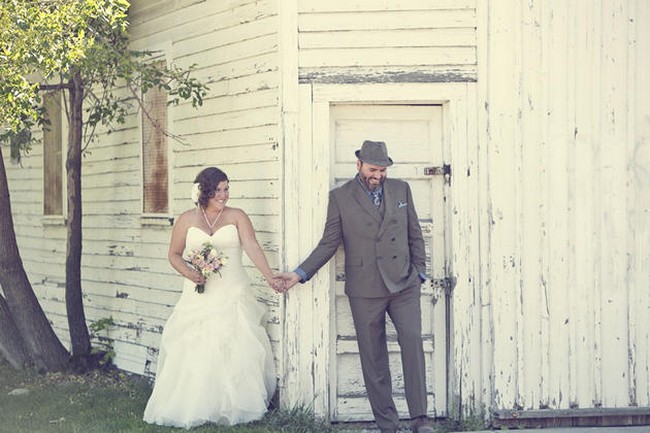 The Proposal: Sigh! Cam proposed to Jess by moonlight on the dock of a beautiful lake in Quebec on July 15, 2011. He had a secret proposal all planned! Jess didn't know it at the time, but while they had been travelling across Canada (before they reached their final destination at Cam's parent's summer lake house in Quebec); Cam had shipped the engagement ring to his parents during their travels. His family were all in on it and helped set up a romantic table with candles, champagne and flowers and a roaring bonfire the night that he proposed to Jess! As Jess took a seat, Cam started to play and sing their favorite song "Home" by Edward Sharp on his guitar. Halfway through the song, he changed the lyrics to be all about how much he loved Jess. At that moment, he bent down on one knee and proposed!
Country Chic Burlap & Lace Wedding Look
The Wedding Look: For their wedding look, the couple combined soft colors with deep moody greens, grays and blues.  Jess wore a luscious wedding gown, elegant pearls and a side-swept updo with a hair piece to adorn her look.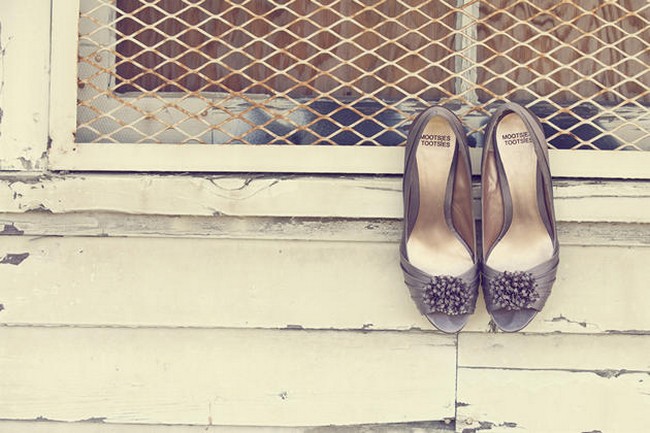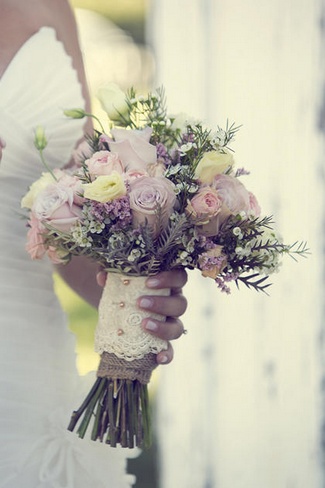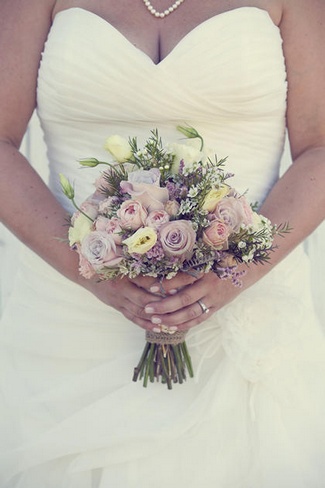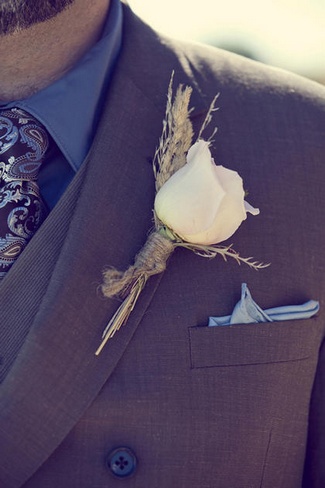 (Above) Bouquets and Boutonnieres: Texture was an important feature of the bridal bouquets and boutonnieres. A mix of burlap, lace and twine were used to bring their floral arrangements together.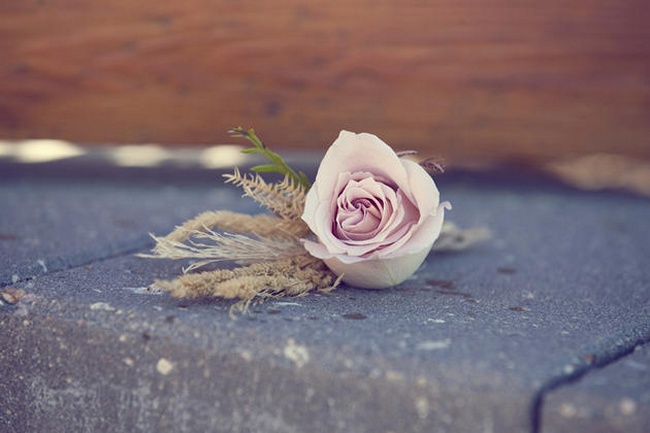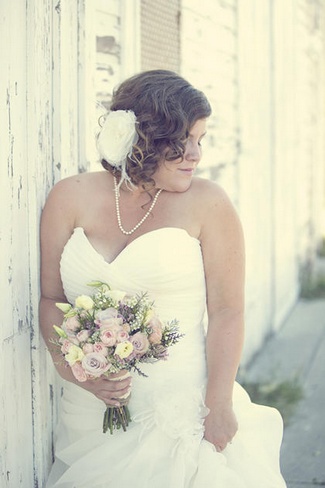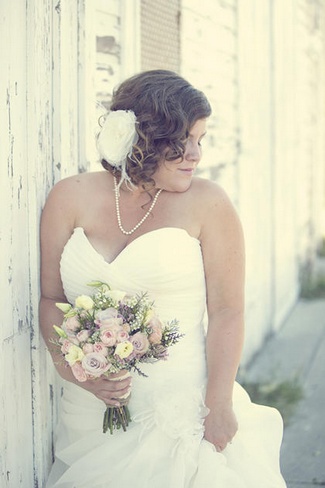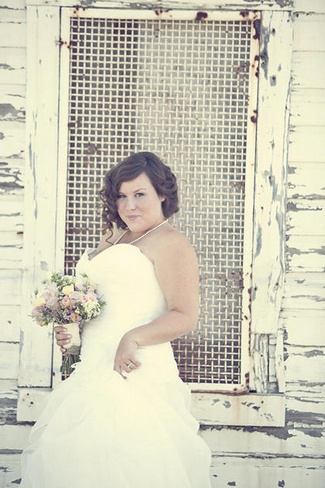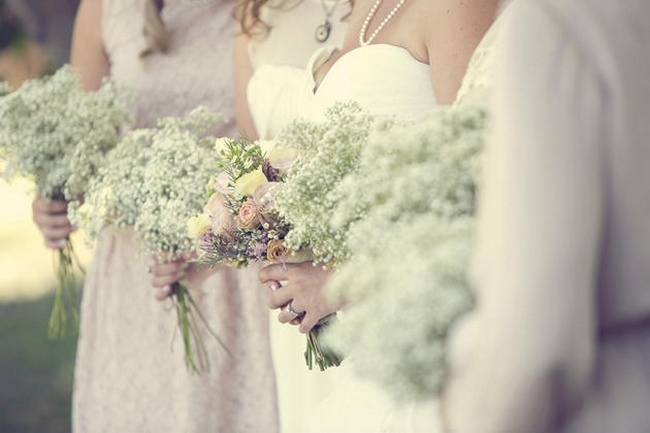 (Above) Bridesmaid's Bouquets: Jess's bridesmaids held Baby's Breath bouquets, which added softness and a sense of angelic elegance to their look. Our collection of 17 DIY Baby's Breath, Burlap & Lace Wedding Ideas shares more beautiful DIY ideas of how to use these flowers as part of your wedding theme.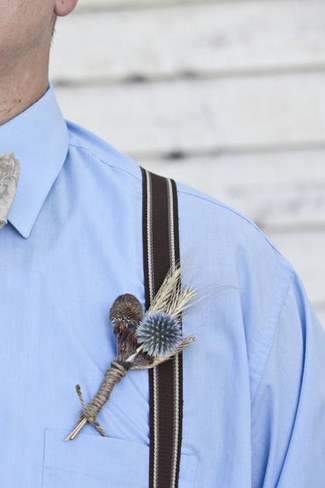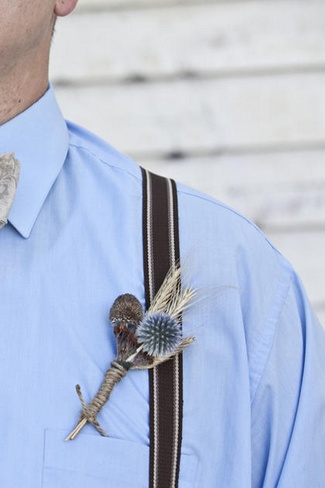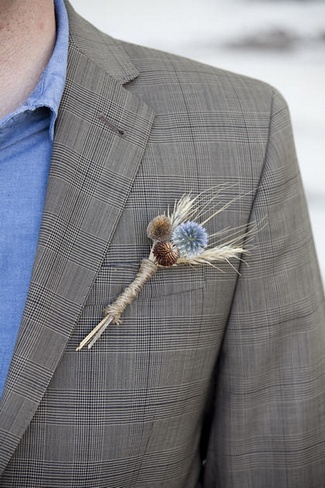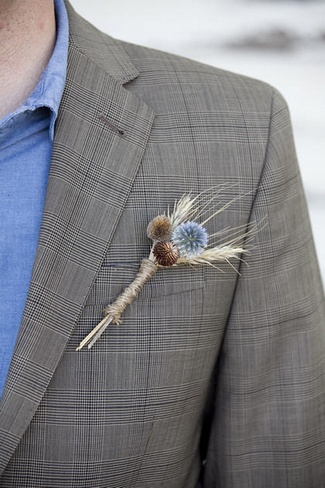 (Above) Groomsmen Boutonnieres: The groomsmen wore  a combination of blues, blacks, browns and greys. Their boutonnieres were a selection of dried flowers secured with twine.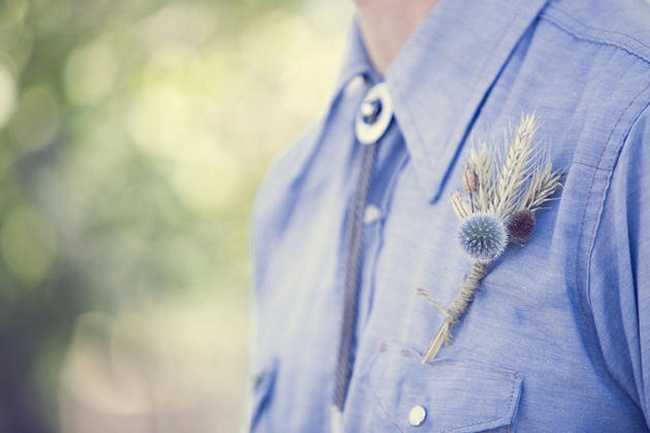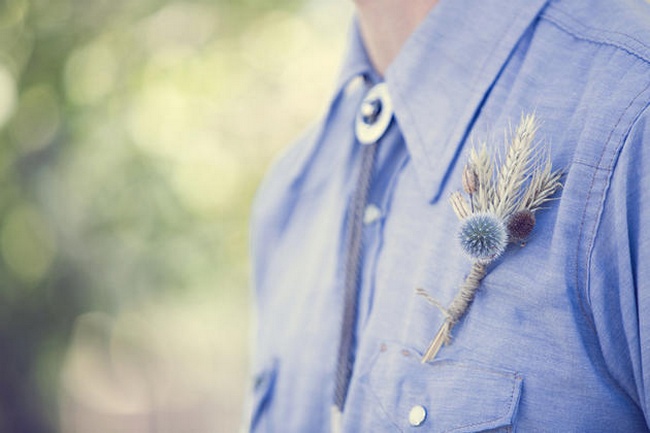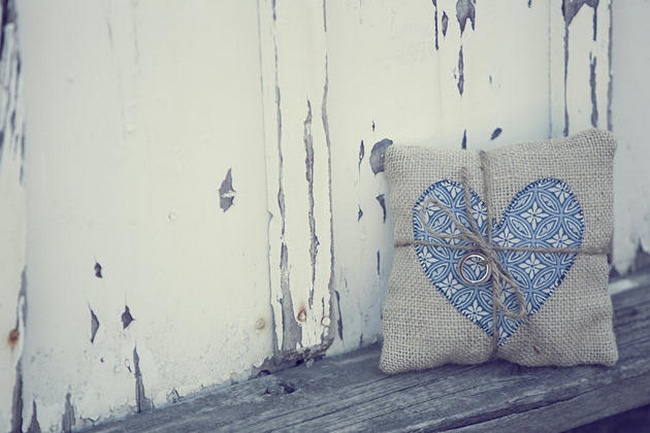 (Above) The Ring Pillow: The couple had an adorable burlap ring pillow on which their rings were tied.
Country Chic Burlap & Lace DIY Wedding Ceremony
The Venue: Hosted at the Calgary Polo Club in Alberta, everything about their wedding was DIY, from their playlist to decor, the couple put plenty of time, effort, sweat (and tears!) into their wedding.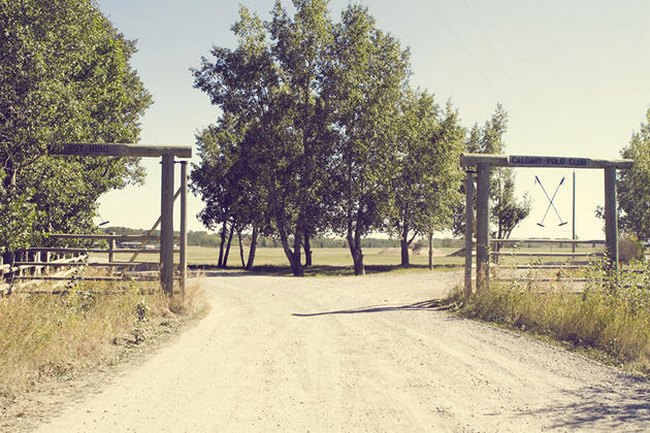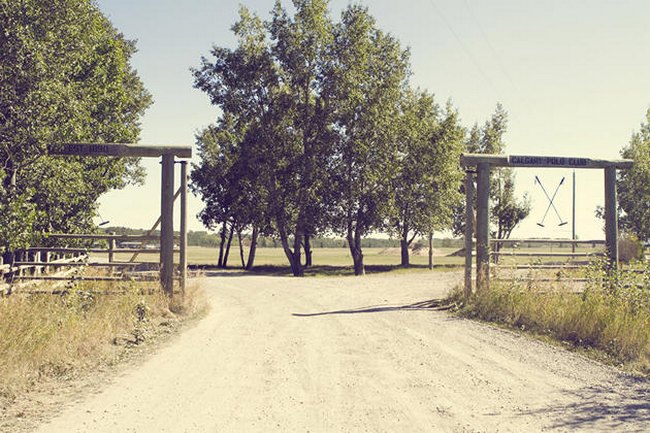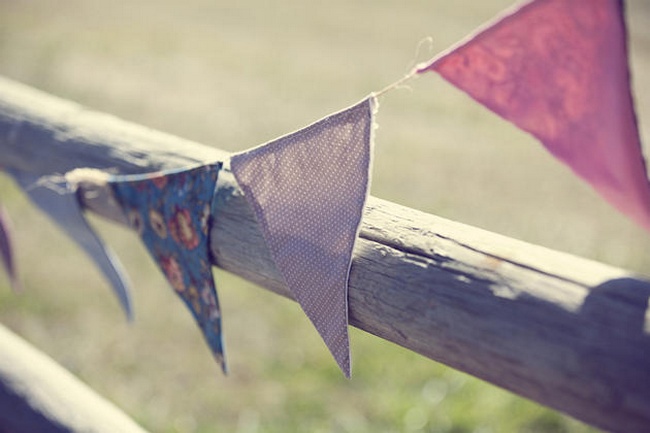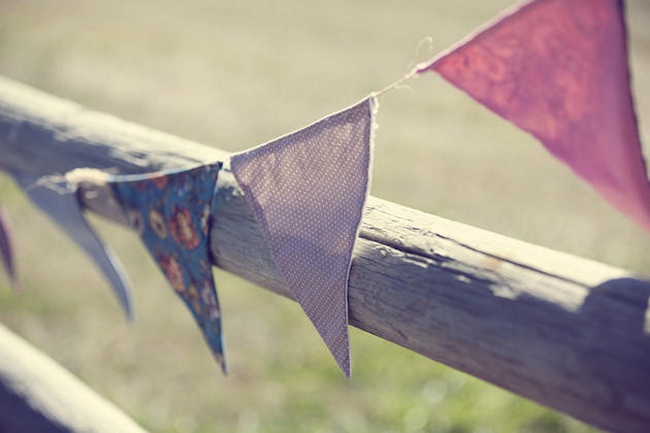 (Above) DIY Country-Chic Vintage Bunting: Vintage-inspired material bunting in a mix of shades and patterns were strewn along their outdoor wedding ceremony venue.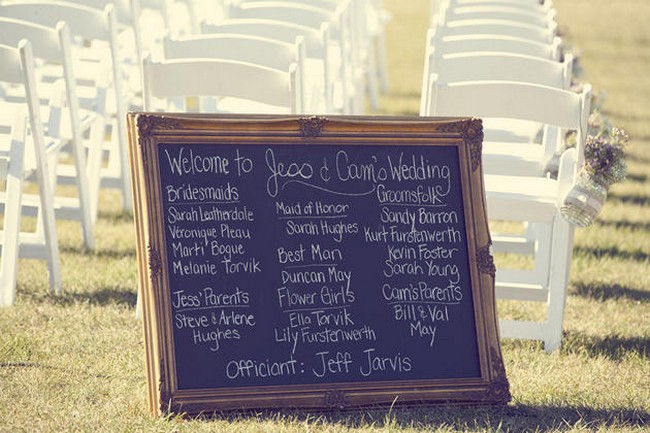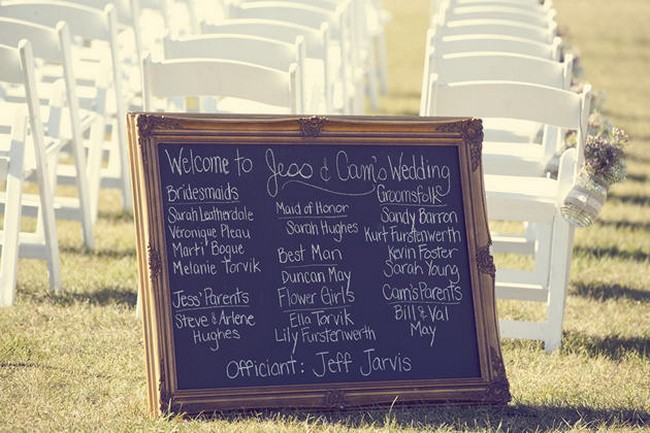 (Above) DIY Vintage Signage: The couple created their own signage, such as this chalkboard framed in a vintage frame with the details of the wedding ceremony and bridal party written on it for all of their guests to see.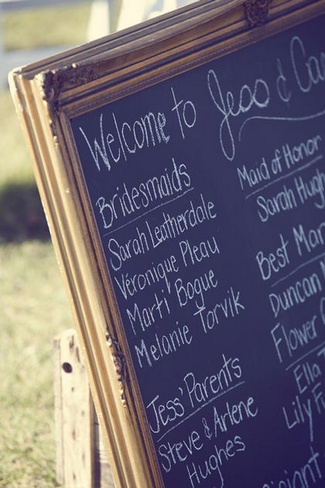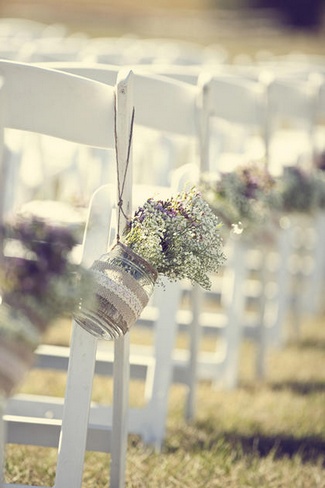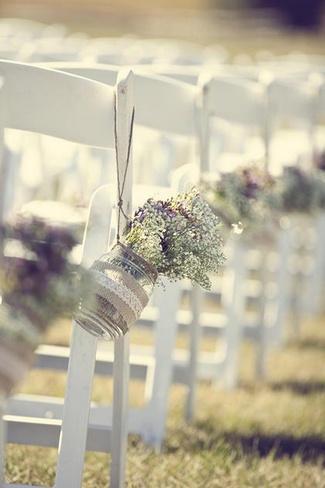 (Above) DIY Hanging Mason Jars: The couple created their own DIY hanging mason jars filled with an assortment of flowers, which they hung along their wedding aisle.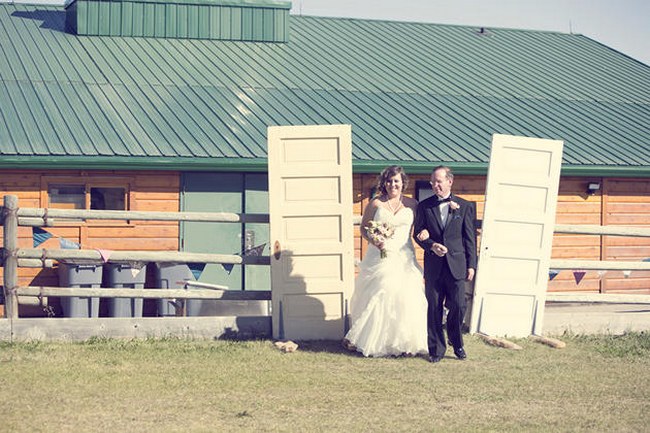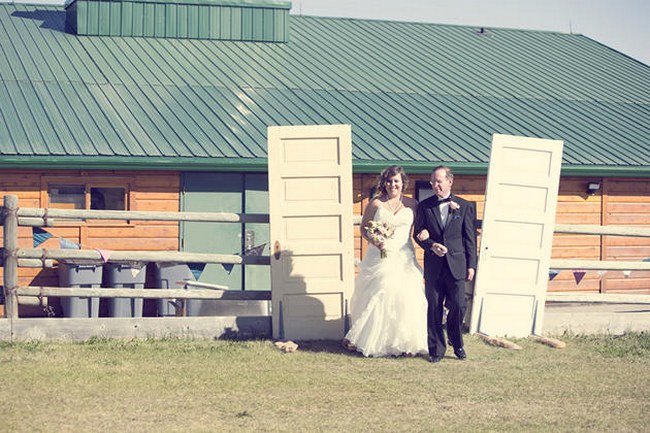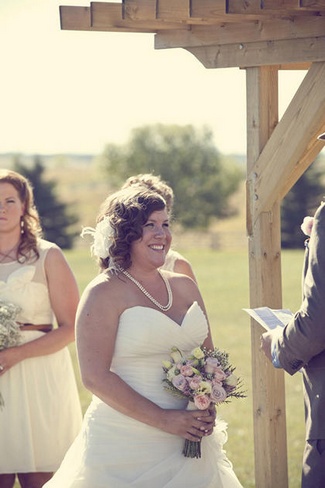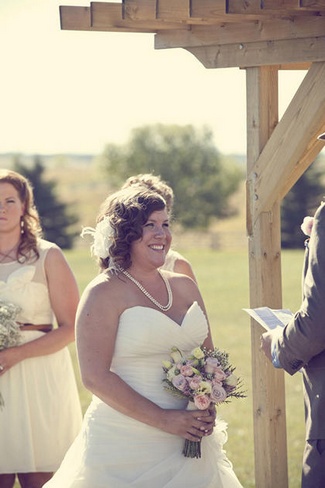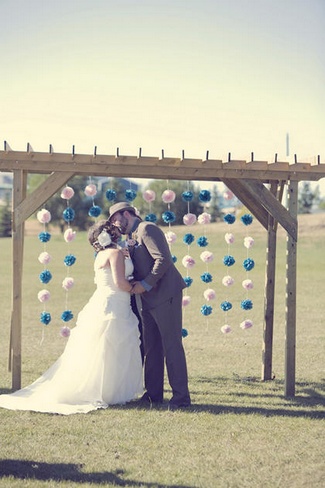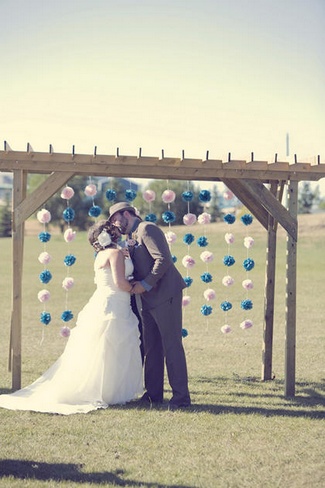 (Above) DIY Hanging Tissue Flowers: Jess and Cam created these colorful tissue flowers, which they hung as the backdrop to their wedding altar.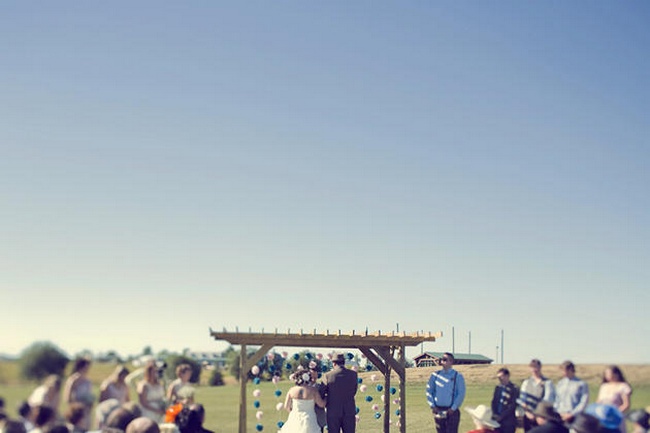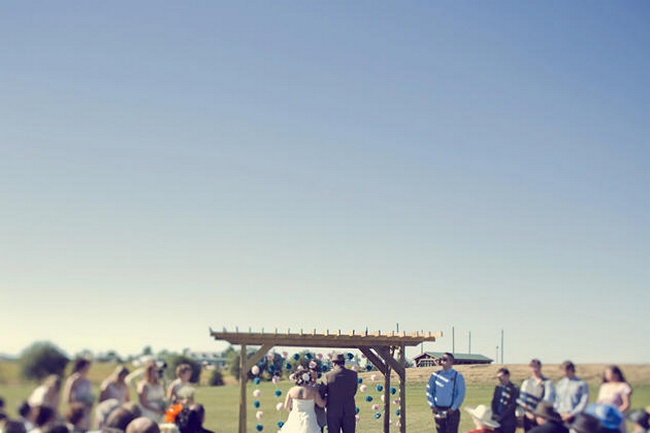 Psst! Keep reading! To continue along Jess and Cam's Country Chic Burlap & Lace DIY wedding journey, skip over to Country Chic DIY Wedding Part 2 to see their amazing  wedding reception, DIY photo booth ideas and wedding photo shots.
Vendors
Photographer: Red Bloom Photography | Venue: Calgary Polo Club |  Brides Hair: Jill Keech Hair | Bouquets, Corsages & Venue Flowers: Dahlia Floral Design | Cake: Posh Panda Desserts | Dance Lessons: Toe Tappin' Swing | Decor & Wedding Favors: Kismet & Clover (bride's personal company) | Stationery: Oko No Ki Design (groom's personal company) | Videographer: Nathan Berko